We've officially completed our activities for our Uganda preschool unit! And my kids had a blast learning fun facts about Uganda and doing cultural crafts and activities. These activities are perfect for preschool and kindergarten-aged children whether at home or in the classroom!
Our last learning unit was on Japan. We loved playing our Japan matching game, making a cherry blossom tree out of tissue paper and a paper towel roll, doing origami, and eating sushi and mochi ice cream! And then, after putting a stamp in our passport, we were off to Uganda!
I had the chance to spend some time in Uganda during college and it has been one of my favorite places ever since. So I was very excited to share this beautiful and often underappreciated country with my kids.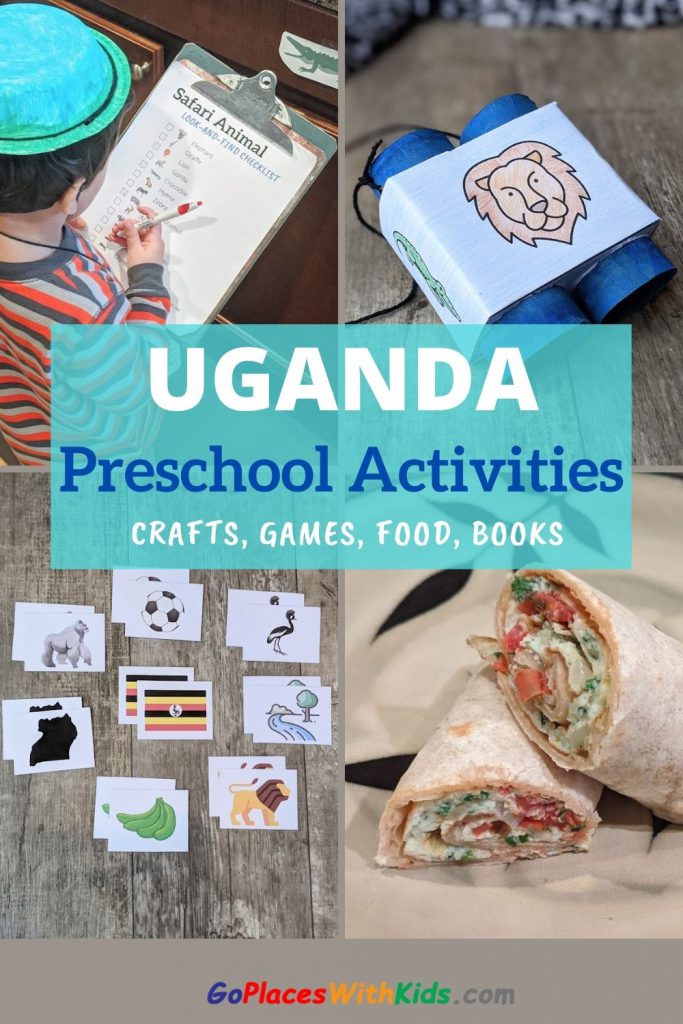 Introduction
Matching game
To start off our Uganda preschool activities, we played a matching game.
This matching game is a great way for kids to learn fun facts about Uganda. It includes a fact sheet explaining what the pictures on the cards represent in Uganda.
You can get your free Uganda Matching Game printable here.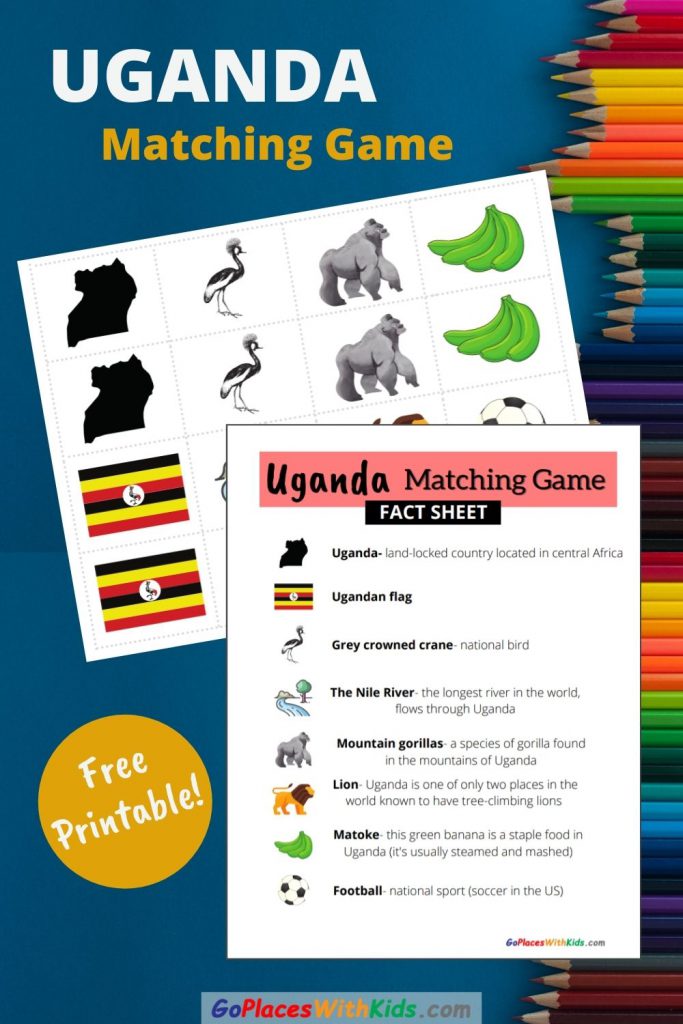 Crafts
Magazine beads
Next, we made magazine beads. These beads are super cute, easy to make, and great at engaging a child's creativity!
You can find the instructions in this post.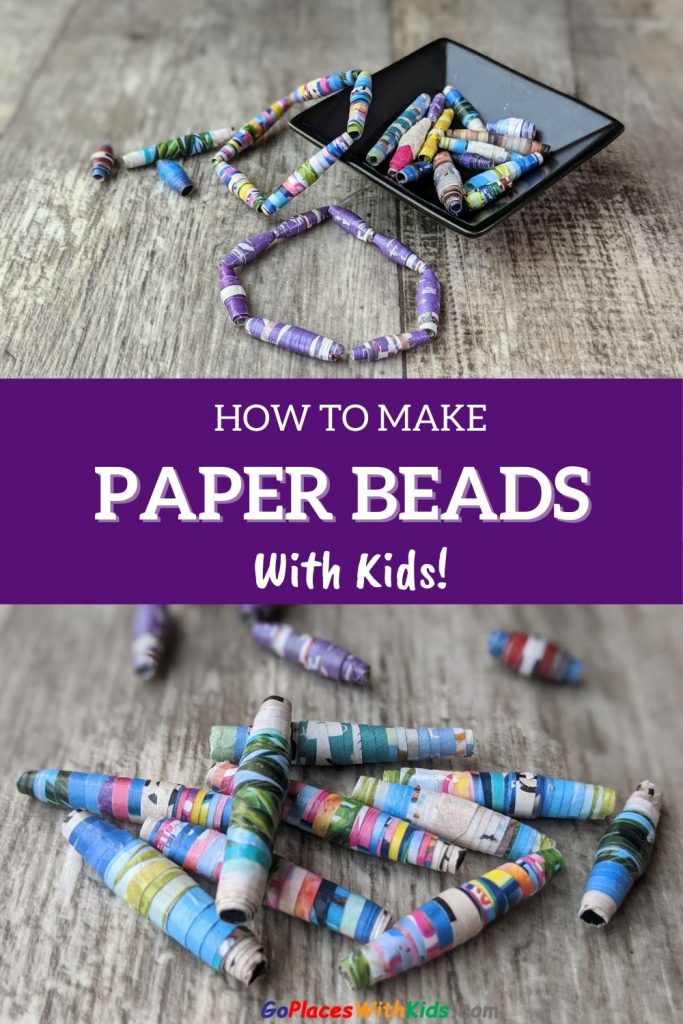 Hand-rolled beads made from recycled magazines and paper are a craft commonly made by entrepreneurs in Uganda.
The completed beads are formed into bracelets, necklaces, and other jewelry and sold for income. These beads come in different colors, shapes, and sizes depending on the paper used and the intended purpose.
Once my almost-four-year-old got started, the trickiest part was getting him to stop! He just wanted to keep on making more beads!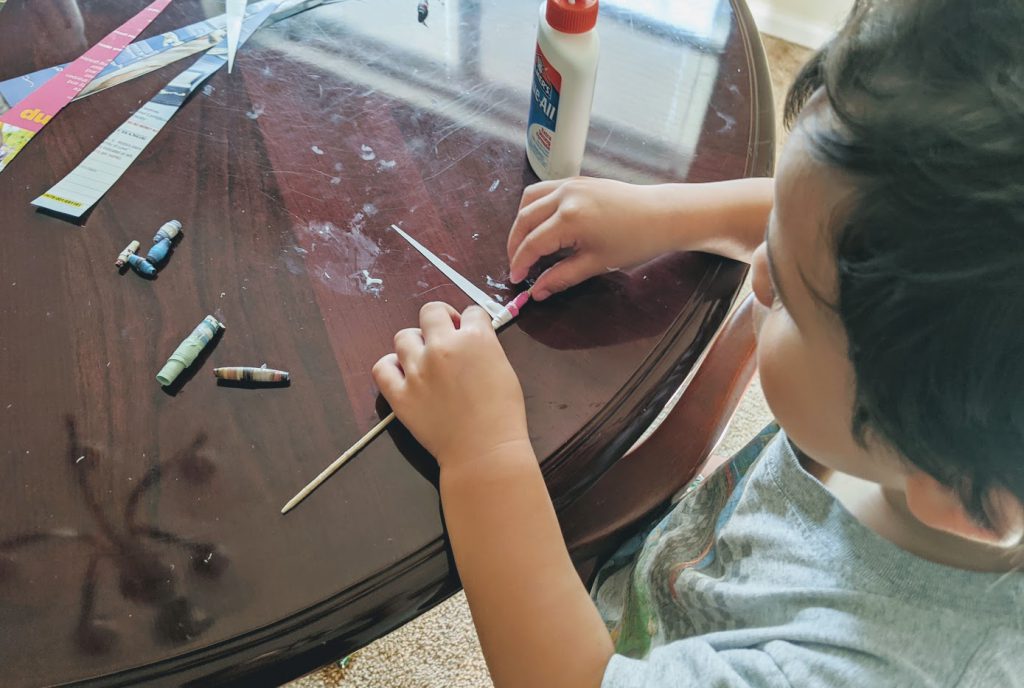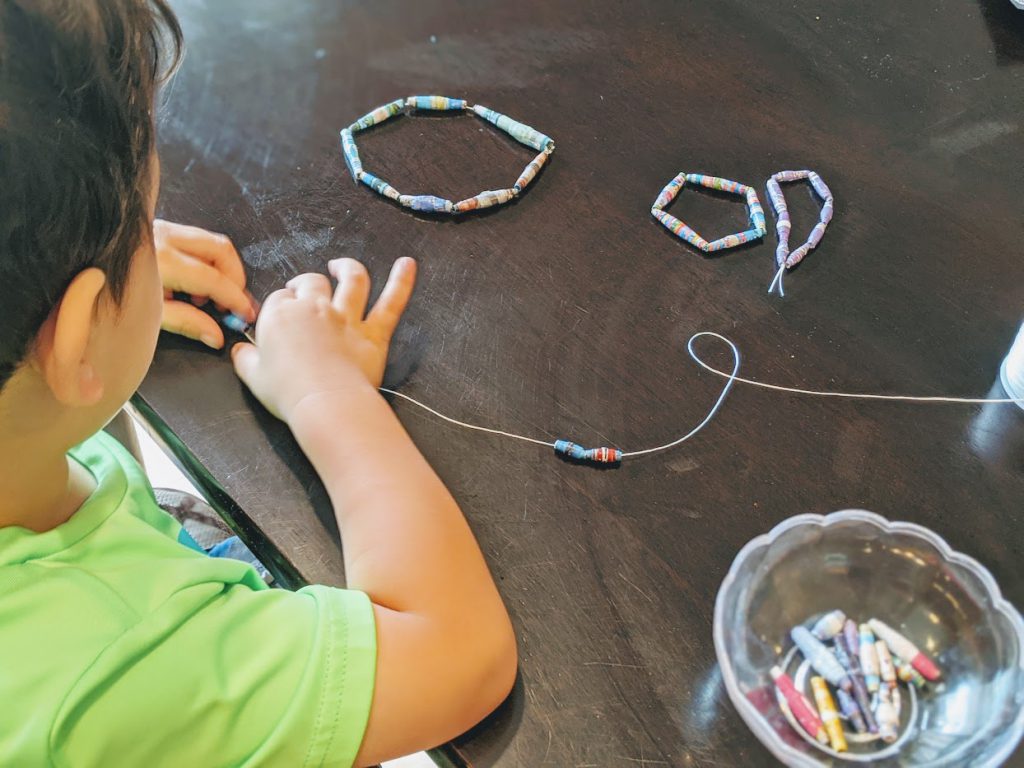 And he loves wearing the completed product knowing he made the beads himself!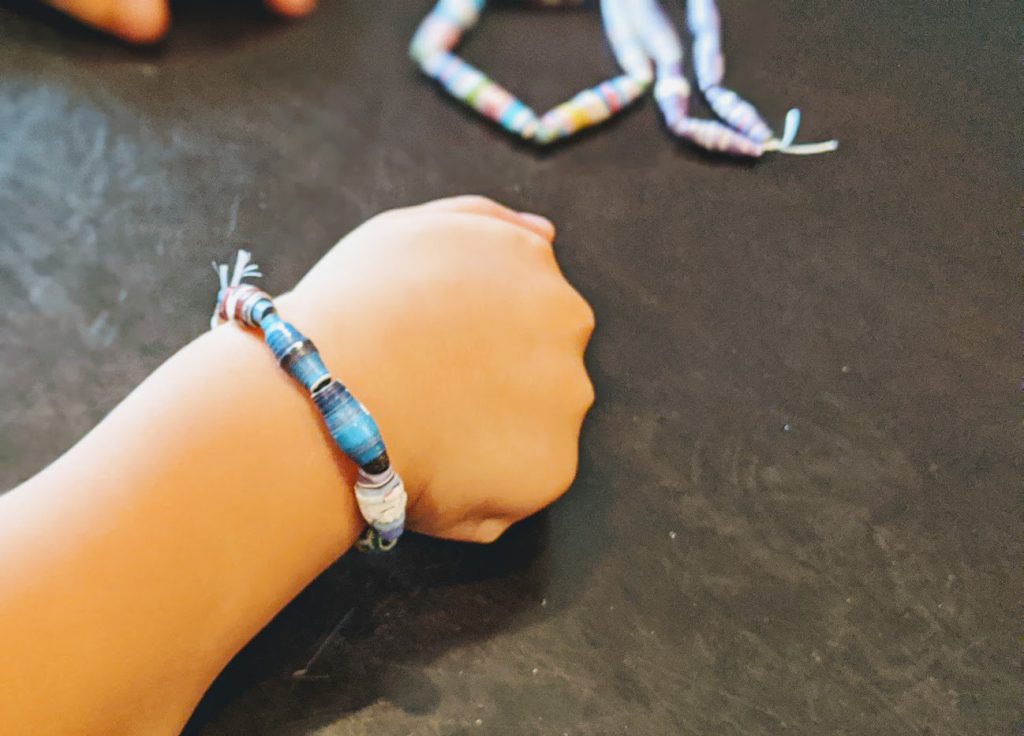 Binoculars
In preparation for our safari game (see below), we made these super cute binoculars! All you need is the free template, some toilet paper rolls, and colored pencils and paint to decorate your craft.
Get the free template here.
This craft is so much fun to make and is great for all sorts of creative play. And the cardstock frame makes it very durable, so it will last. Which is great, because my son wore his all around the house for days!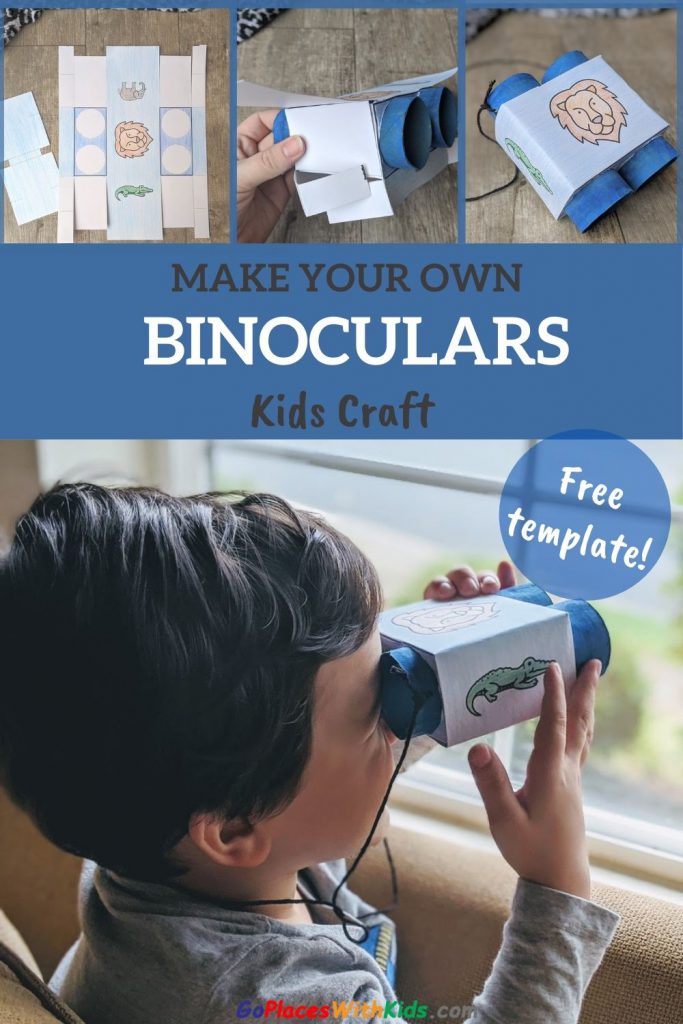 Safari hat
Next up to prepare us for our safari game, we got to make our own safari hats. This is a simple craft made out of a paper bowl, but it turns out really cute.
Find the instructions for the hats here.
This was another one that my boys had a blast painting and then wanted to wear all day long.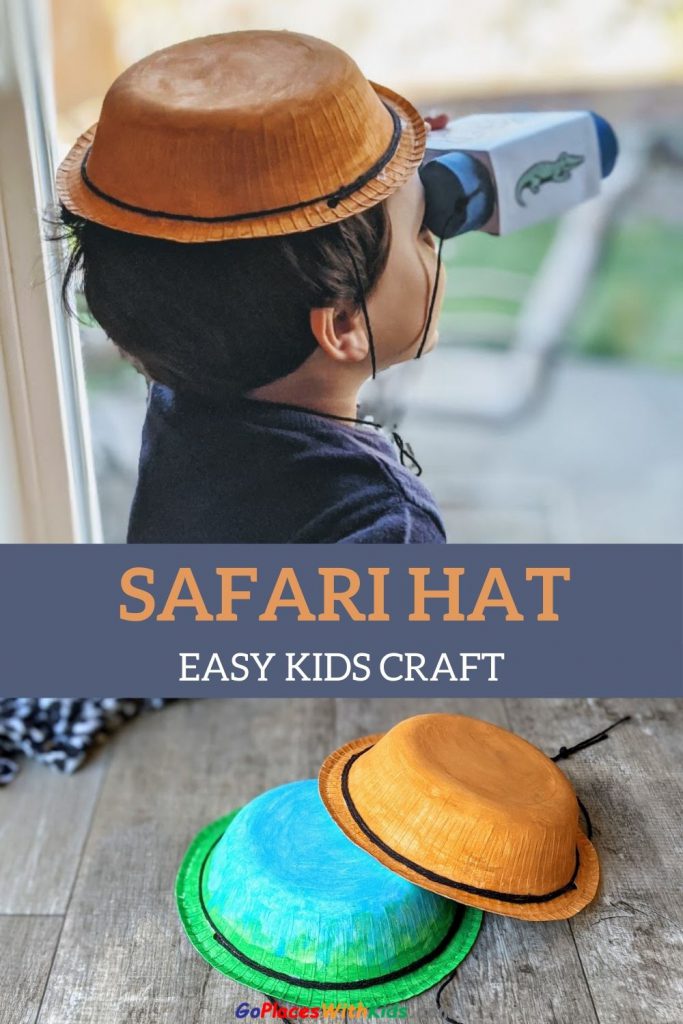 Game
Safari animal look-and-find
Finally, we were ready for our safari game! This game is so easy to set up, but my kids had so much fun playing it! And it was a great opportunity to talk about the different animals found in Uganda.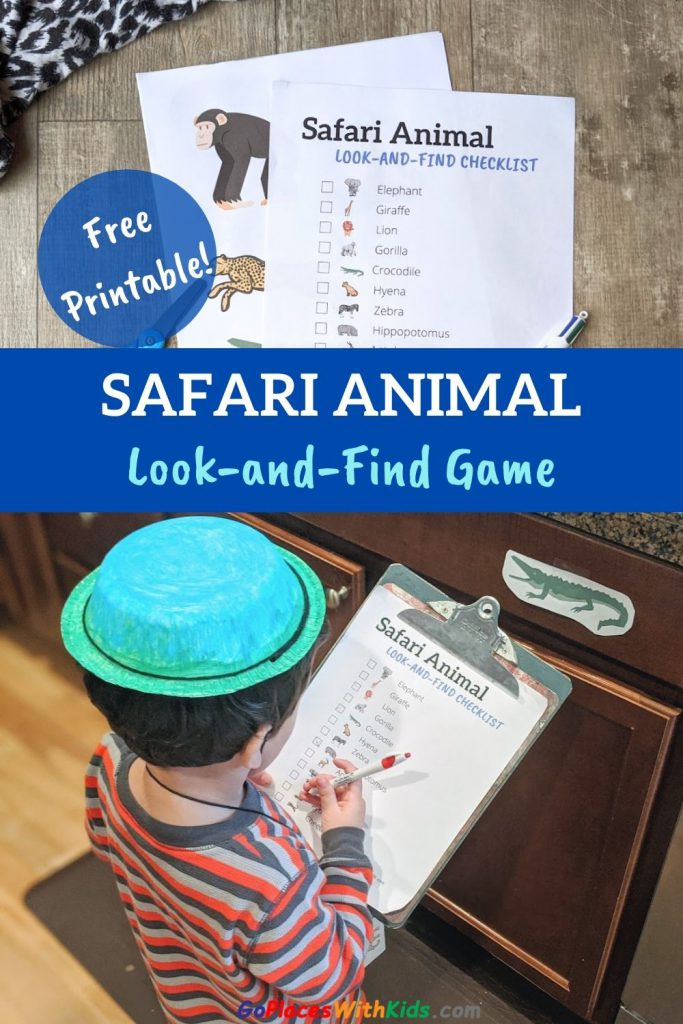 First, I printed out the game (you can get the free printable here). Then I cut out the animal pictures and hid them around the house.
I gave my son a clipboard with his safari animal checklist. Wearing his safari hat and using his binoculars, he went searching for all of the animals.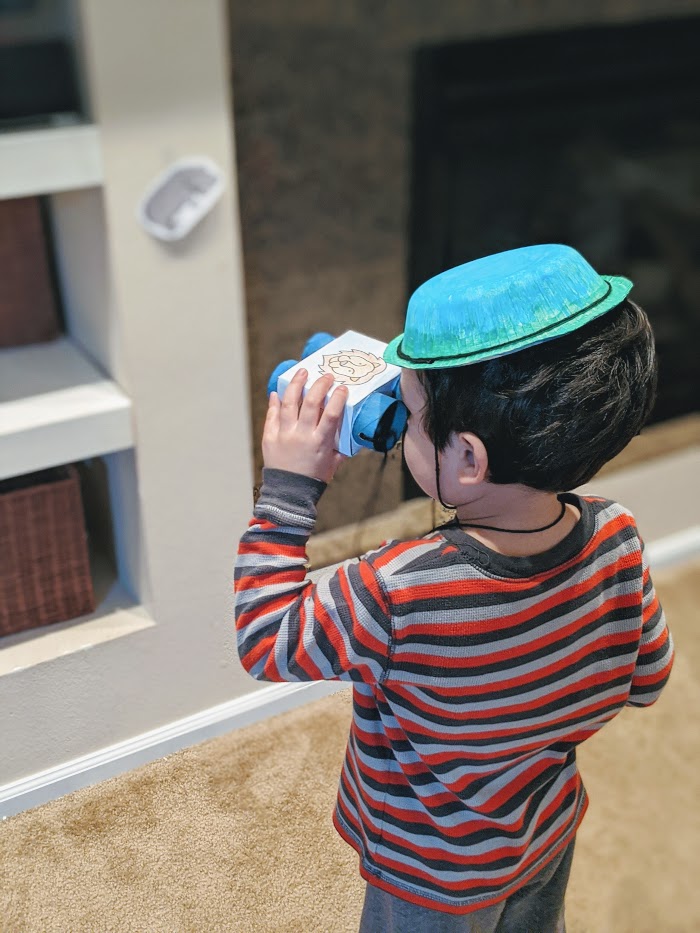 As he found them, he would mark them off of his list.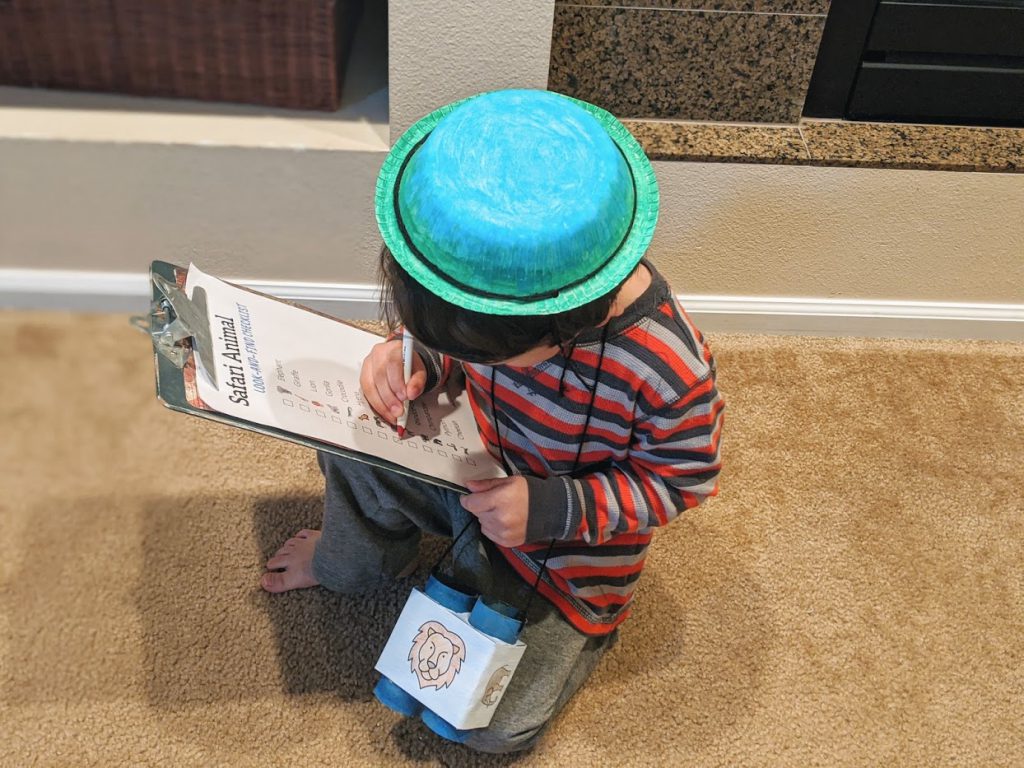 My two year old also loved this game, although instead of using a checklist he would just run around and start pointing and shouting every time he found an animal. To each his own!
And of course, once we finished they both immediately wanted to play again!
Book
For our book, I chose Beatrice's Goat. This is a sweet story about a family in rural Uganda whose lives are changed when they receive the gift of a goat.
I love that this story shows kids what day to day life looks like for a family in a country very different from their own. And the illustrations are vivid and gorgeous.
Food
Rolex
For our snack, we made the Ugandan rolex!
This was a food that I ate all the time when I was in Uganda. It's basically a veggie omelette wrapped in a chapati. This delicious dish is a classic street food in Uganda. It can be found pretty much everywhere you go and can be eaten at any time of the day.
A rolex is a fun food to make with young kids because they can help pick and add their veggies and help you beat the eggs. The actual frying you should probably handle.
Some traditional filling choices are cabbage, tomato, and onion, but you can really customize it however sounds most delicious to you!
How to make a rolex
To make your rolex, start by cooking your chapati (I used the premade kind that you just have to fry).
Next, beat two eggs and add your chopped vegetables. Add oil to your pan and pour the egg/veggie mixture into the pan. Fry it until the underside is golden brown.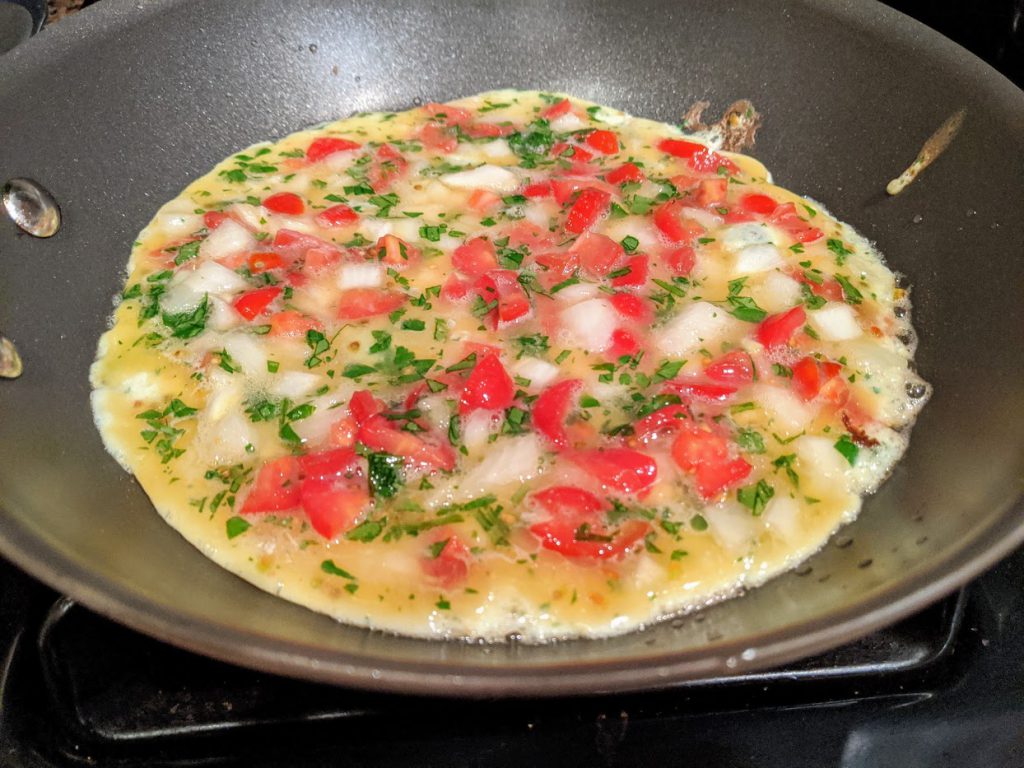 Then flip and fry it on the other side.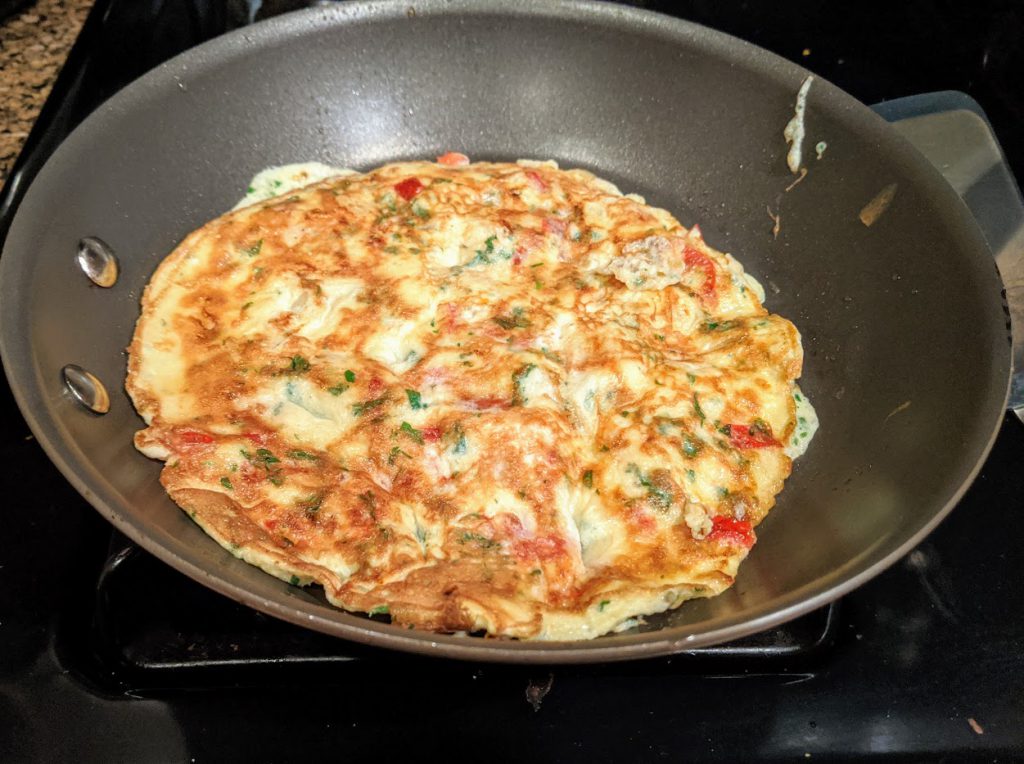 Once your egg is cooked, place your chapati on top of it and flip it out onto a plate.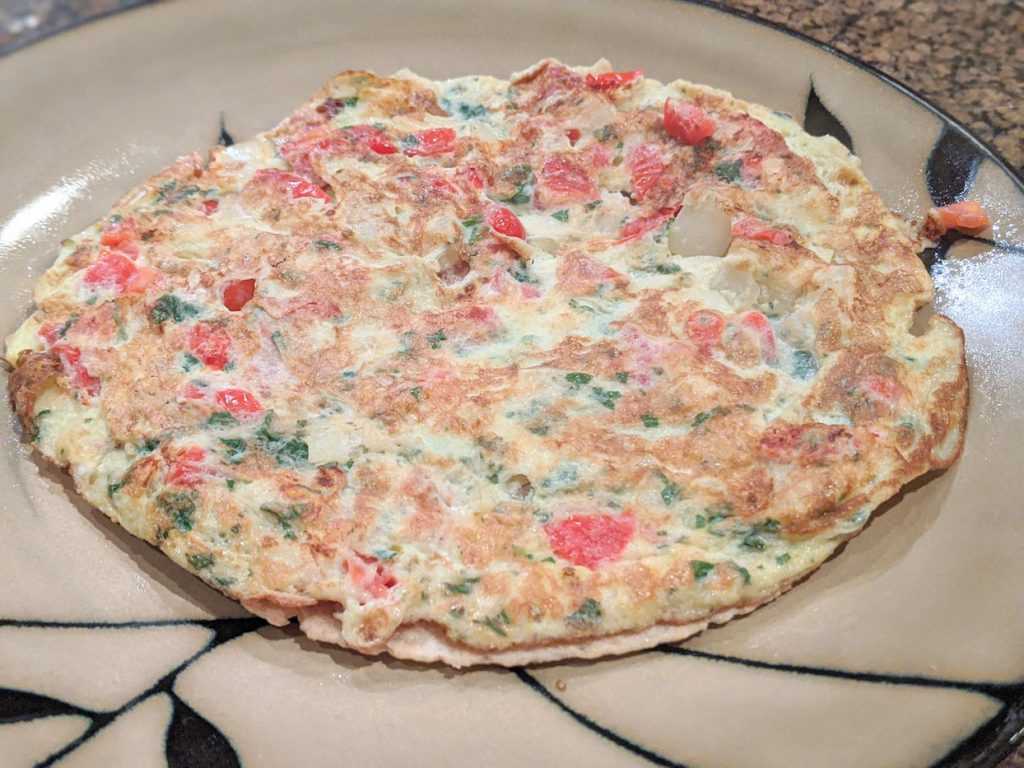 Then roll up your egg inside the chapati. And just like that, you have a delicious meal!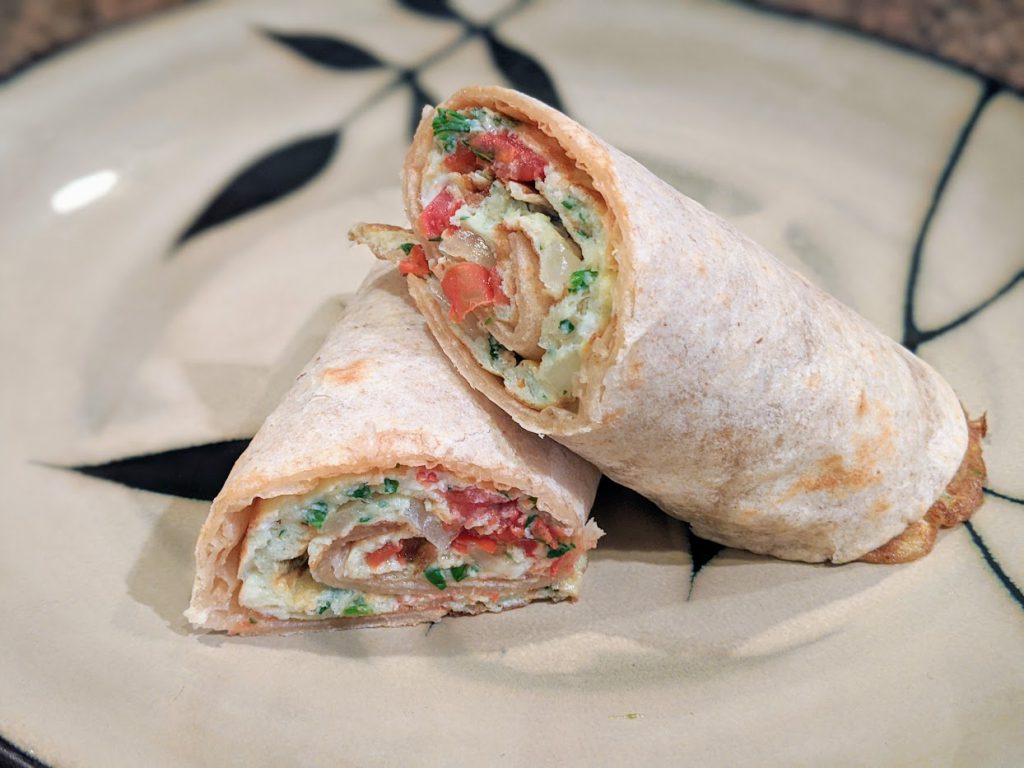 My boys loved their rolexes! As soon as my four year old finished his, he immediately asked if we could make another one.
It was fun sharing this treat with my kids and it brought back good memories of times in Uganda.
Wrap up
All of our preschool activities helped us to really feel like we were immersed in the culture of Uganda. It was fun seeing my boys learn so much about another culture very different from their own and they loved learning fun facts about Uganda.
Finally, we were able to put our Ugandan flag sticker in our passport!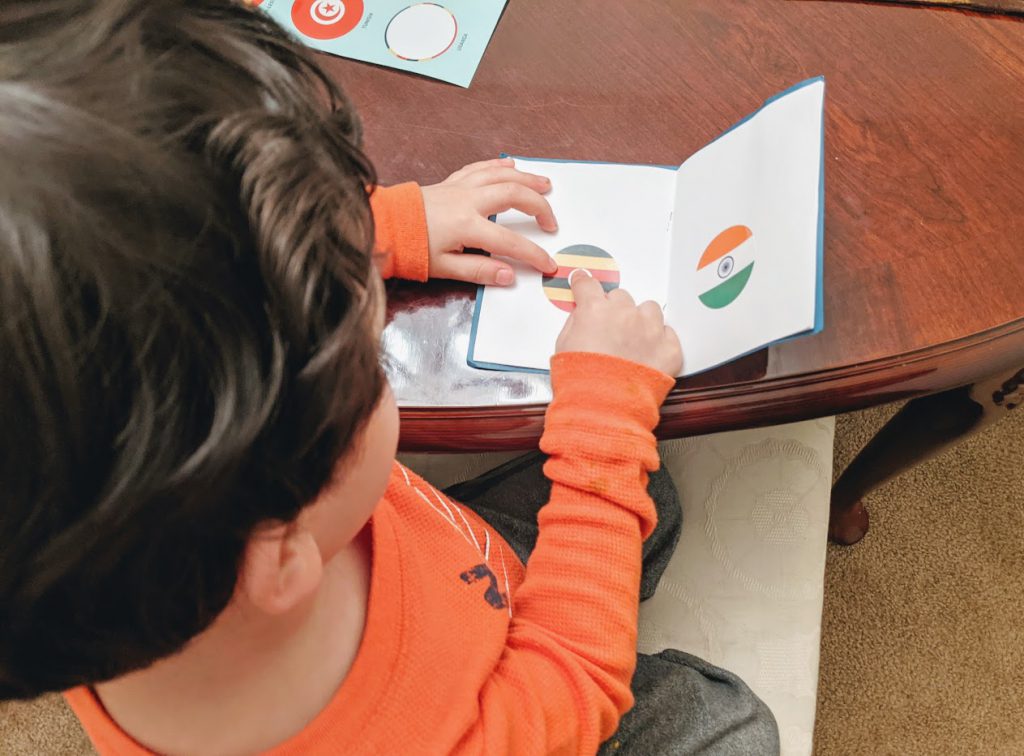 For our next cultural learning unit we will be exploring the island country of Singapore!
Be sure to check out our other cultural preschool units:
France Preschool Unit- Activities, Crafts, and Free Printables!
Philippines Preschool Unit- Crafts, Activities, and Free Printables!
India Preschool Unit- Fun Crafts, Activities, and More!
Japan Preschool Unit- Crafts, Activities, and More!