After finishing up our study of India, we were ready to take our preschool adventures to Japan!
We had such a fun time with all of our Japan preschool activities. In the words of my 3-year-old, "Japan has cool stuff!" How can you argue with that?
This unit includes fun activities and crafts that are perfect for introducing a preschooler to the culture of Japan!
Introduction to Japan
Find it on the map
To introduce our Japan preschool unit, we pulled out our trusty world map. We located Japan on the map and talked about its geography as an island and identified some of the countries around it. And we traced the route we would have taken if we had really flown from India to Japan.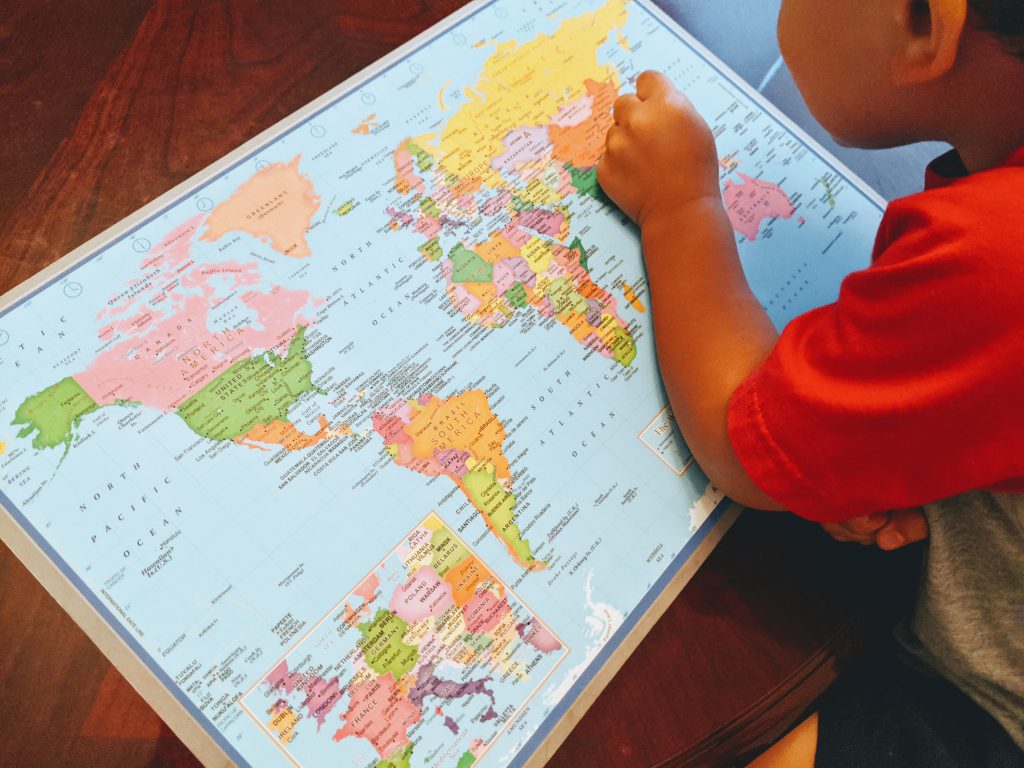 And then of course we had to get our suitcase and pretend to fly to Japan. We made it there in two minutes with no melt-downs or activities needed. Easiest flight ever.
Matching game
We also played a Japan matching game to introduce some of the significant cultural and national symbols of the country.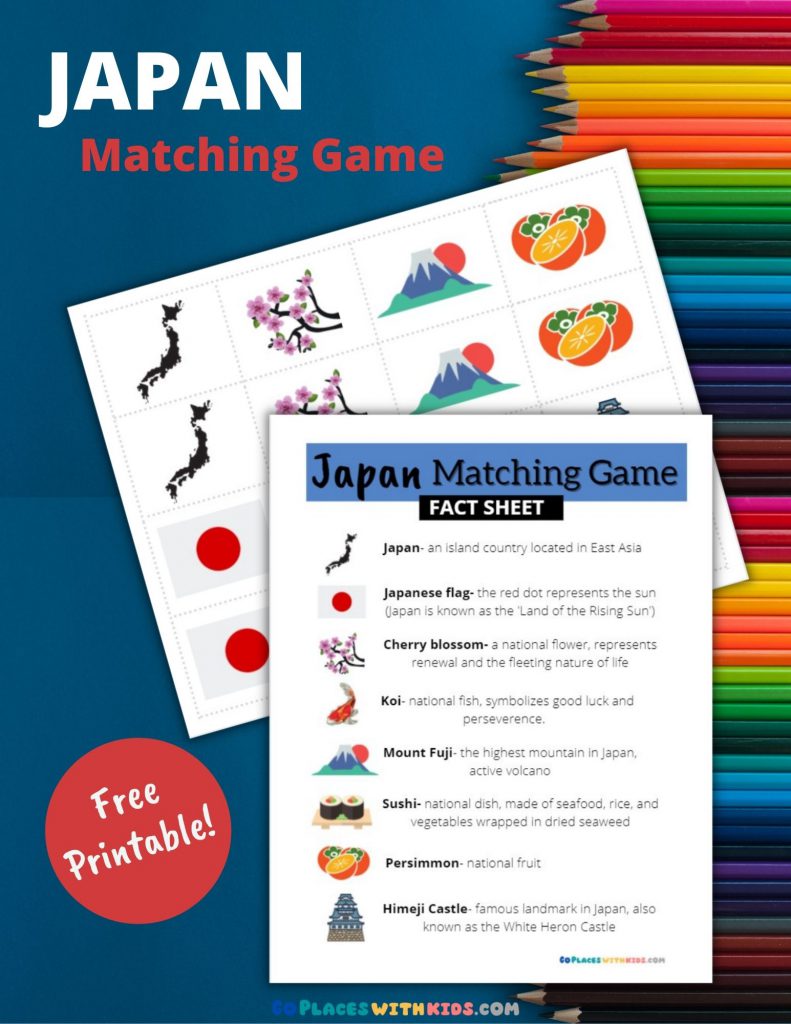 My son loves matching games and was excited to learn about all of the different pictures on the cards.
Get the free Japan matching game printable here.
Japan Preschool Activities
Making the flag of Japan
We introduced the flag of Japan by making it! The Japanese flag is a nice one to create with a preschooler because it's so simple, just a white background with a red dot.
To make the flag, we just needed a few basic supplies.
Materials:
Cardstock
Scratch paper
Scissors
Tape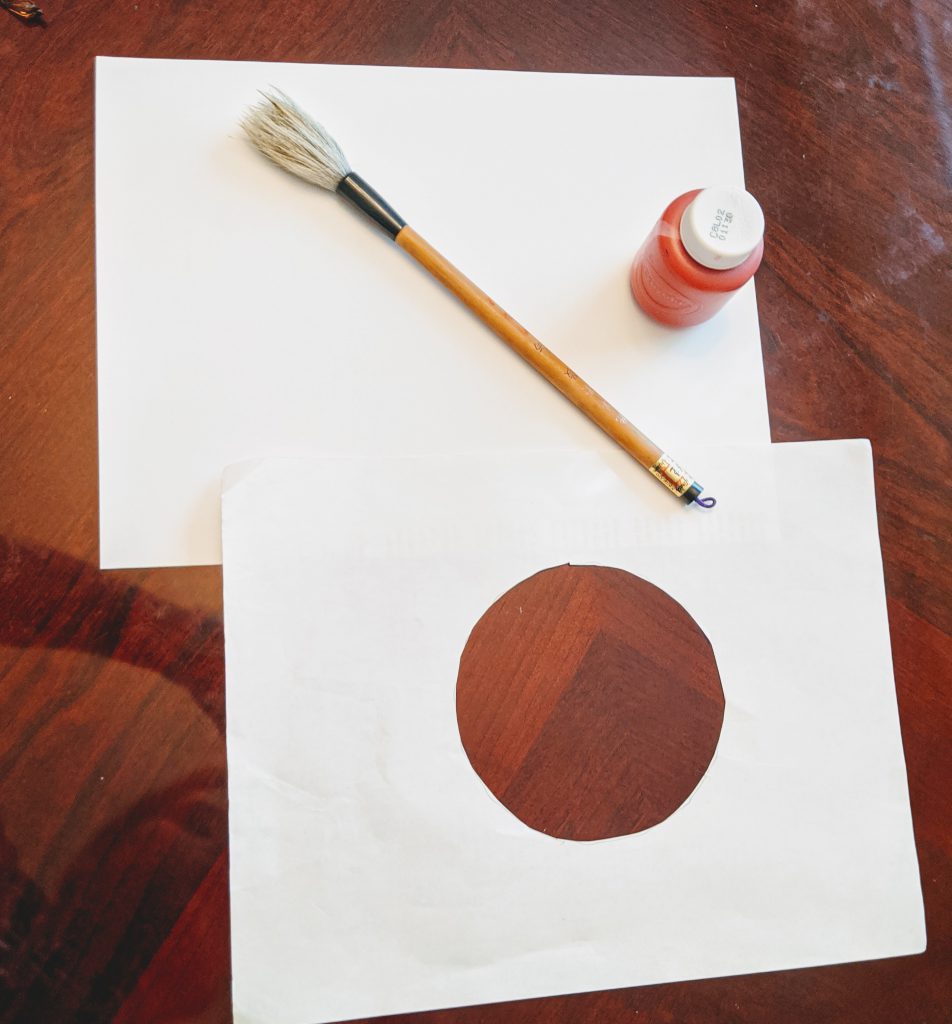 I cut a circle out of the middle of a piece of scratch paper to use as a template. Then I placed that over the cardstock and taped them both to the table. Now my son was able to paint his circle to his heart's content!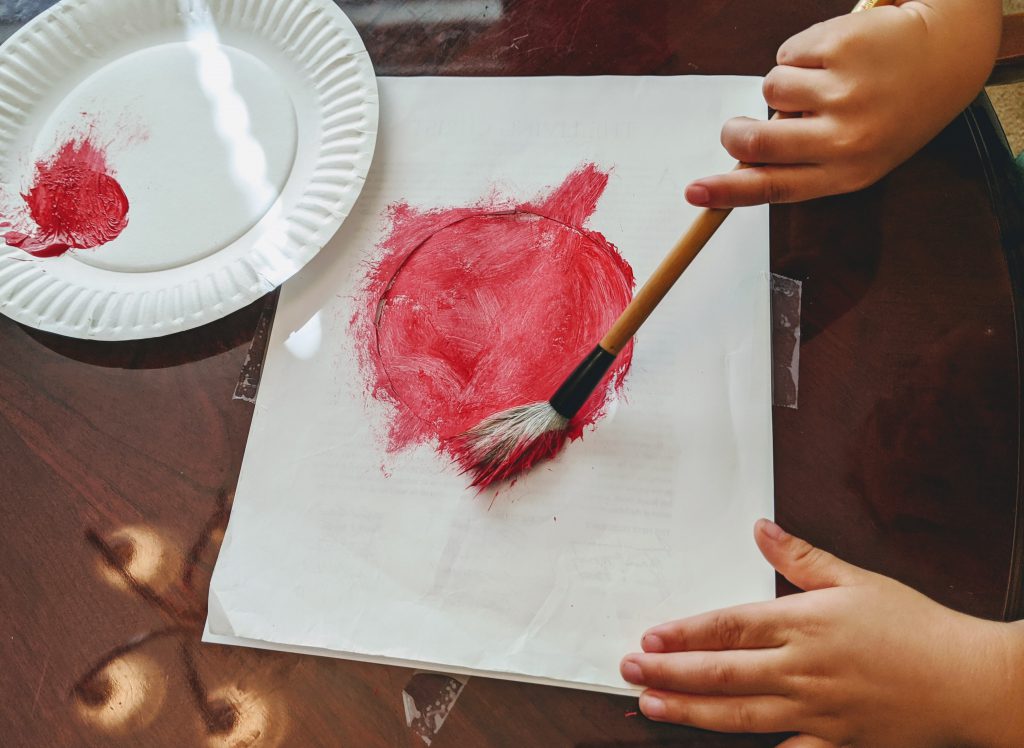 Once he was done I removed the template and the end result was a nice representation of the Japanese flag!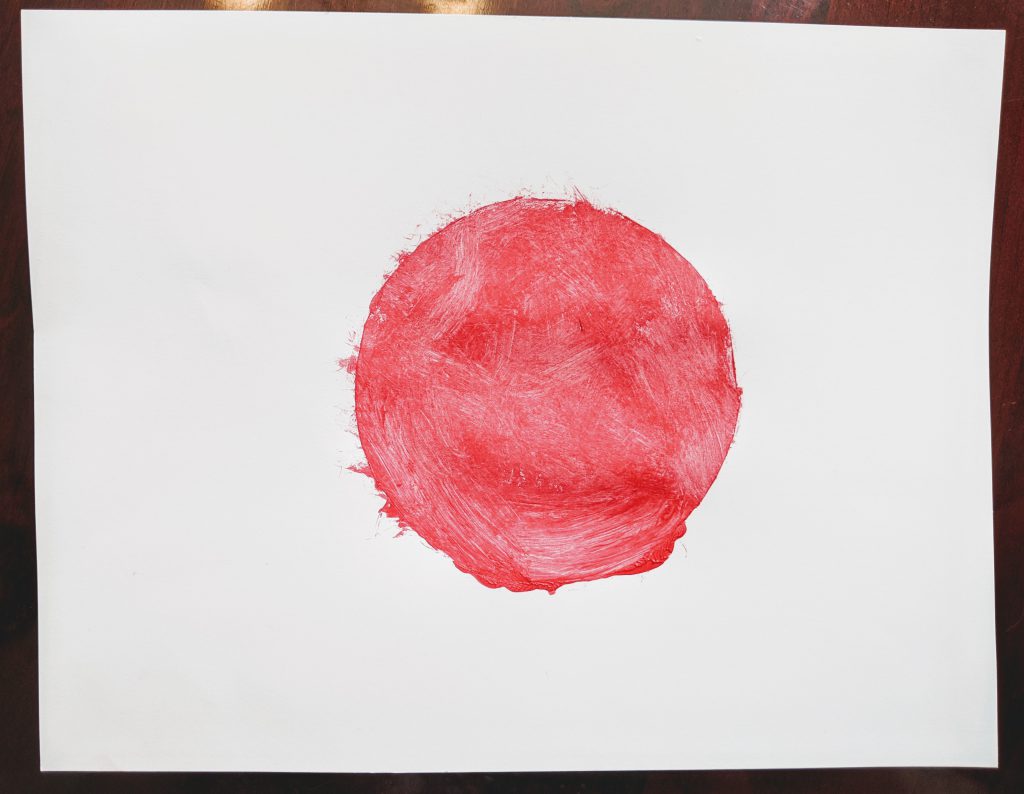 Origami
For one of our activities, I decided to introduce the art of Japanese paper folding, or origami.
The great thing about origami is that you don't need a lot of supplies. Get a nice stash of origami paper and you're good to go!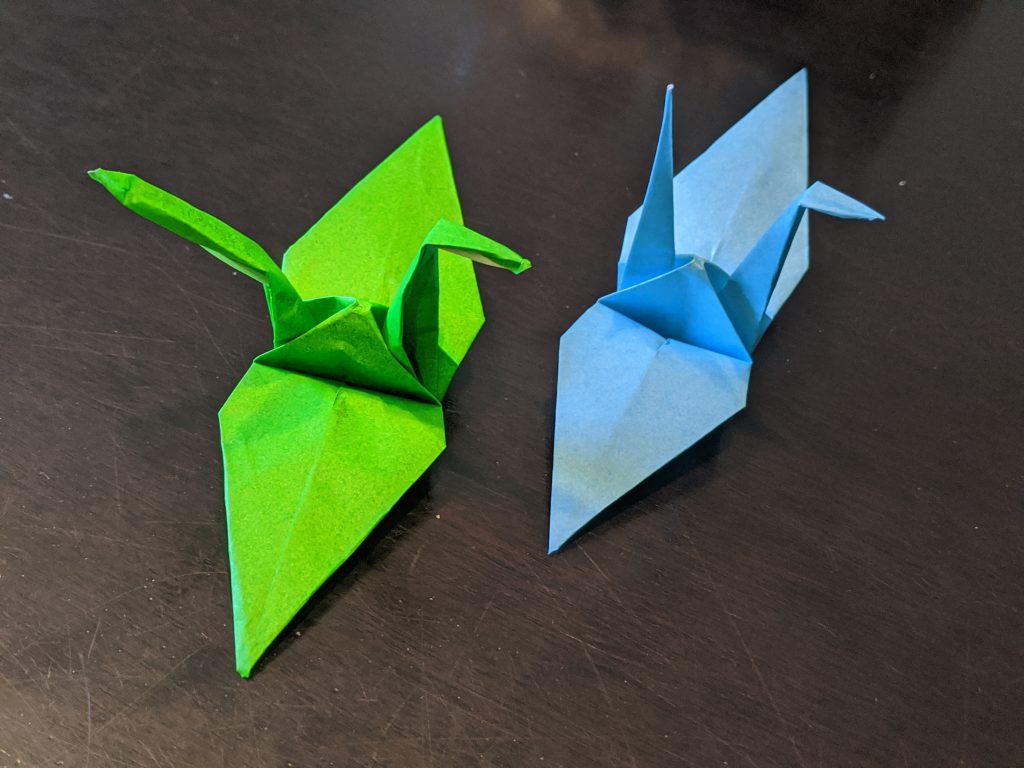 I knew that this might be a little tricky for my son (he's only three and a half) but I also thought it would be something he would enjoy. And enjoy it he did!
If you're not experienced folding origami, I would suggest finding a good demonstration on YouTube and trying it a few times before you attempt it with your child. That way you are comfortable with the steps and can easily explain it to your child. I found this video to be a useful demonstration on how to make paper cranes.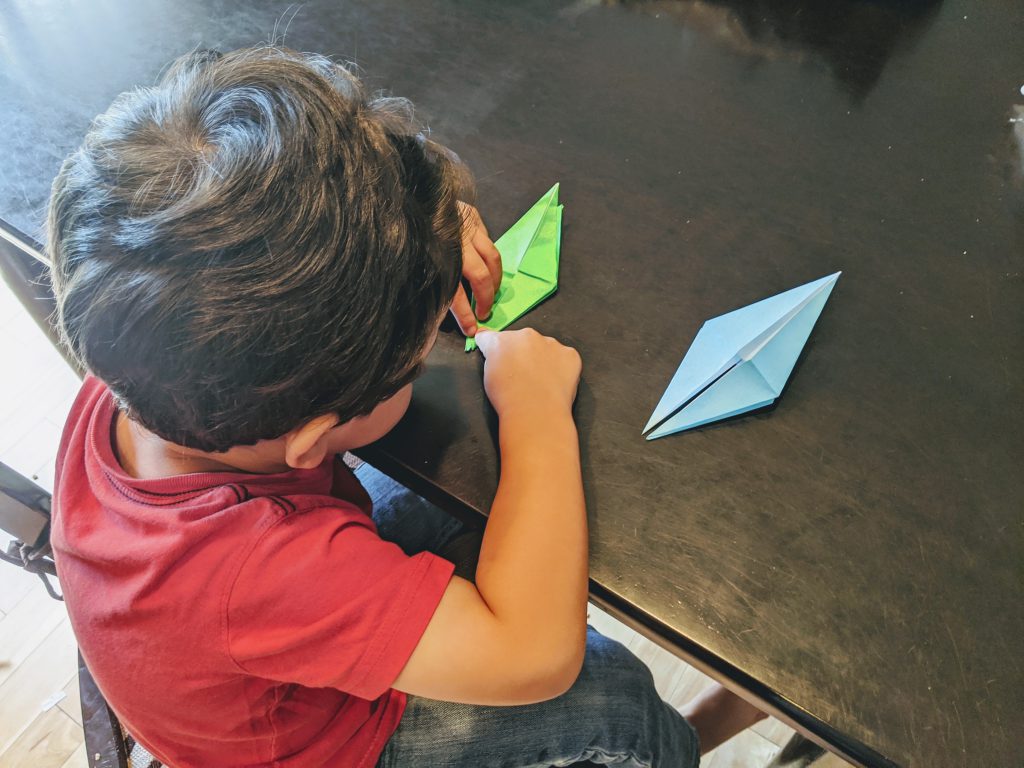 To help him see the steps, I made a crane at the same time and showed him each fold. For a lot of the folds we did it together to get it lined up just right.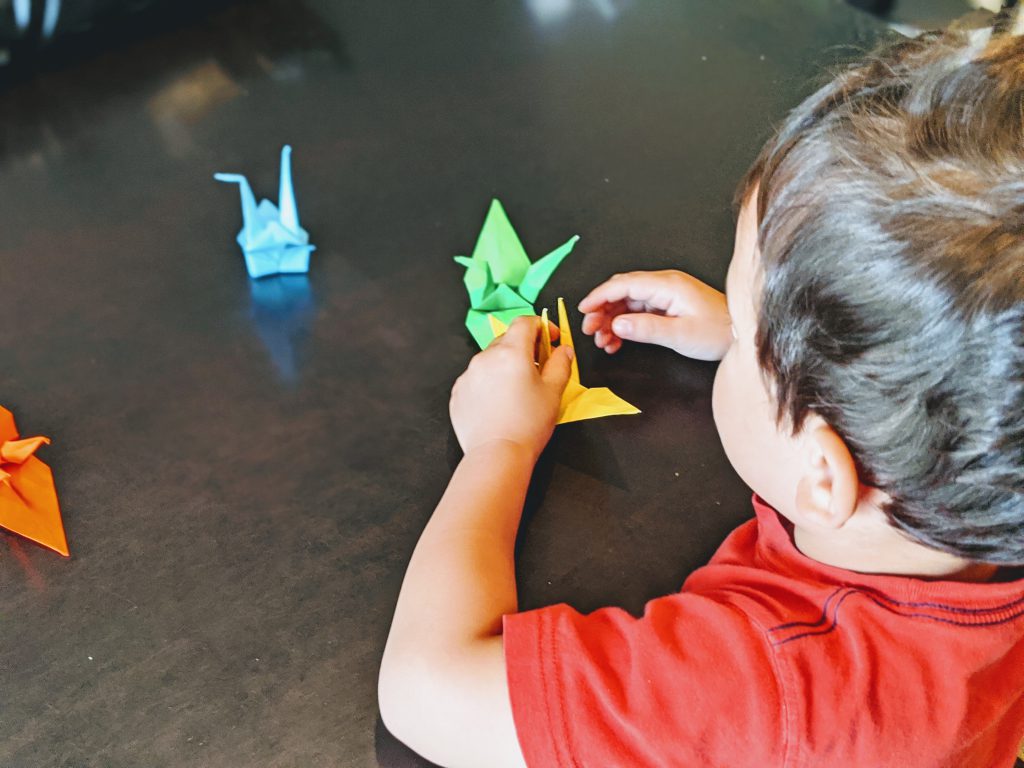 Even though he needed help, my son felt so excited and accomplished when he saw his completed crane! And he proceeded to make three more before he would take a break for a snack.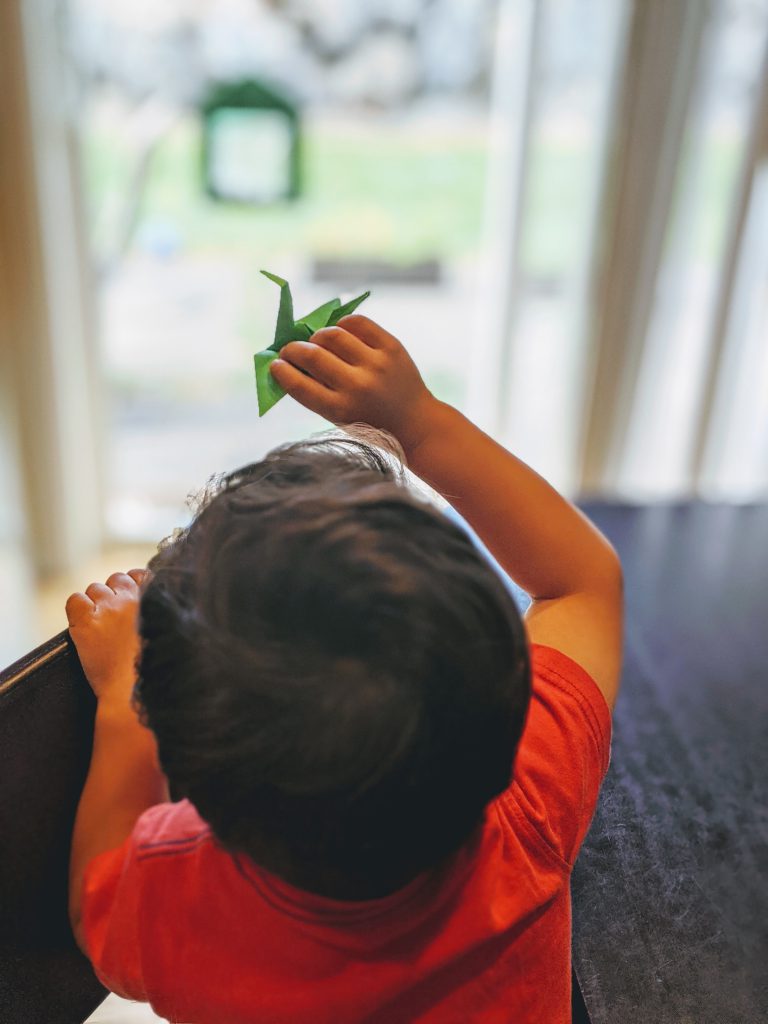 Japan Preschool Crafts
Cherry Blossom Tree
As part of this preschool unit, I knew I had to include something with cherry blossoms. My boys looove when the blossoms start popping up on trees in the spring.
And cherry blossoms in particular carry a lot of significance in Japan.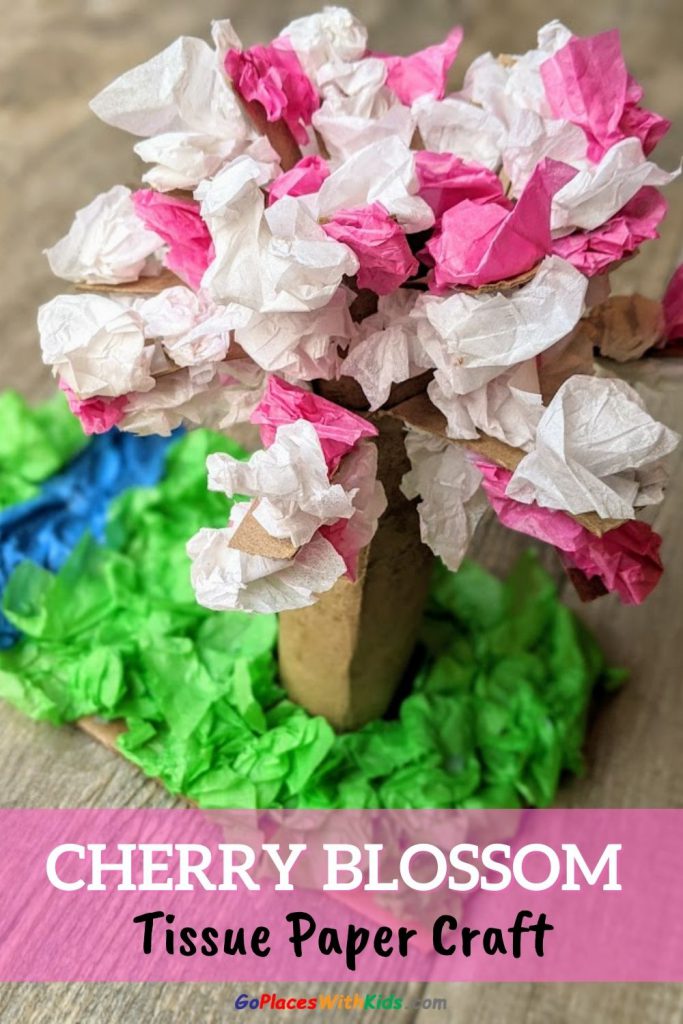 They are featured prominently in Japanese art and culture and every year the arrival of the cherry blossoms is eagerly anticipated in Japan.
Because the flowers bloom so beautifully and fade so quickly, they are a symbol of the fleeting and exquisite nature of life.
And with this craft, your child can make their very own free-standing tree full of beautiful blossoms! You can find the instructions here.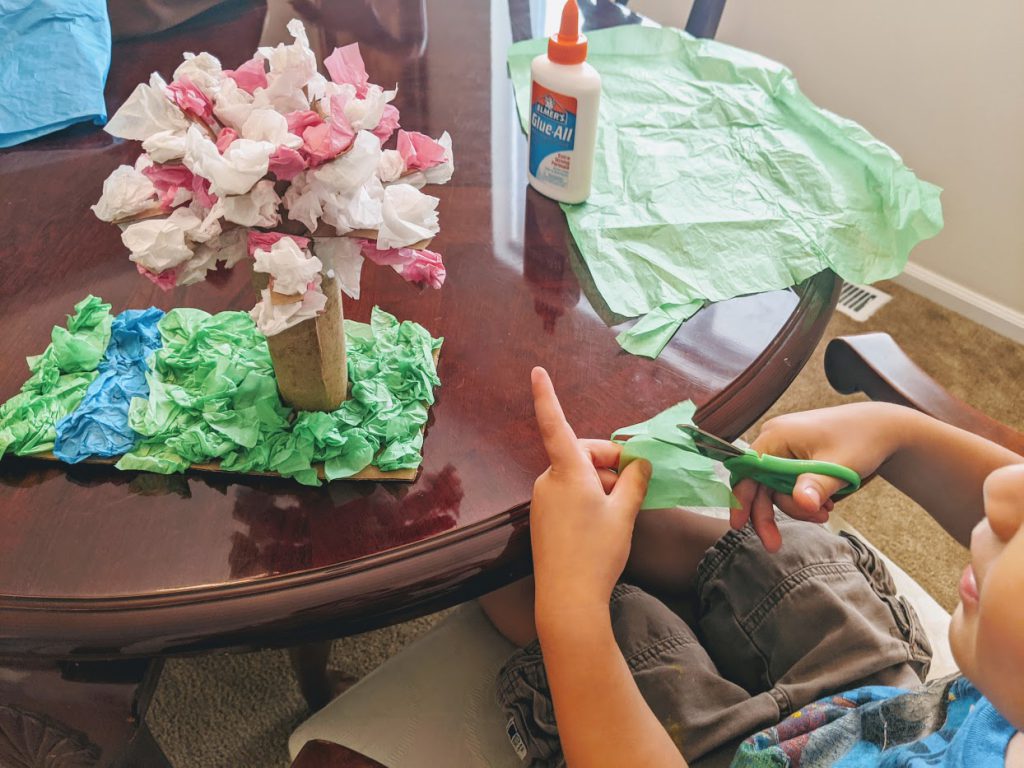 This craft involves lots of cutting and gluing, which is great for focus and fine motor skills.
My son loved helping cut out all of the tissue and attaching it to the tree. And he was so excited about the finished product!
Paper Plate Hand Fan
Next, we made paper plate hand fans. This is another easy activity with basic supplies. We were inspired by this post by Pinterested Parent.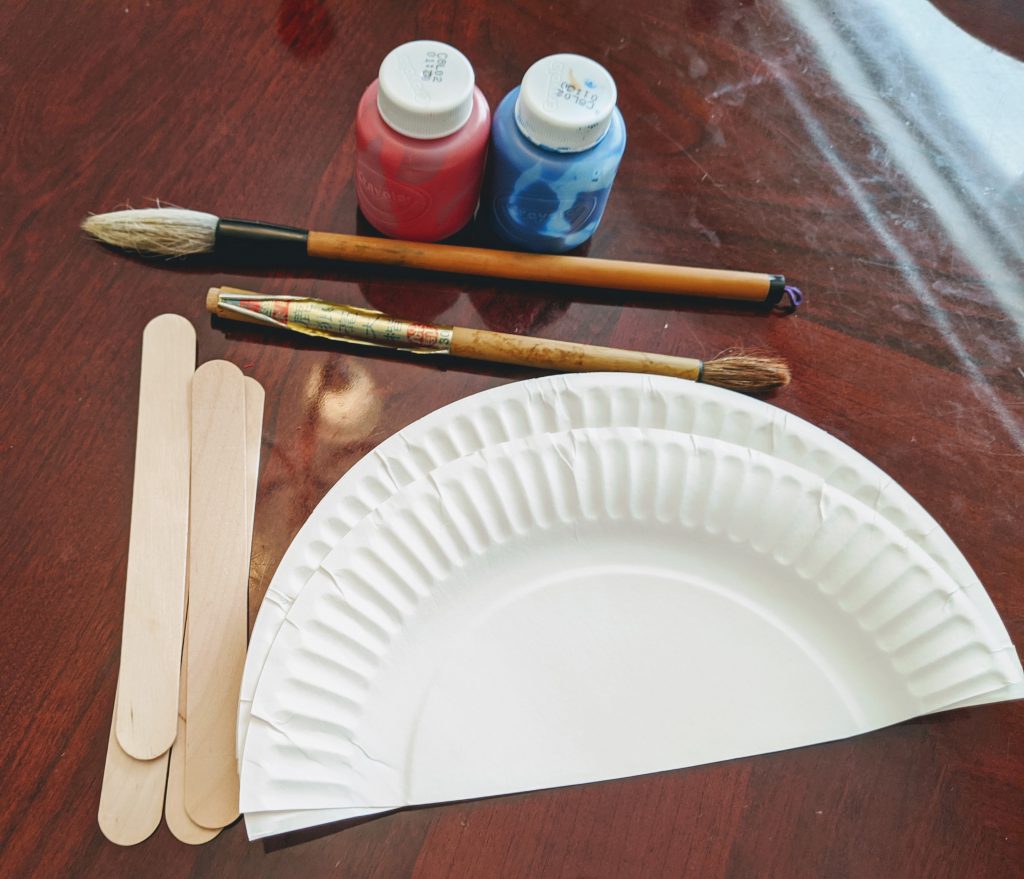 We looked at pictures of real Japanese fans to get inspiration for what we wanted them to look like. My son decided he wanted to make waves on his.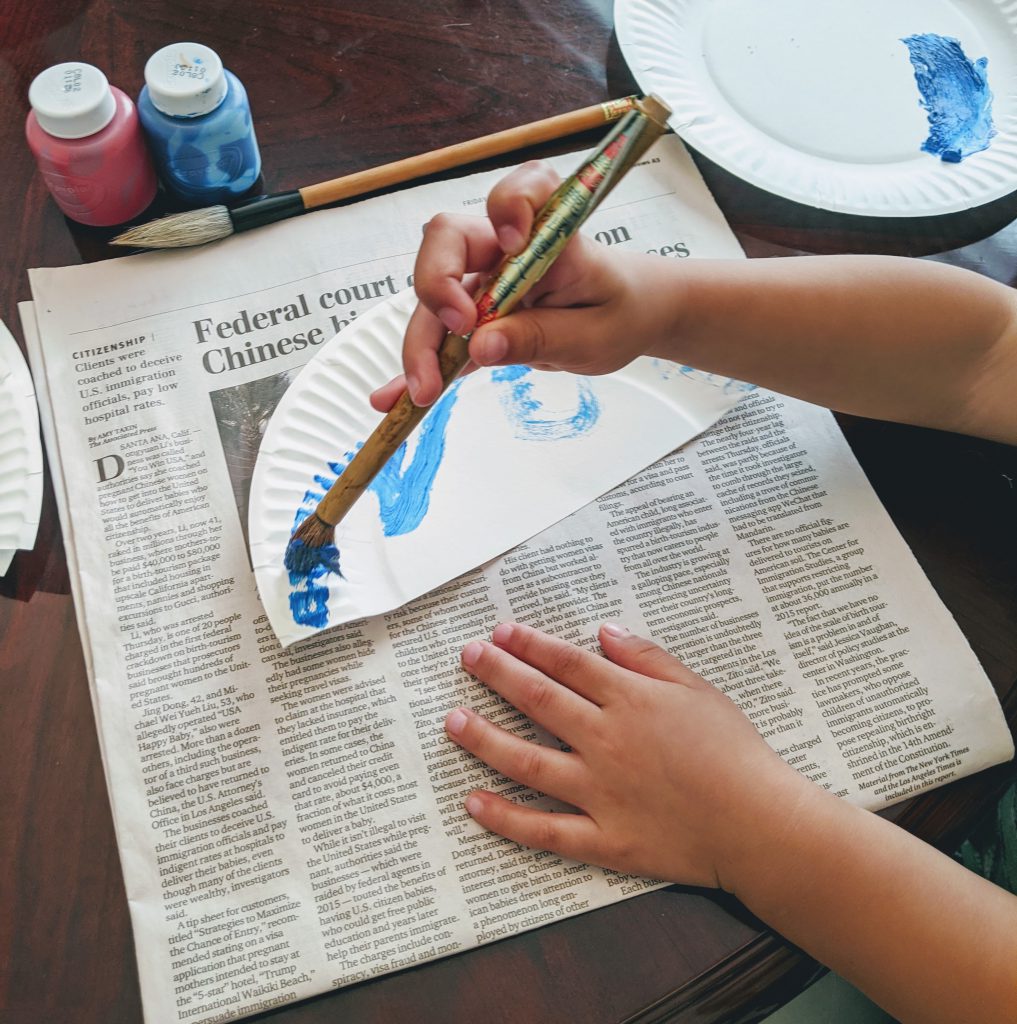 After they dried, I used a hot glue gun to glue the popsicle sticks onto the plate for the base of our fan.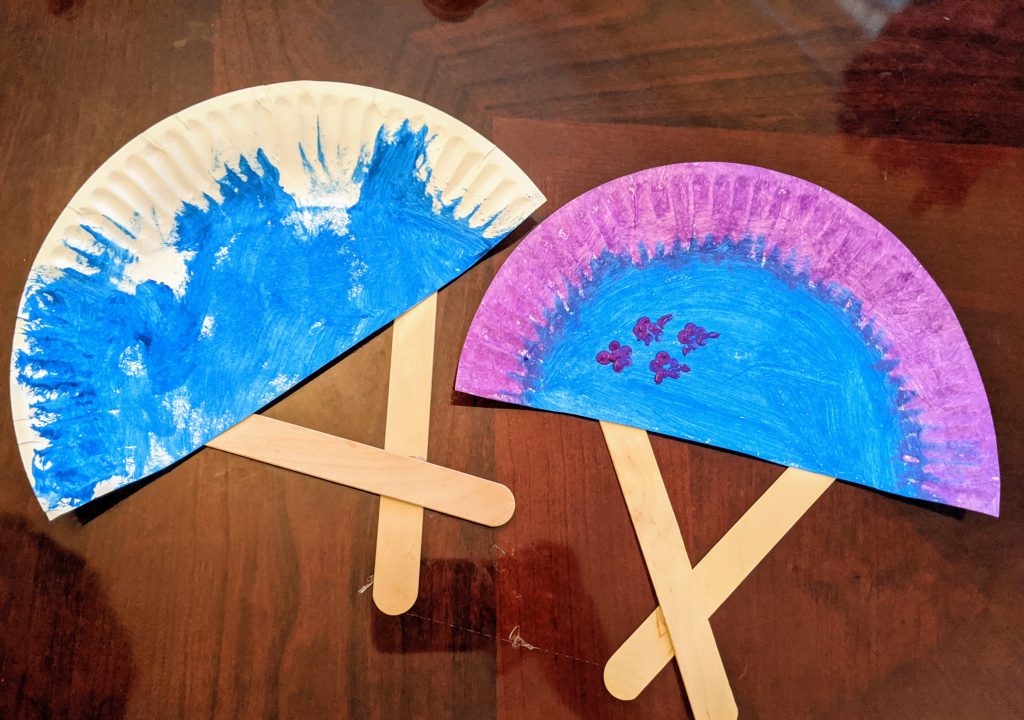 The end result was colorful and fun. And it actually worked well as a fan too! I know because my son ran around fanning everyone for the rest of the day…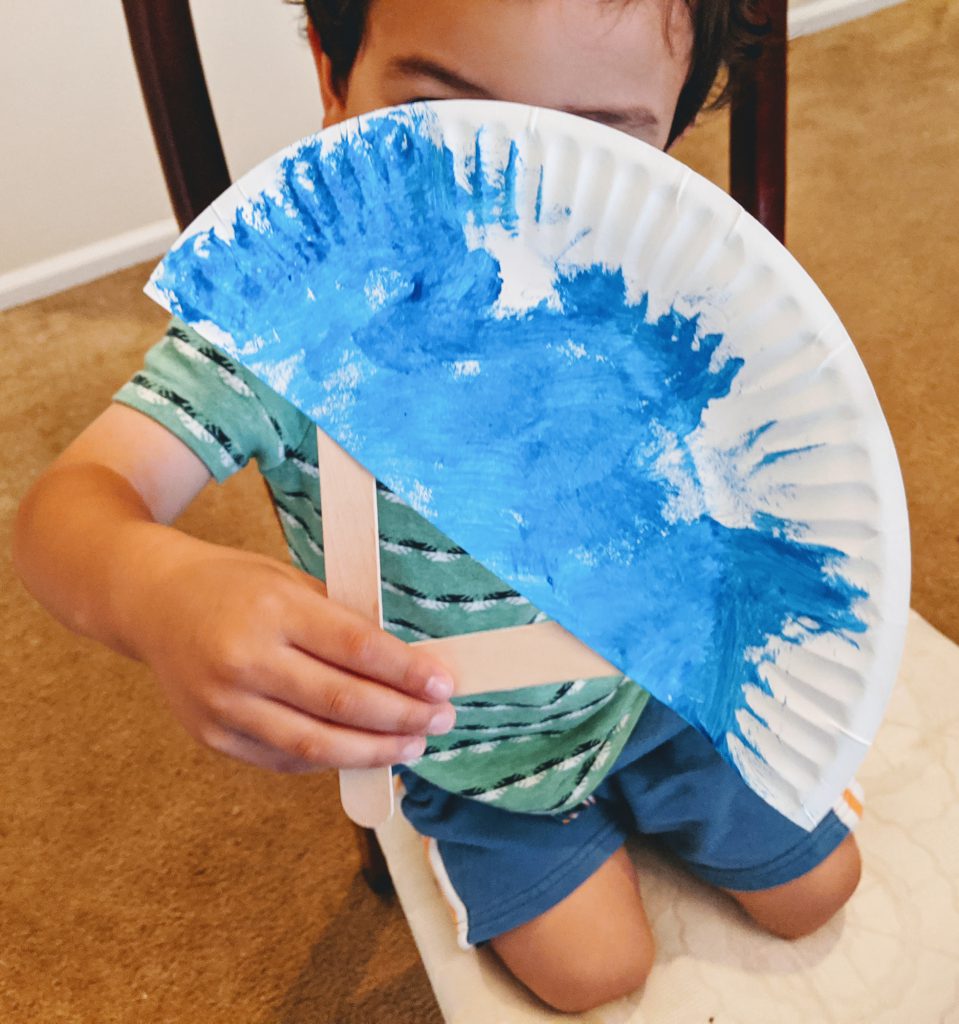 Books
This is the sweet story of a young girl who chooses to be true to herself and her culture despite what her peers may think. Suki loves her kimono and wears it to school amid the criticism of her classmates. She brushes off their insensitive remarks with confidence and kindness, making friends along the way. The story has a nice message and many references to Japanese culture.
Food
Sushi
We couldn't do a preschool unit on Japan and not make sushi. Actually, we love to make sushi at our house usually make it at least a couple of times a year. But this was the first time my three-year-old had participated in making his own sushi!
This is my go-to recipe for making sushi rice and it has nice instructions on how to make a simple roll.
We usually include some other ingredients besides just those for a basic California roll. Some of our favorites: Tempura shrimp (I just buy the pre-made kind from the store and cook it in the oven), cream cheese, spicy crab meat, spicy mayo. Then we all just mix and match the rolls any way that sounds good!
He loved the whole process, especially squishing the rice onto the nori and picking which ingredients to include. Oh and rolling it up of course!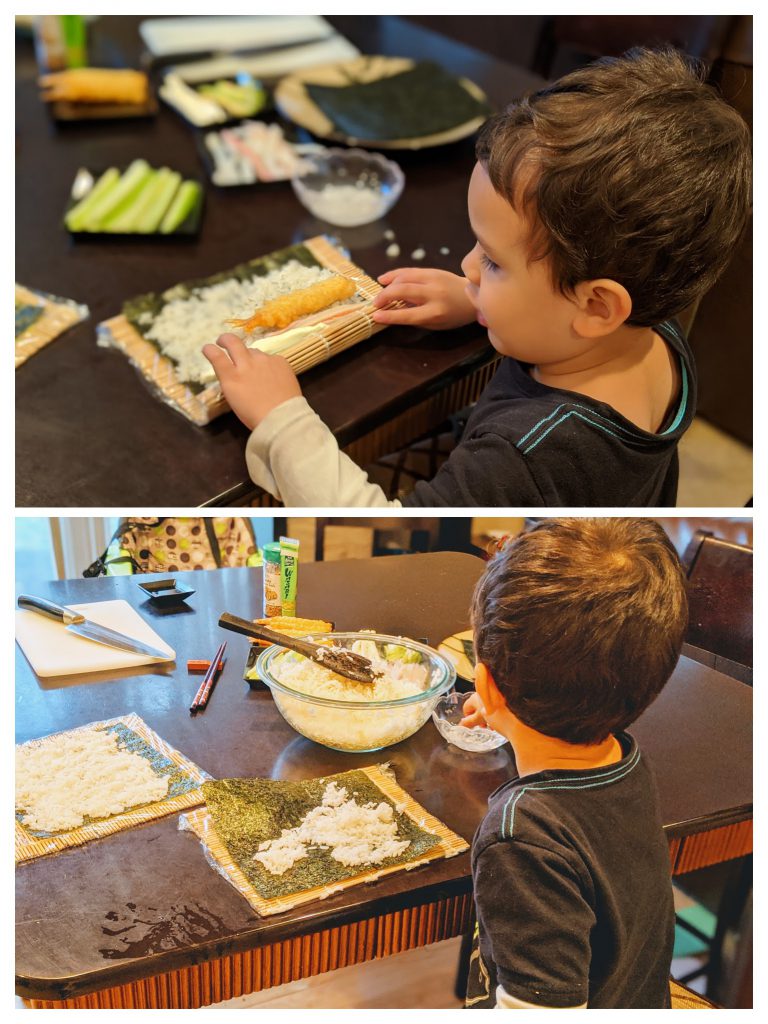 The chopsticks were a bit of a struggle, but he was determined to eat it the authentic way. And he finished his entire roll with gusto!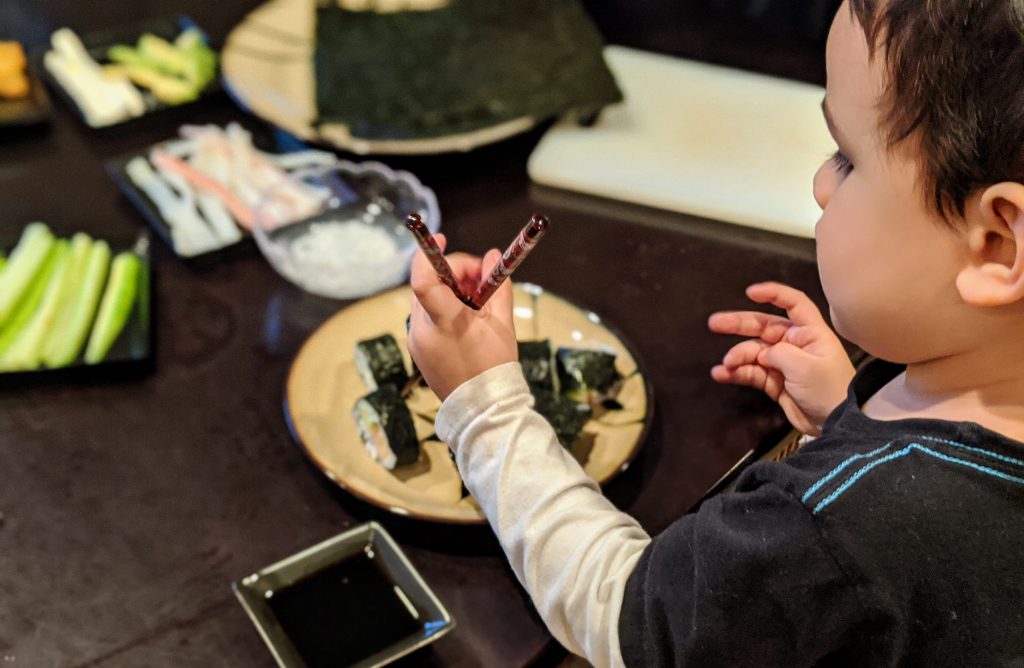 Mochi Ice Cream
And of course, we had to include one of our other Japanese favorites, mochi ice cream! It's one of my kids' all-time favorite treats.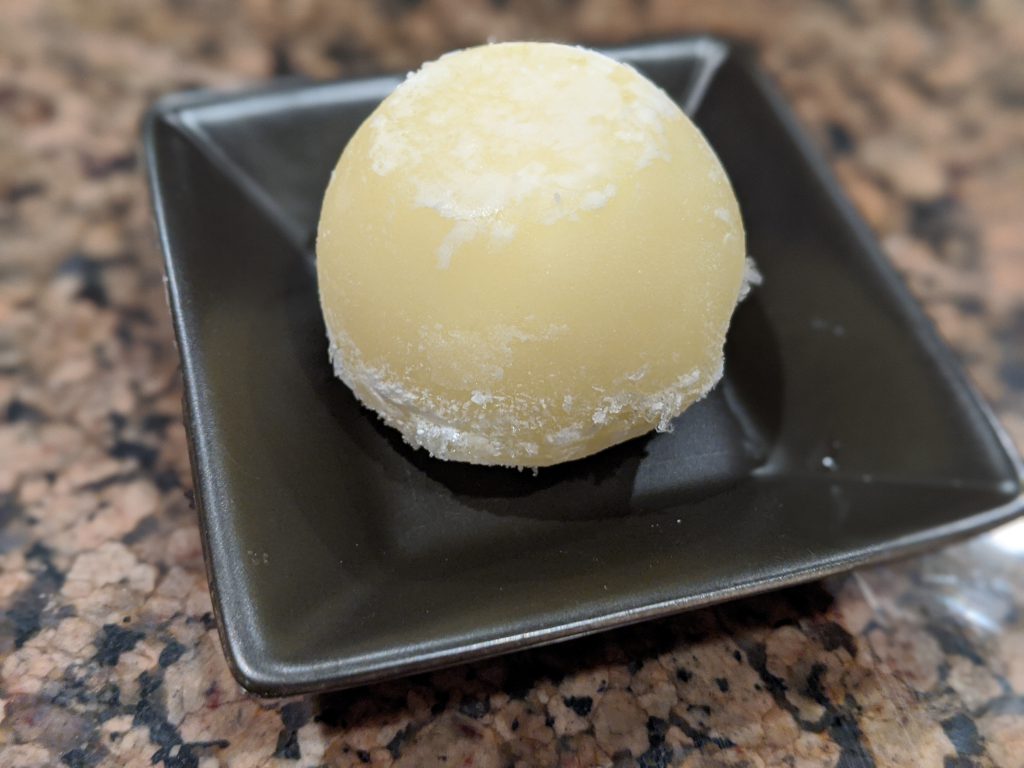 Although I have made it from scratch before, this time I went the easy route and just got it from Costco.
Wrap Up
Well Japan, it was fun. We ended our unit of Japan preschool activities by putting a stamp in my son's passport (using these sticker flags). He liked the Japanese flag because of how simple it was and had fun finding the right sticker flag to put in his passport.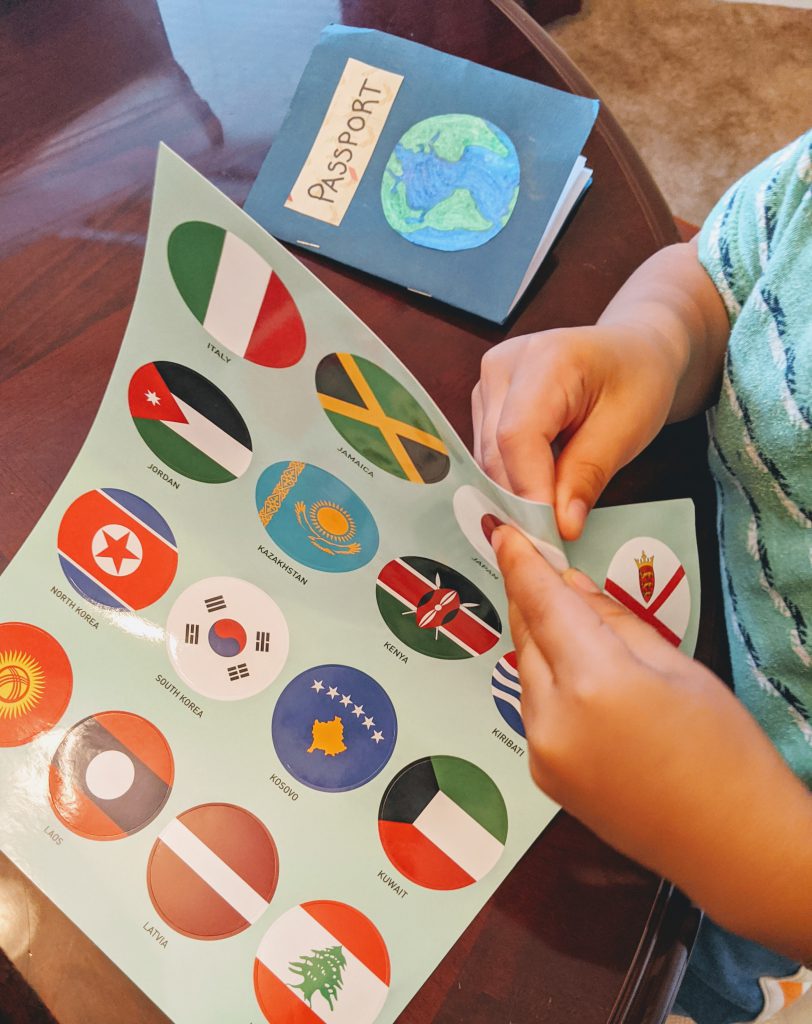 Next, we're off to Uganda!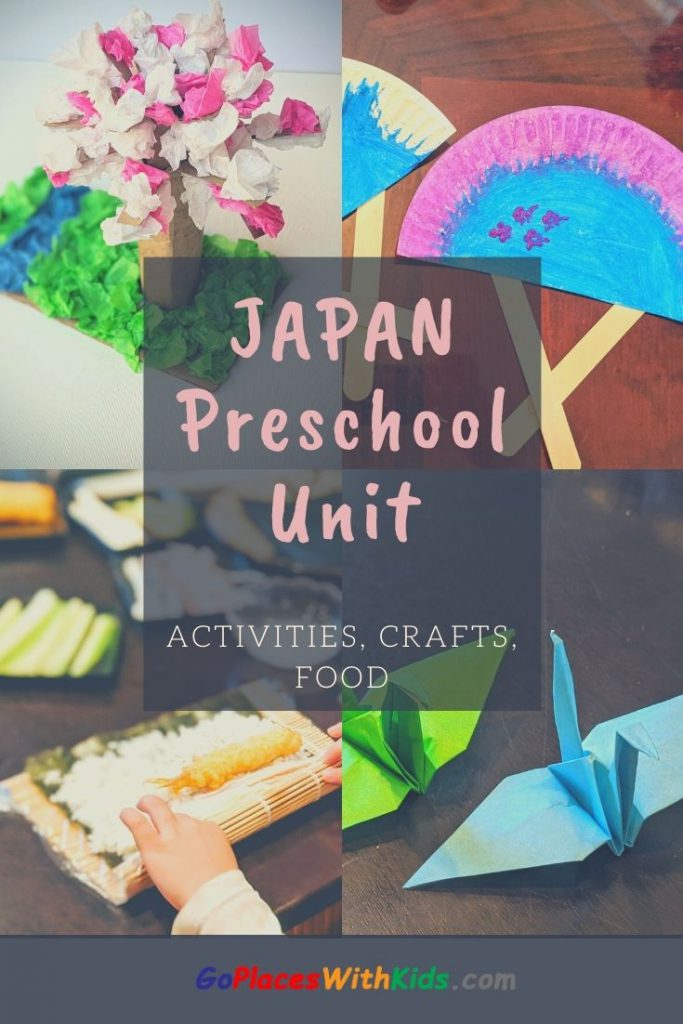 Be sure to check out our other cultural preschool units:
Philippines Preschool Unit- Crafts, Activities, and Free Printables!
India Preschool Unit- Fun Crafts, Activities, and More!
France Preschool Unit- Activities, Crafts, and Free Printables!
Uganda Cultural Activities for Young Kids- Crafts, Games, and More!