This week we jumped into our France preschool unit!
My boys have been so excited for us to continue our "travels" after completing our Philippines preschool unit. They loved creating their own 3D jeepneys, making a Philippine Christmas parol, playing Filipino games, and making some delicious treats.
And now we're off to France in our home tour of the world!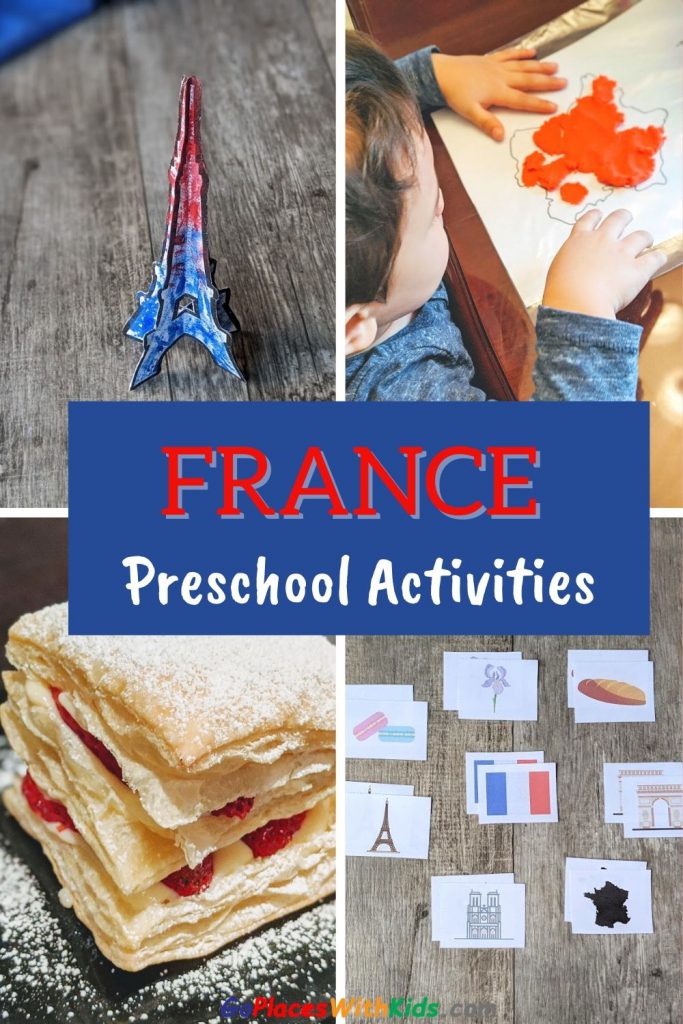 Introduction to France
Use the atlas
We started off our France preschool unit by finding France in our trusty children's atlas. My son wanted to figure out how we would get there if we were really coming from the Philippines, so we traced a route from Southeast Asia to Europe.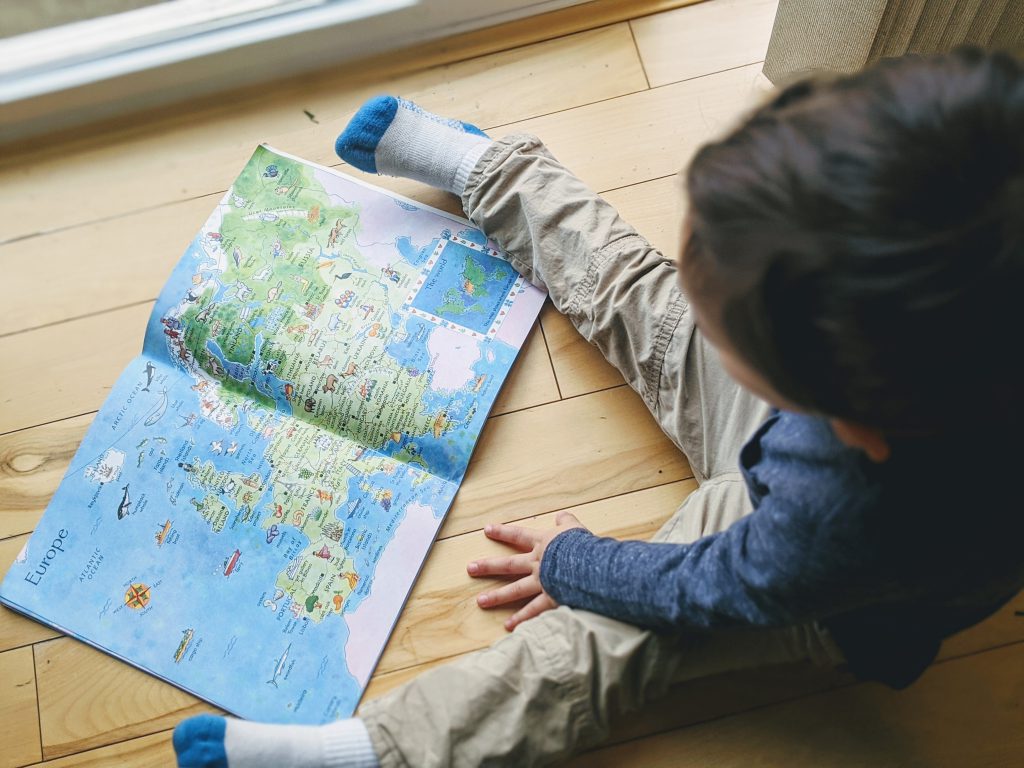 France matching game
Then we learned more about some of the national and cultural symbols of France with this France matching game. This is a great way to provide an overview of some of the unique characteristics of the country.
You can get the free printable here.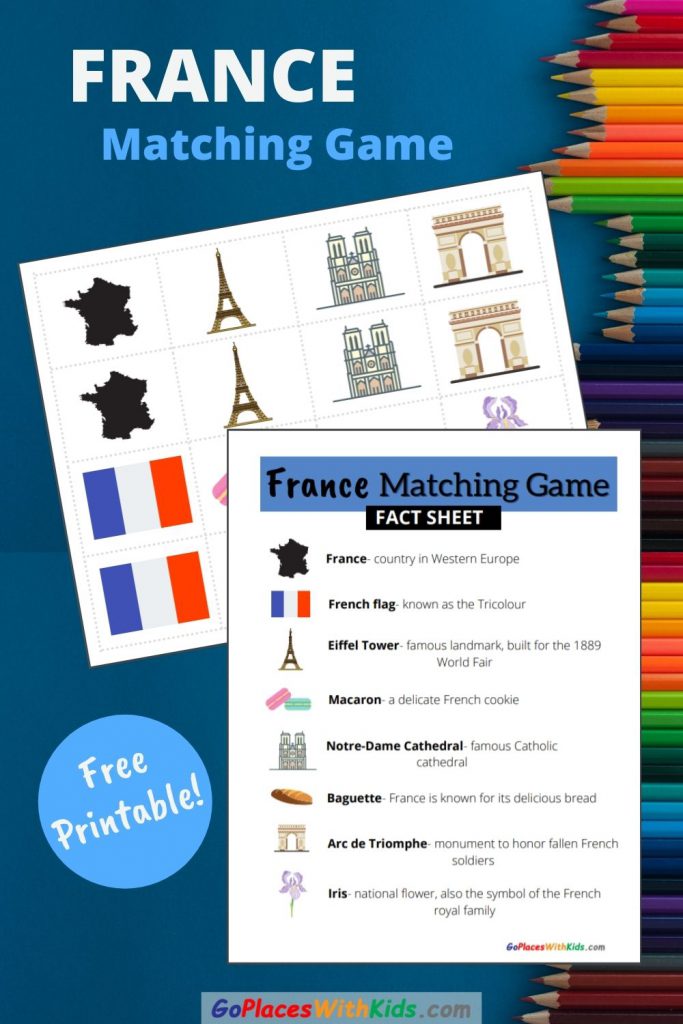 Outline the country in play dough
Next, we used play dough to fill in the outline of the country.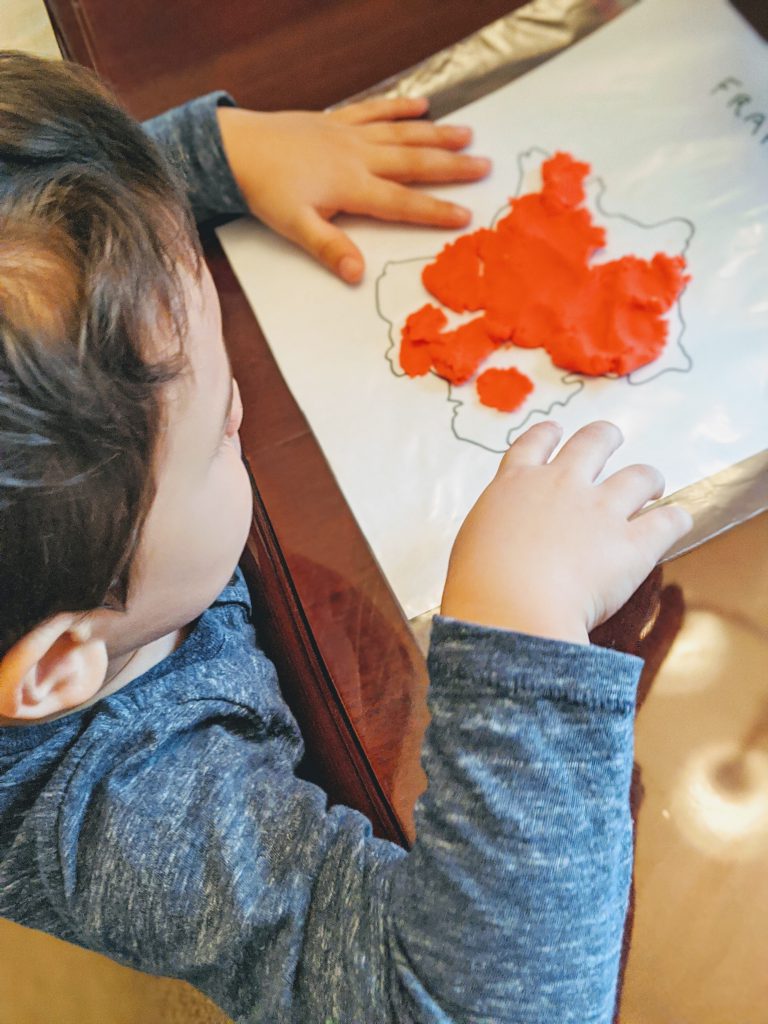 This was a nice way to become familiar with the shape of the country and also work on some fine motor skills.
France Preschool Crafts
3D Eiffel Tower
Of course, you have to include activities involving the Eiffel Tower if you're studying France! And this 3D craft is super fun and easy to make.
Print out the template and decorate it, and then cut and glue it together! You child will love seeing their own standing version of this famous French landmark.
You can download the free printable here.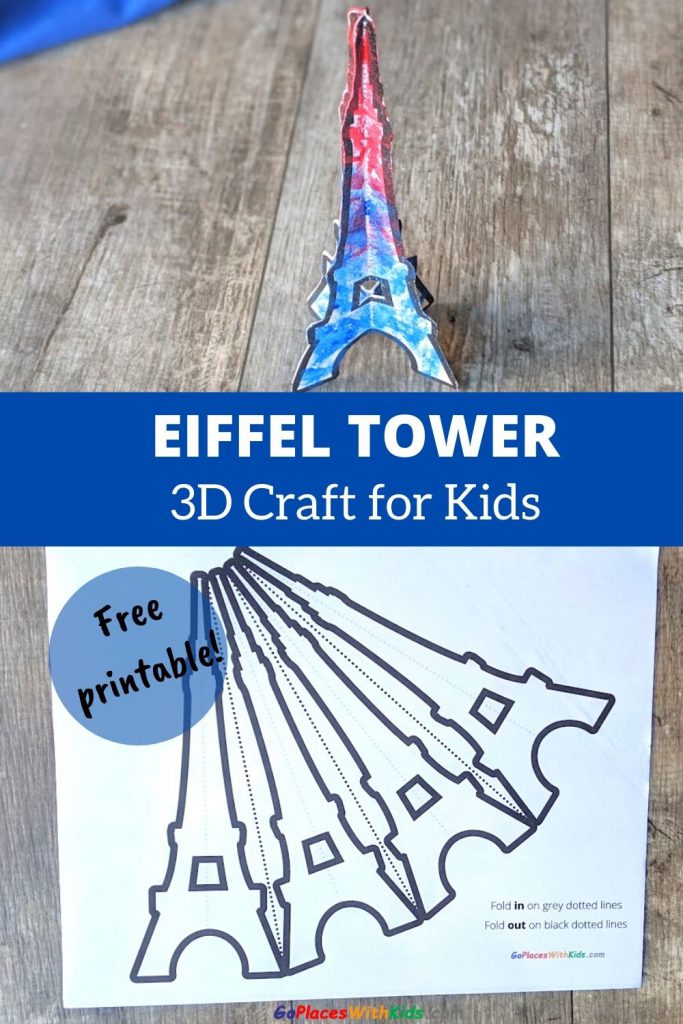 Tape painting the Eiffel Tower
This tape painting craft is another fun option if you want to make a 2D Eiffel Tower. We were inspired by this post from Too Many Crafts, Too Little Time.
Materials:
Tape
Cardstock paper
Paints
Paintbrush
The night before doing our craft, I made a rough tape outline of the Eiffel Tower on a piece of cardstock.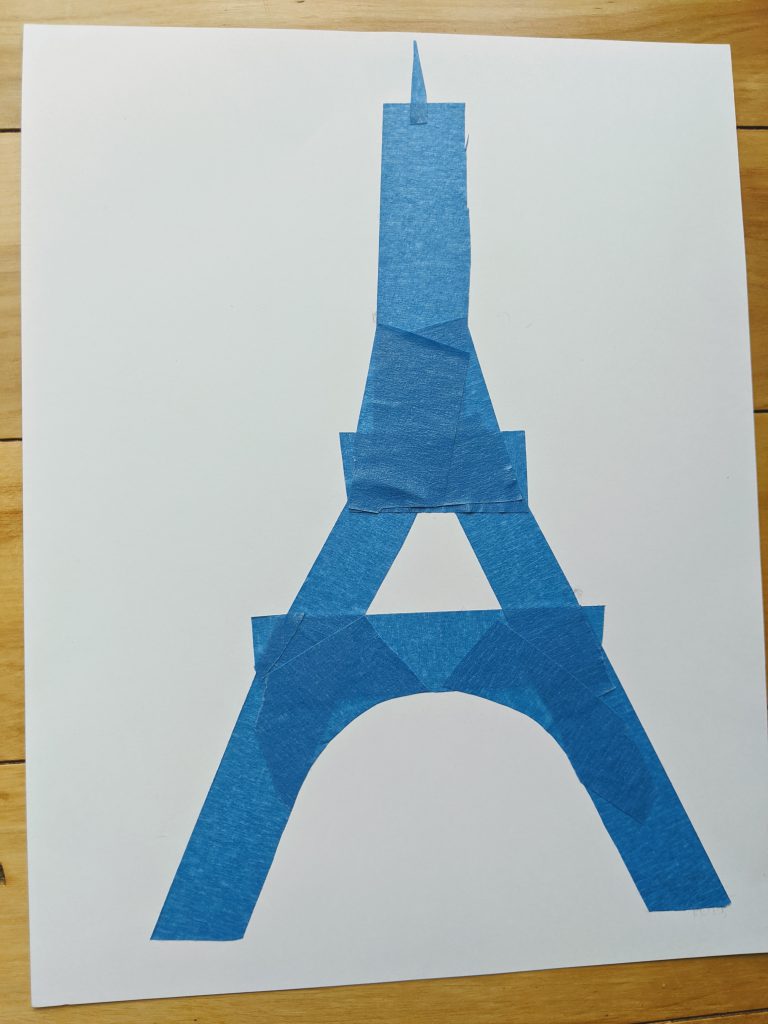 When it was time to do the craft, I set my three-year-old free with paints.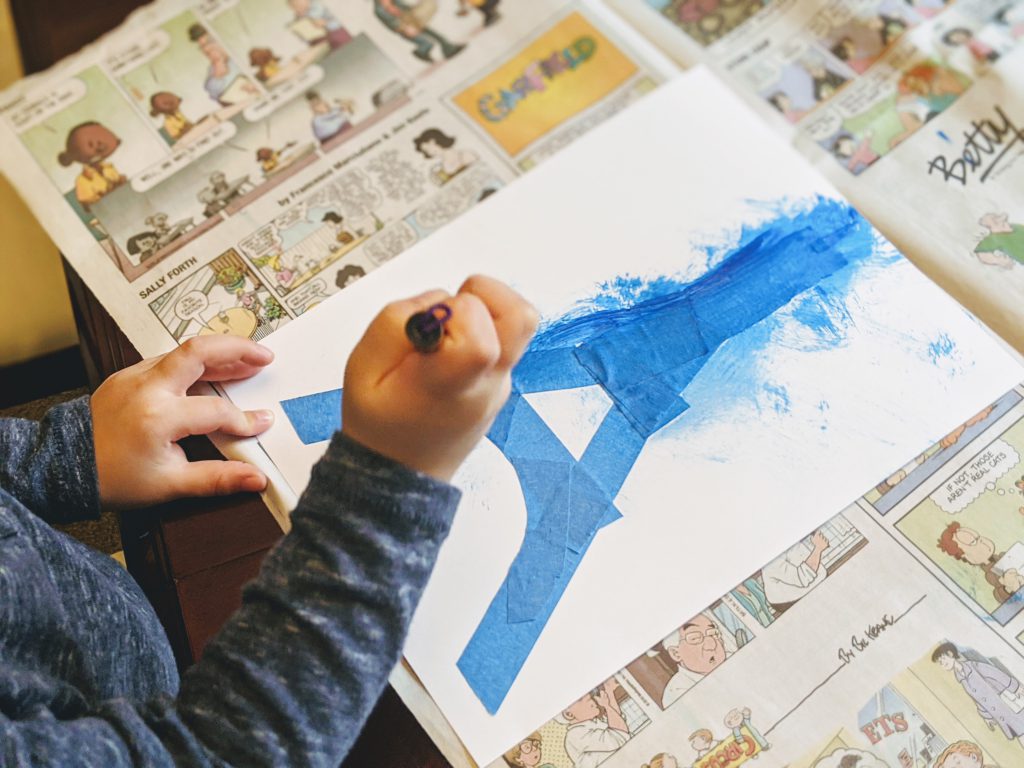 Once the paint dried, I carefully pulled the tape off. I thought that the final product looked pretty great!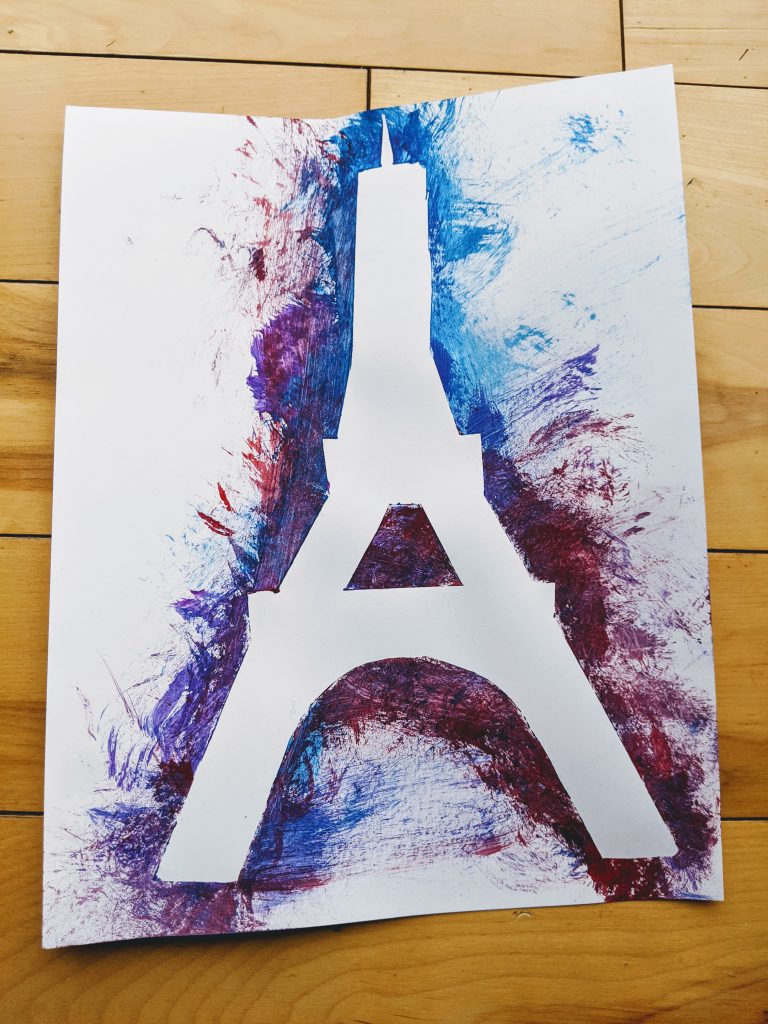 Paris City Skyline Watercolor
In order to introduce some of the landmarks of Paris and spark their creativity, you can do some watercolor painting on the Paris city skyline.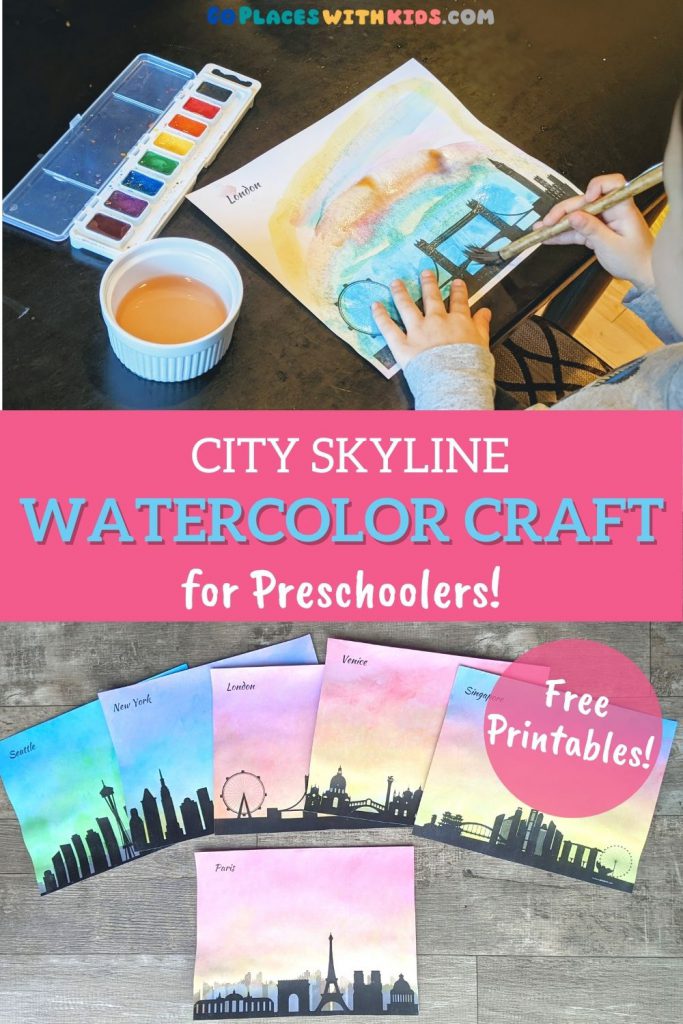 Download the free printable here and then let your child have creative license to make the sky of their choice.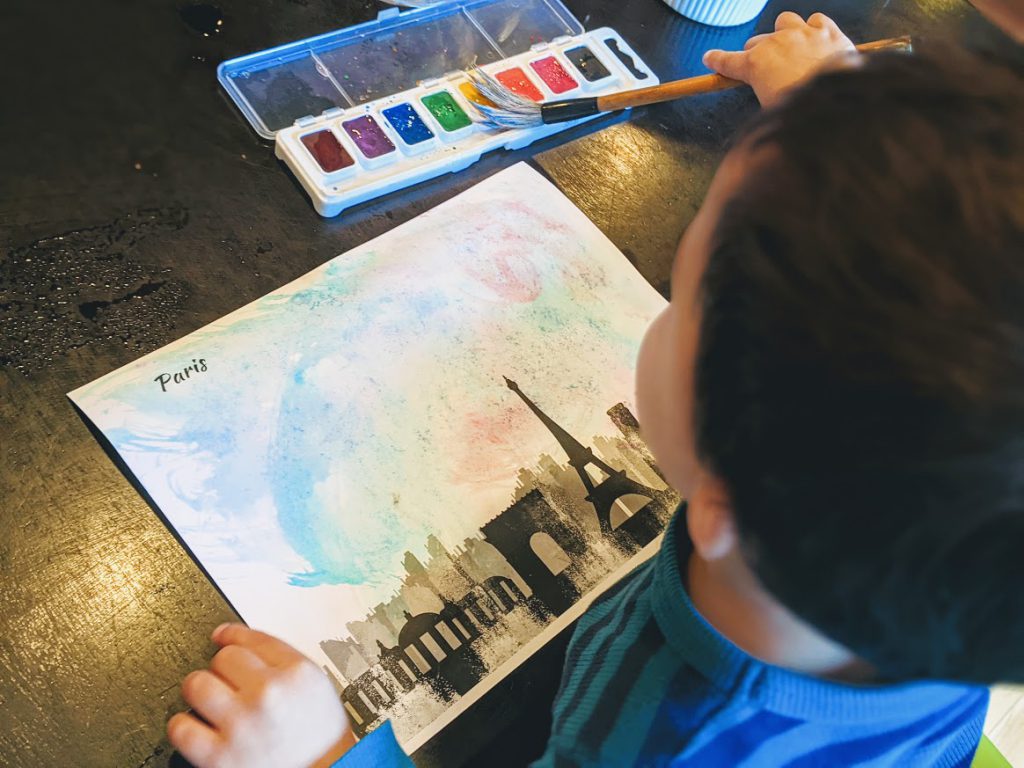 My boys had so much fun making their watercolor craft and wanted to share about their fun project with everyone they talked to!
Water lily
We also did this super cute and easy water lily craft, which I saw on this post by What Can We Do With Paper and Glue. We discussed how Monet was a famous painter who often painted water lilies. I also pulled up a few of his paintings for us to look at before we started on our craft.
Then we made our own water lilies! I cut a sliver out of a paper plate and my son painted it green.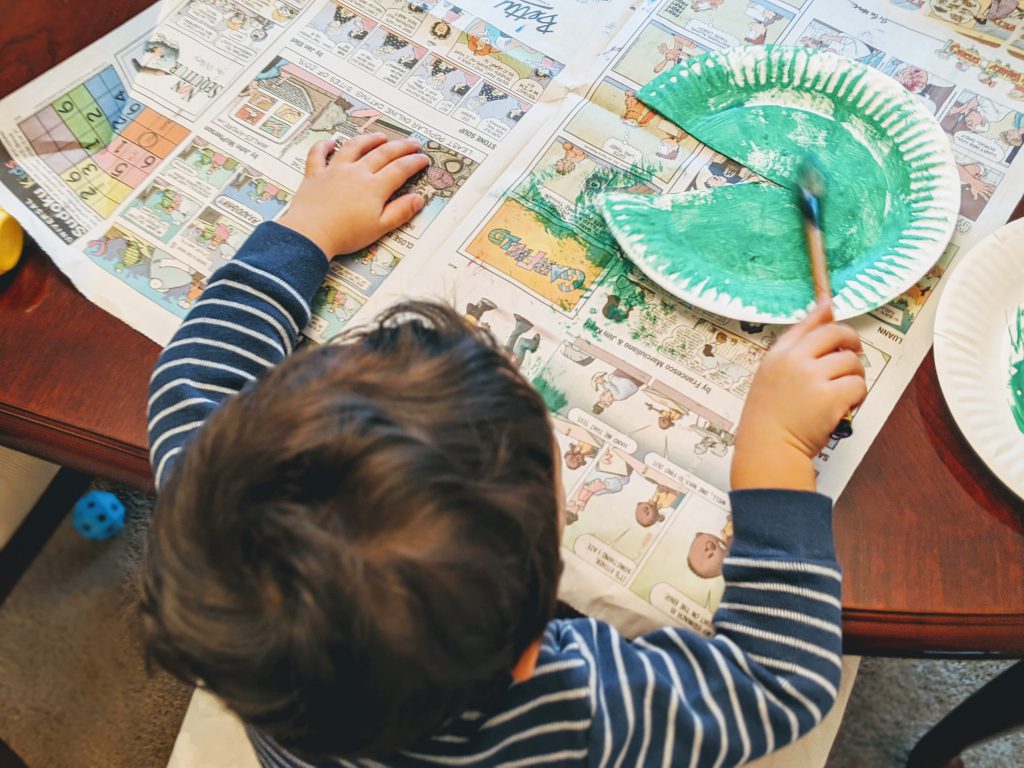 When it was dry, we added some tissue (he wanted a white flower) and taped it to the bottom for the lily. Simple and cute!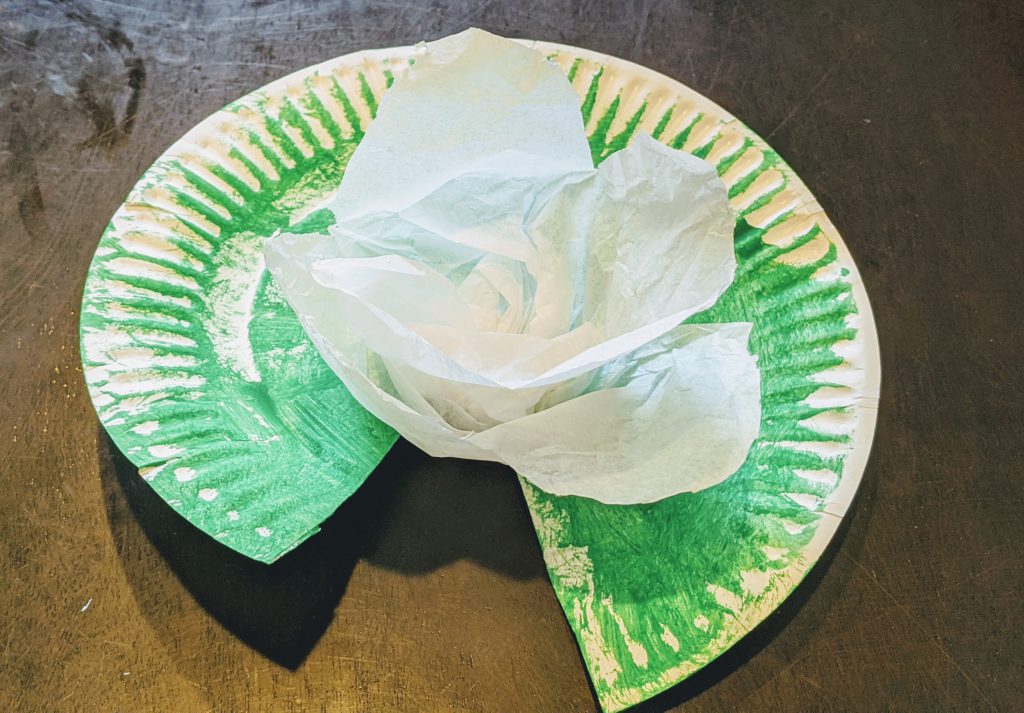 Book
Madeline by Ludwig Bemelmans. Set in Paris, this classic picture book has a sweet story and is a great introduction to some of the landmarks of Paris. My son immediately recognized the Eiffel Tower from our craft earlier.
Usually in this situation, I would check out a bunch of books about France from the library. Buuuut since we can't go to the library right now, we found a reading of Madeline on YouTube.
Songs
We are a big fan of Raffi in our house and he has some great songs in French, so we spend some time listening to French Raffi songs!
When we listened to Frère Jacques we acted the song out. The boys would pretend to be sleeping for the first part and then I would shake maracas (morning bells) and they would wake up! They wanted to do that over and over.
We also watched this cute video about a little snail (petit escargot). My boys loved the song and we were all singing it the rest of the day.
Food
Crepes
For breakfast, we just had to have crepes! Although we do have crepes semi-frequently, it was fun for my boys to realize that they actually come from France. This is my go-to recipe. Our favorite fillings are strawberries and nutella. Yum!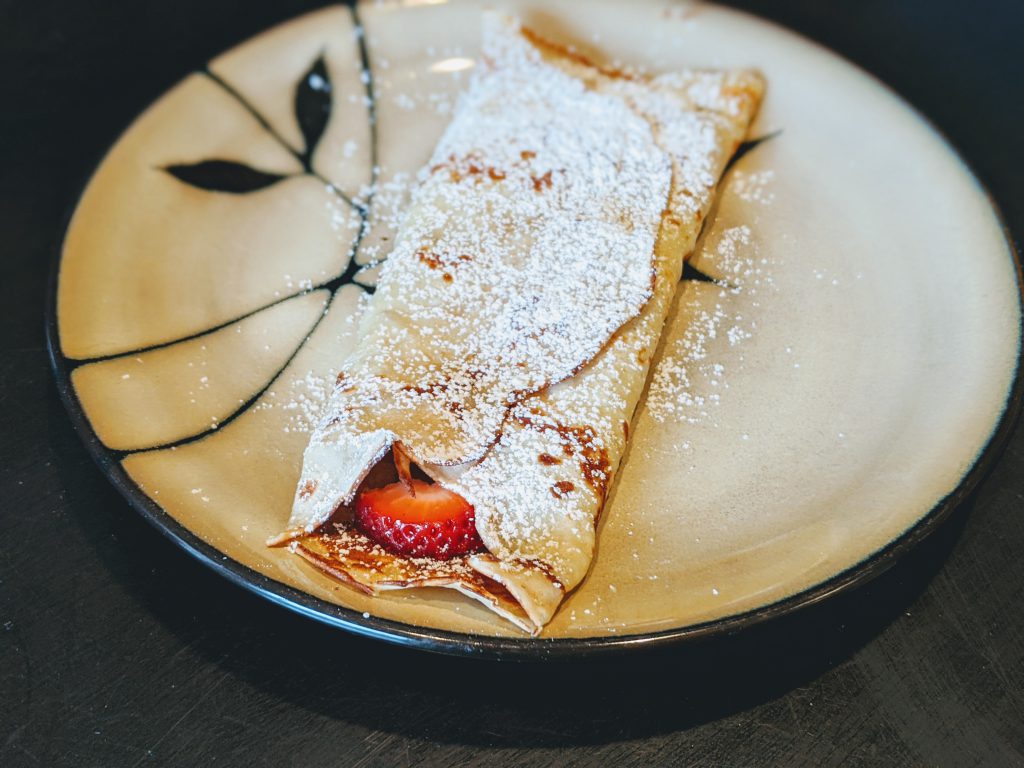 Mille-feuille
We also made mille-feuille, a type of French pastry. I did it the easy way and used store-bought puff pastry, following this recipe for the custard. The custard didn't turn out quite as thick as I would have liked it, which made it quite messy to eat. But my son enjoyed helping me put them together and they were delicious! I think it would also be really good with fresh whipped cream instead of custard.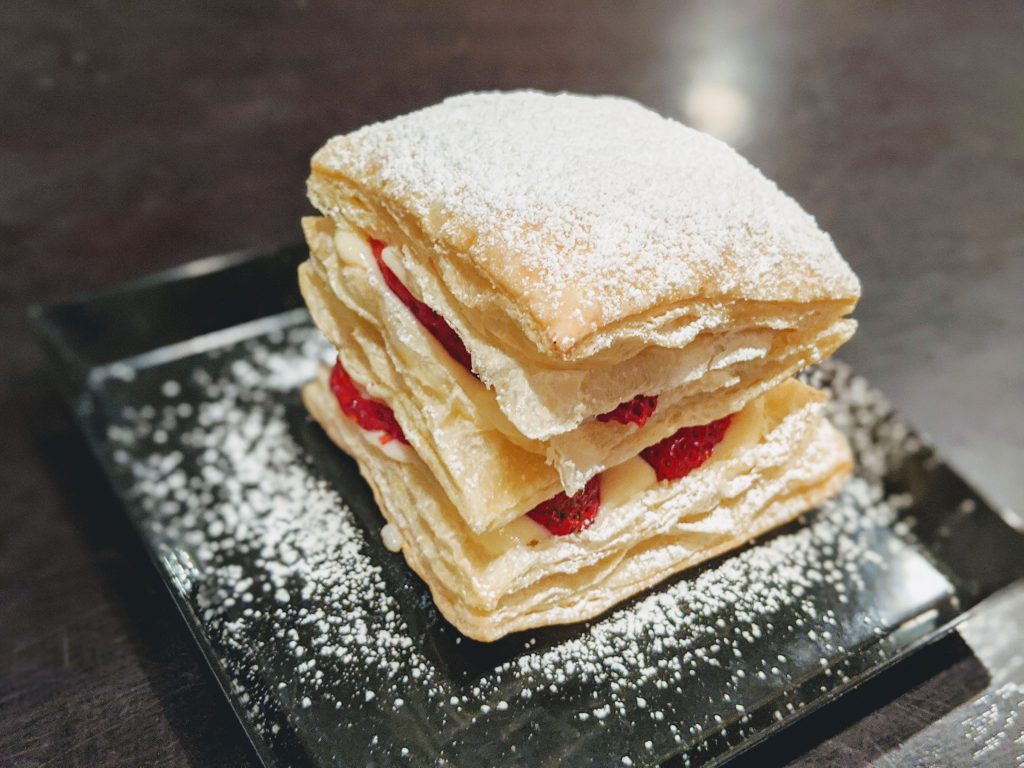 Wrap up
Last of all, we finished off our France preschool theme by putting a stamp in our passport using our flag stickers!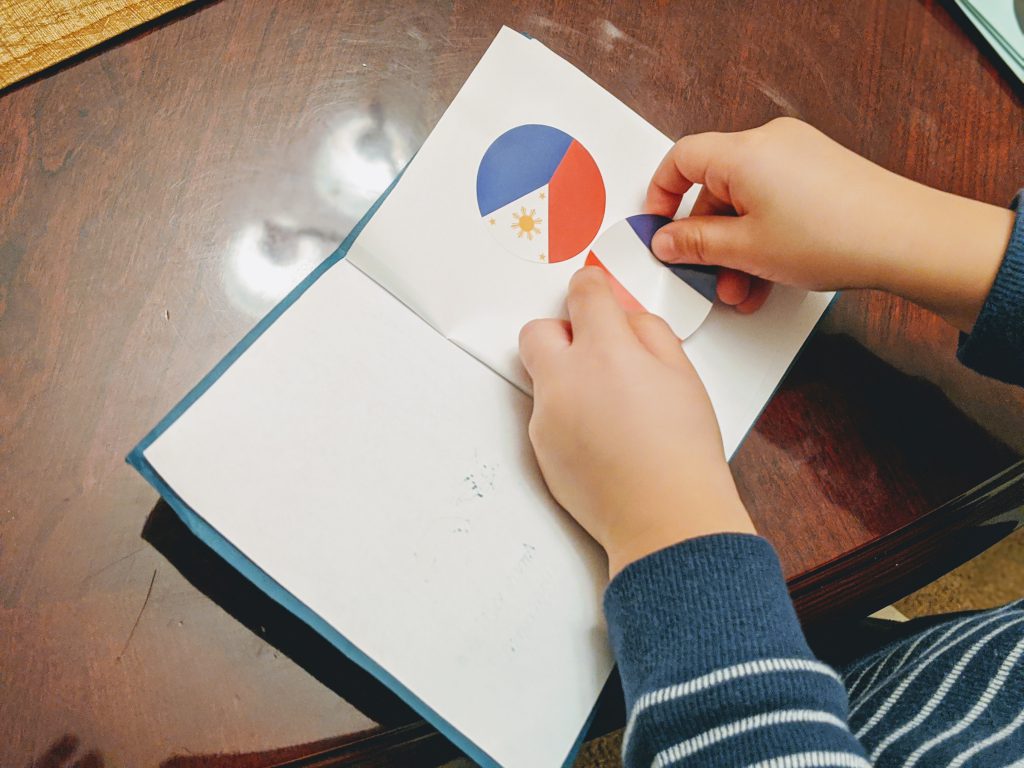 We all enjoyed focusing on France this week. Next we're off to India!
Be sure to check out our other cultural preschool units:
Philippines Preschool Unit- Crafts, Activities, and Free Printables!
India Preschool Unit- Fun Crafts, Activities, and More!
Japan Preschool Unit- Crafts, Activities, and More!
Uganda Cultural Activities for Young Kids- Crafts, Games, and More!