Ever since we did the introduction to our country studies, my boys have been so excited to get started on our preschool crafts and activities! And first up was our Philippines preschool unit!
The Philippines is a country that is near and dear to our hearts. My husband is from there, and we've traveled there as a family multiple times. So we had a lot to work with!
Since my boys have been there before, it was fun to talk about some of the things they remember while introducing a few new things as well.
Included below are some of the fun activities and crafts we did, as well as links and printables so you can recreate them yourself. Your child will love learning all about the culture of the Philippines!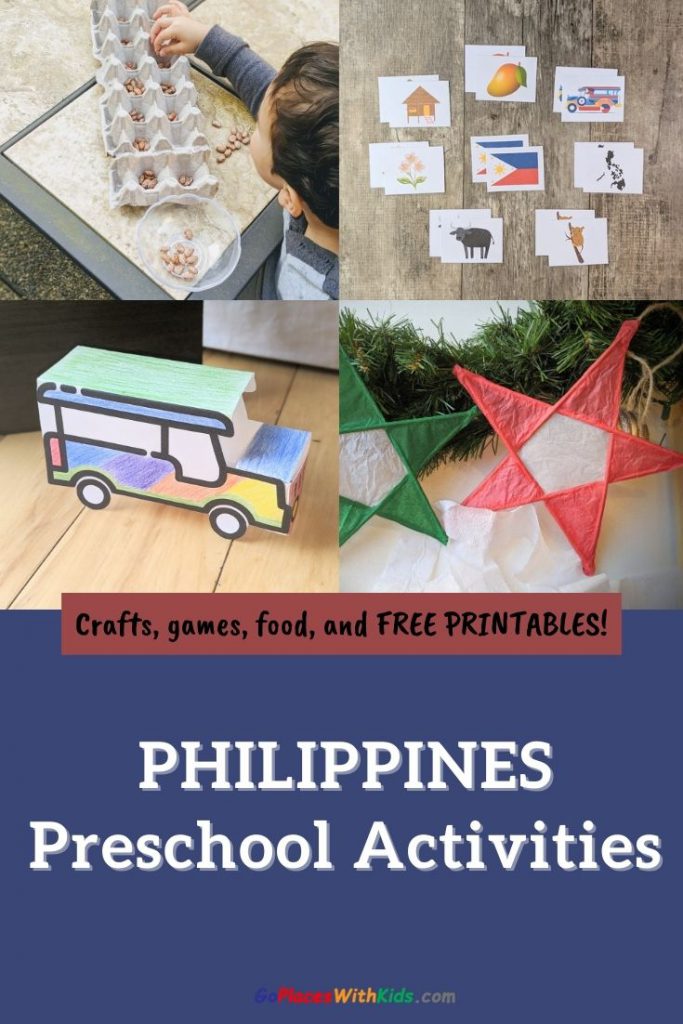 Country overview
To introduce our first country, I made a slideshow with some of the characteristics of the Philippines.
I included pictures of:
the flag
the map- we talked about how the Philippines is made up of many different islands
national symbols: national flower (sampaguita)
unique animals: carabao (water buffalo), tarsier (one of the smallest monkey in the world, indigenous to the Philippines, largest eyes of any mammal)
geography: rice terraces, beaches, volcanoes
I cast the slideshow onto our TV while we ate breakfast and we talked about each of the slides.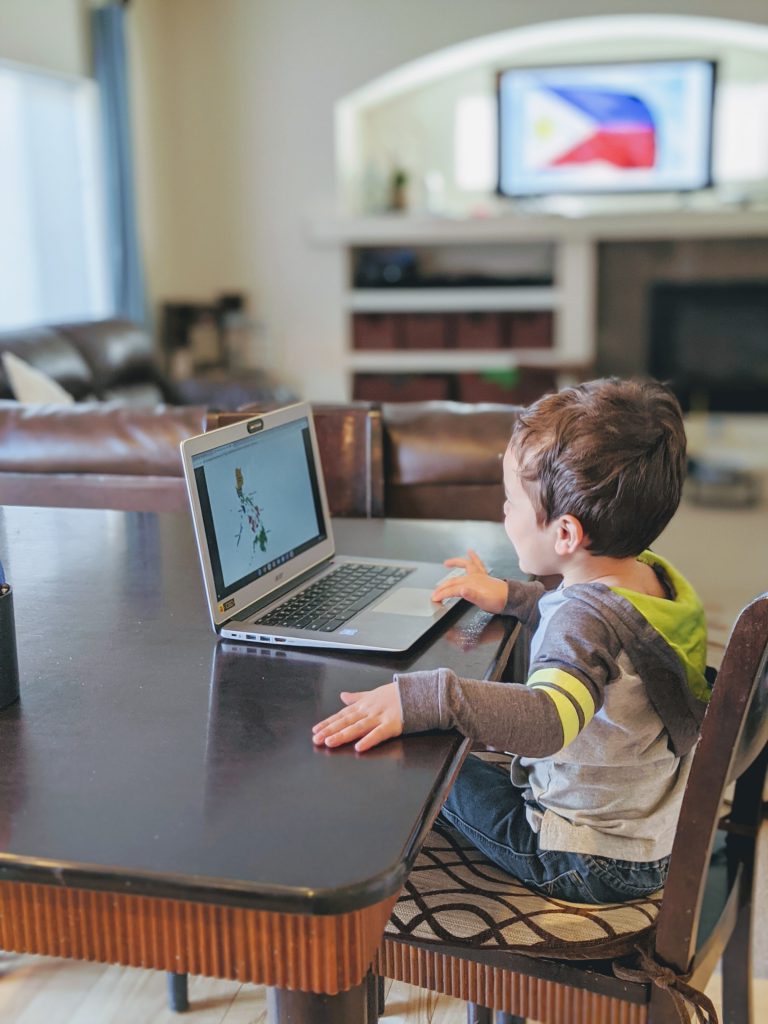 I was wondering if the format would be boring to my three-and-a-half-year-old, but he loved it! When I first put it up he said, "Mommy, how did you get it on the TV?!" And then he enjoyed using my computer to go back and forth between the slides. We let the slideshow run while we made the snack and would periodically talk about the images again as they came up.
Matching Game
Another great way to introduce the culture of the Philippines is with this Philippines matching game! The matching cards are made up of famous symbols of the Philippines and a fact sheet explaining each card is included.
You can download the free matching game printable here.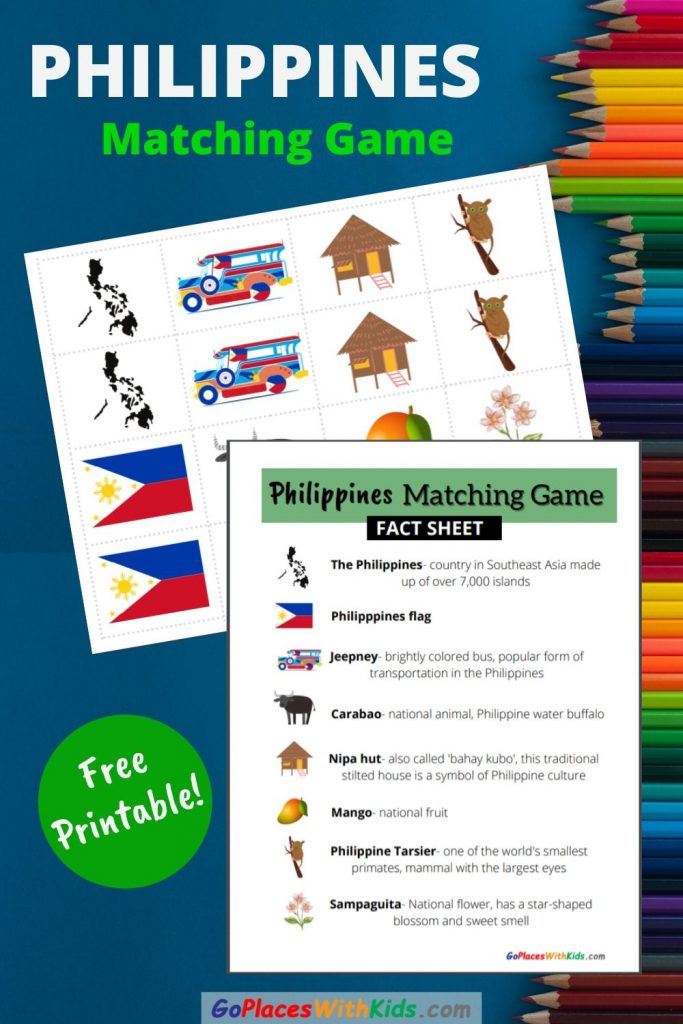 It helps you to teach your child more about the Philippines and play a fun game at the same time. That's what I call a win-win!
Culture
Respect for elders
The Philippines has a very respectful culture, especially to the elderly. There is even a word, "po", which is included at the end of sentences to show respect, especially when you are talking to someone older than you.
Market role play- pesos and po
To practice respectful language, we did a role-play where I pretended to be a shopkeeper. I set up a little shop with books, stuffed animals, etc. and I gave him some coins that he could use to "buy" things.
At the end of each sentence, he had to include the word "po". "How much is this, po?" "Thank you, po!", and so on. And we also were able to talk about and pretend to use pesos, the currency of the Philippines.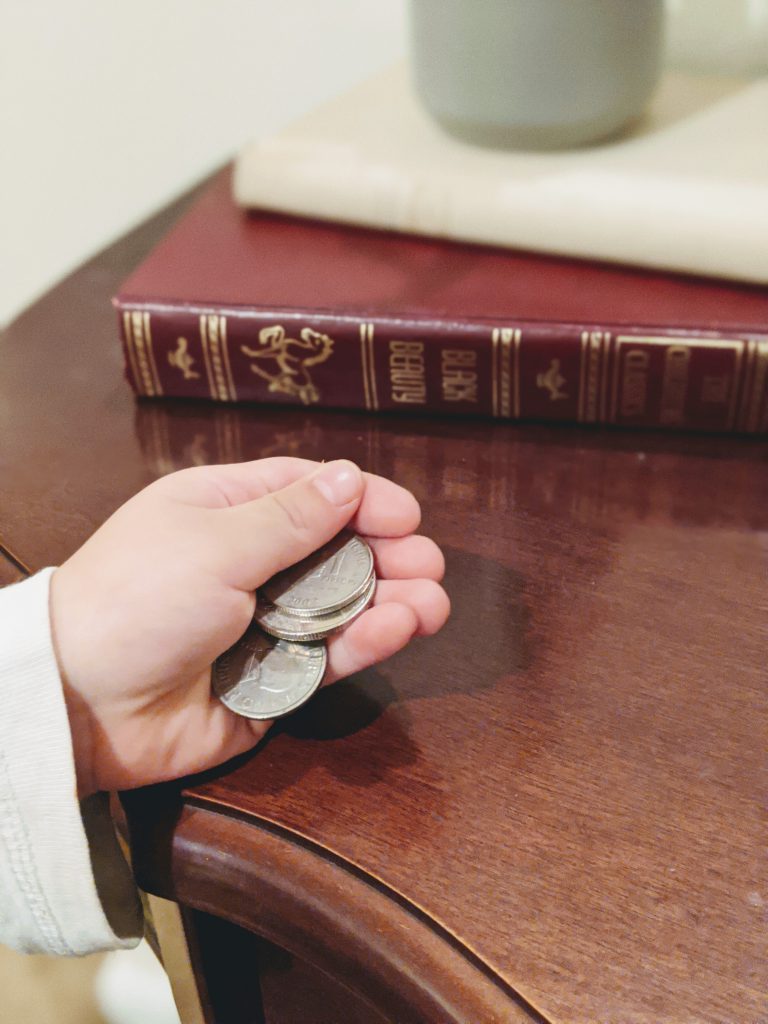 Philippines Preschool Crafts
Parol
For our first craft, we made a parol, which is a Philippine Christmas star. Yes, I know it's not Christmas-time. Buuuut Filipinos celebrate Christmas much earlier than we do in the states anyway. In that spirit, we're having Christmas in March!
A parol is traditionally made out of bamboo and paper and lit with candles or lights.
For step-by-step instructions on how to make a parol, see this post.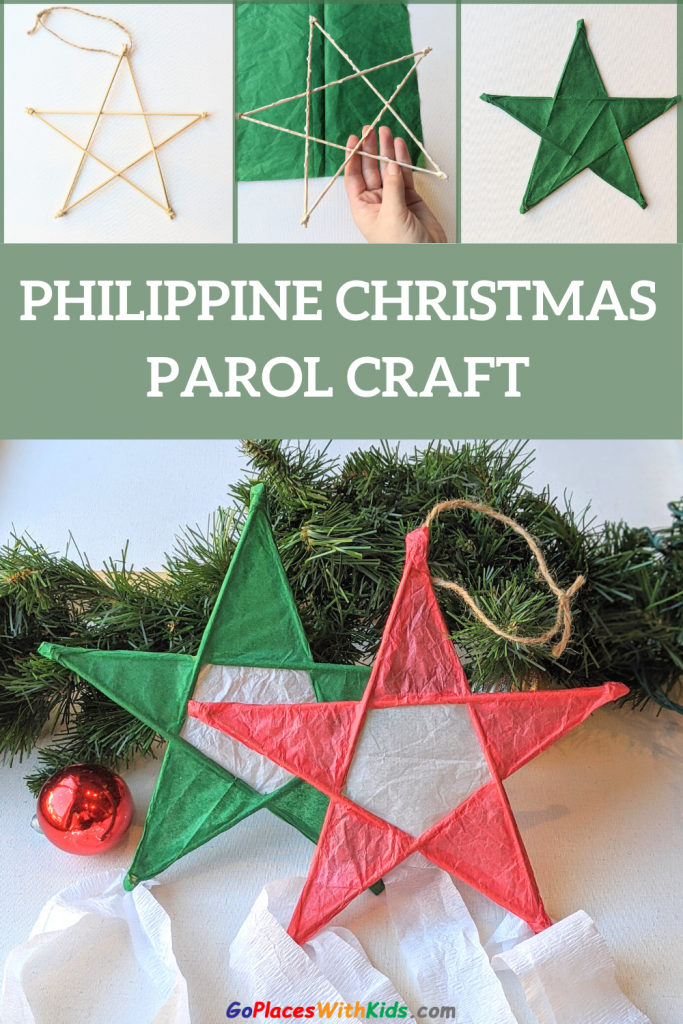 My three-year-old needed some help with the rubber bands, but loved gluing the tissue onto the skewers.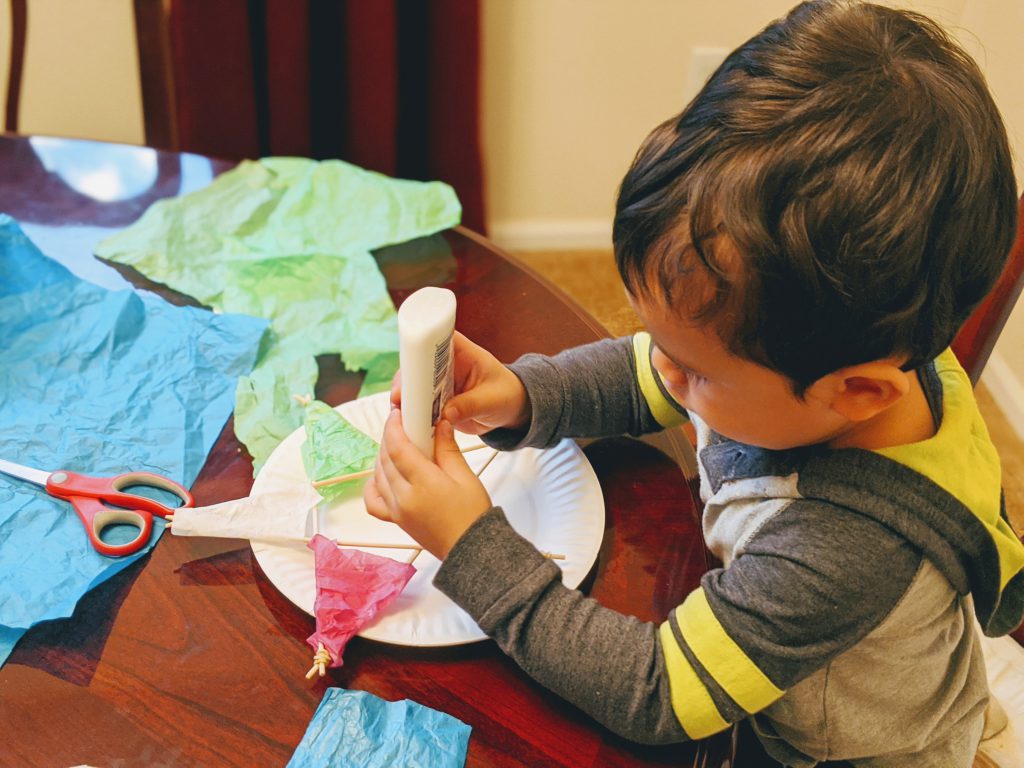 Instead of putting lights in our parol, we hung it up in the window so light can shine through the tissue paper.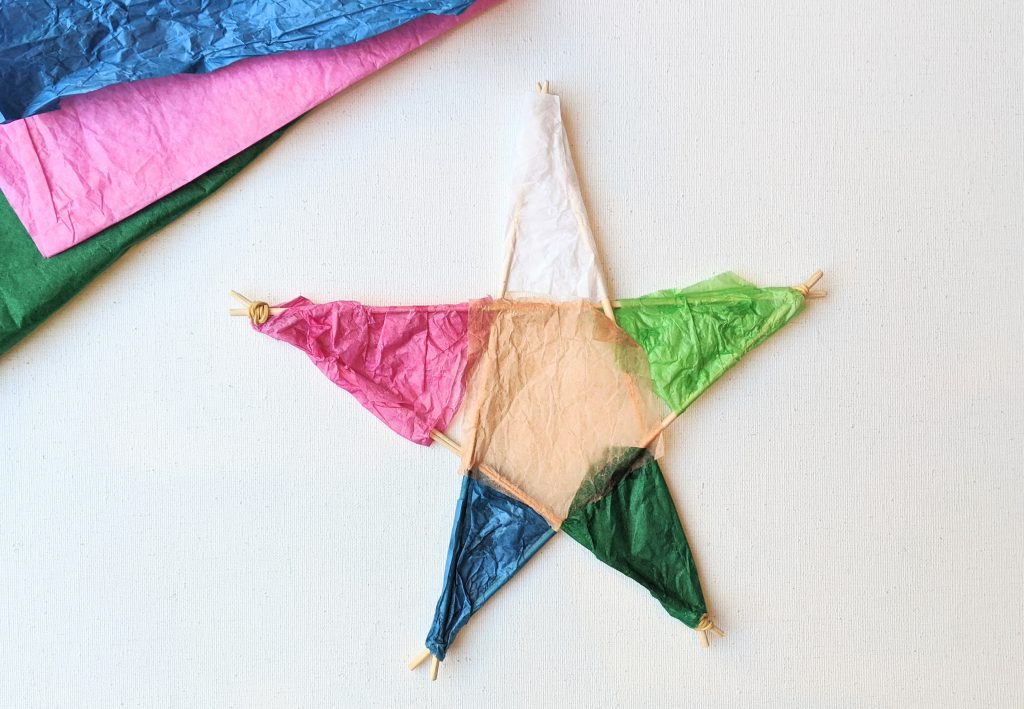 3D Jeepney Craft
We also made a super cute 3D jeepney craft. Jeepneys are colorful buses that are commonly used by locals in the Philippines.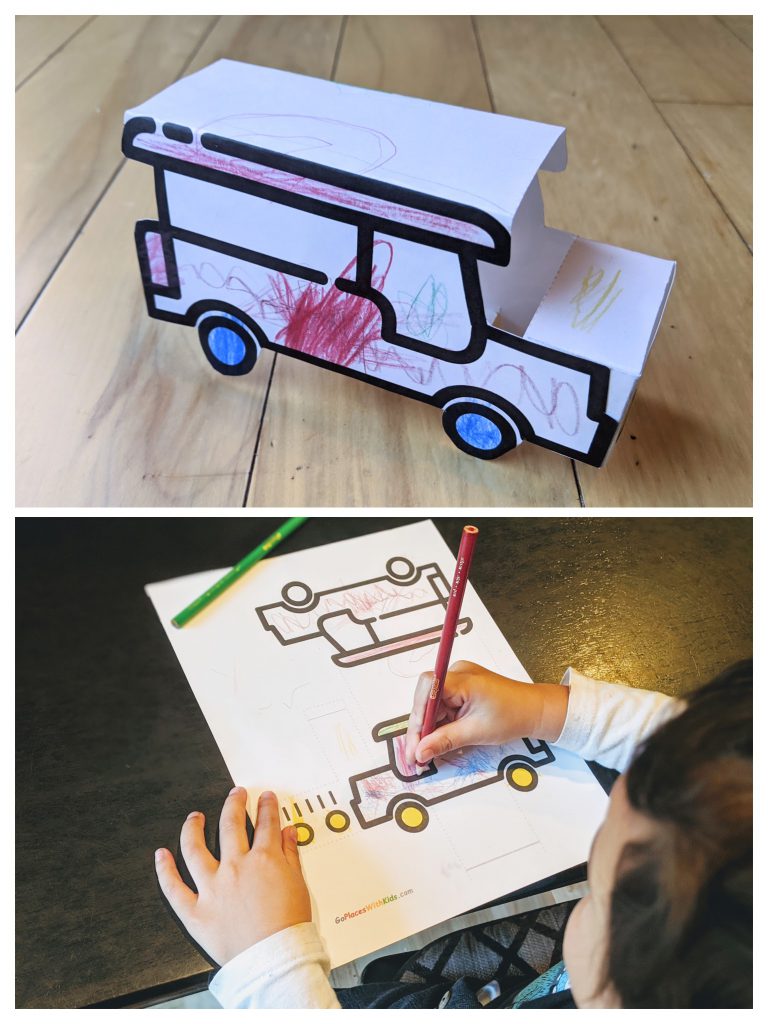 To make this craft, all you have to do is print it out, color it, and glue the tabs together!
For the instructions and downloadable printable, see this post.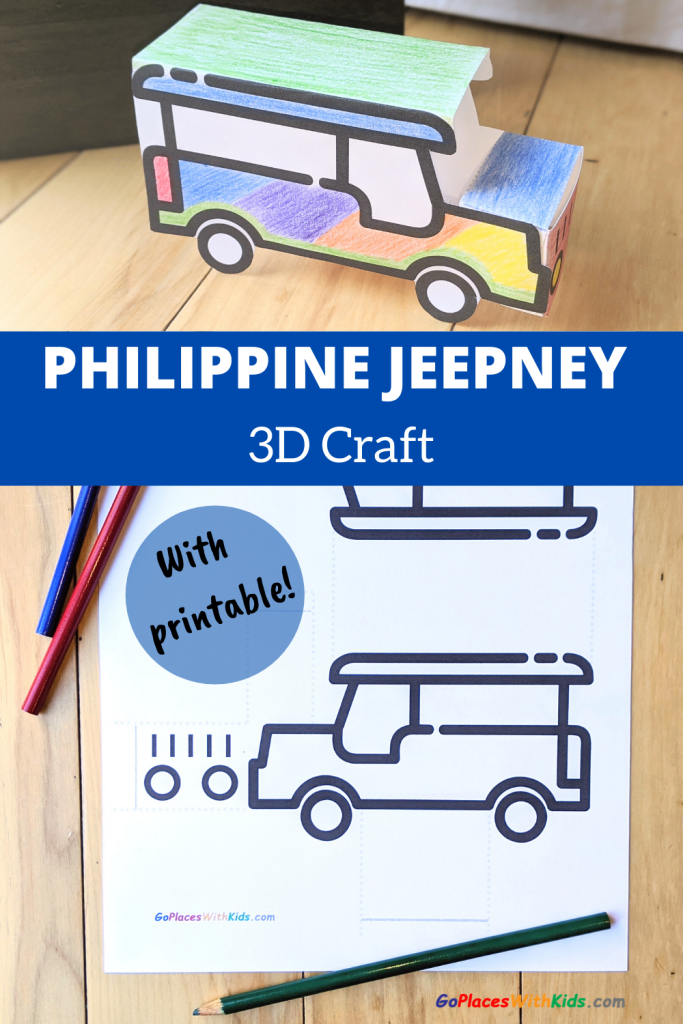 Game
Sungka
Sungka is popular traditional Filipino mancala game. I found a good description of the rules of the game here.
I was sure we had a game of sungka somewhere, but I couldn't find it. So I had to get creative… I used egg cartons to make up the playing board, beans for the pieces, and little bowls for each person's ulo (head) at the end.
Unlike the mancala game popular in the US, sungka has seven rows of holes. In an attempt to be true to tradition, I hot-glued part of another egg carton on the end so that there would be the right number of holes.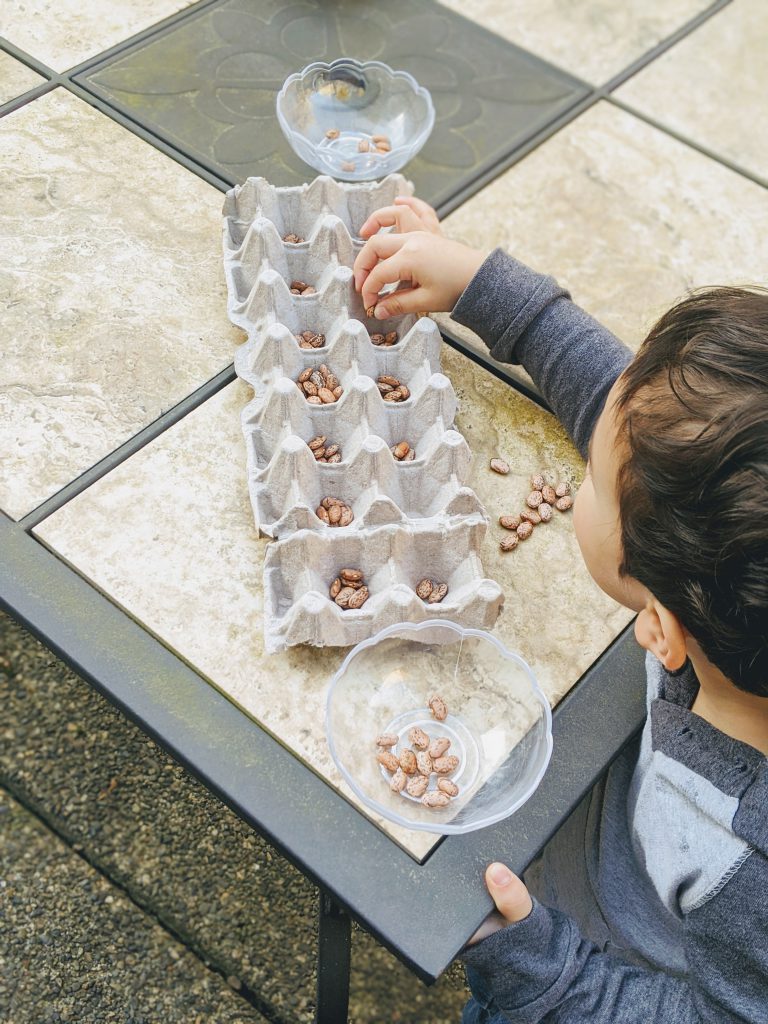 After playing this with my three-year-old, I would recommend starting with a smaller number of beans if you're playing with a young child. Especially in the beginning, it took a long time to complete each person's turn.
When it was my turn, my son would go play while I went and then I would call him back when it was his turn. But it was fun and we enjoyed playing it!
Dance
Tinikling
Tinikling is the national dance of the Philippines. It is a traditional Filipino dance where long bamboo poles are tapped on the ground and together while one or more dancers step in and out of the poles.
The trick is to get your foot out before the poles come together. The customary pattern is two taps on the ground and then one tap together.
Here is a nice video showing the pattern and music:
I really wanted to include the tinilking in our Philippines preschool theme, but we didn't happen to have tinikling poles just lying around. So we had to be resourceful.
For the poles we used arnis sticks (arnis is a form of Filipino martial arts), but any long stick or pole would work for an informal version of the dance.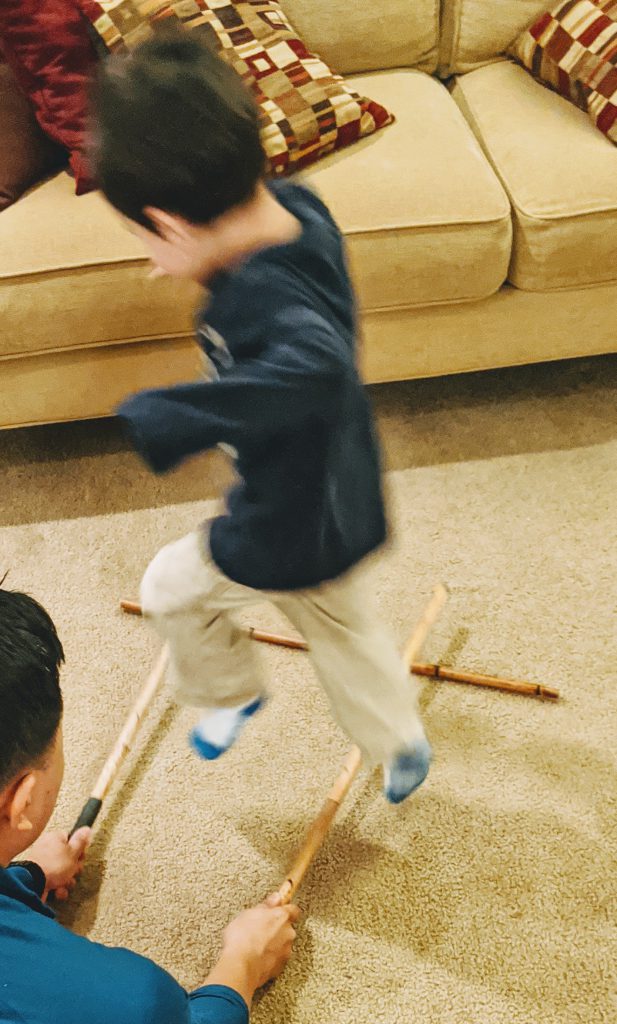 My three-year-old thought this was great fun. It was a bit of a modification of the traditional dance, but he loved running through the sticks and dancing to the music. And he made a lot of improvement by the time we finished.
Books
The Philippines (Countries We Come From), by Holly Longworth. This book provides detailed information about the Philippines (places, holidays, history, etc.) at a level for a young learner. My son really enjoyed this one.
Sino Po Sila by Jomike Tejido- This series describes different people and has you guess who they are. For example, the "in the community" one includes baker, store vendor, garbage collector, etc. The words are in both English and Tagalog. My boys love this series, especially when dad reads it to them in Tagalog.
Nasaan Po Sila by Jomike Tejido- Describes locations and has you guess where they are. Has a search and find element, which was a huge hit with my three-year-old.
We got both the Sino Po Sila and the Nasaan Po Sila series in the Philippines, but they are available at my local library.
Food
For our snack we chose to make biko, a sweet rice treat common in the Philippines. It was easy to make and all of the ingredients were ones that I already had on hand!
We used this recipe and I halved it to make an 8×8 pan.
This recipe did have quite a bit of stove time, so my boys helped me prep all of the ingredients in the beginning and then went off and played while I finished it up.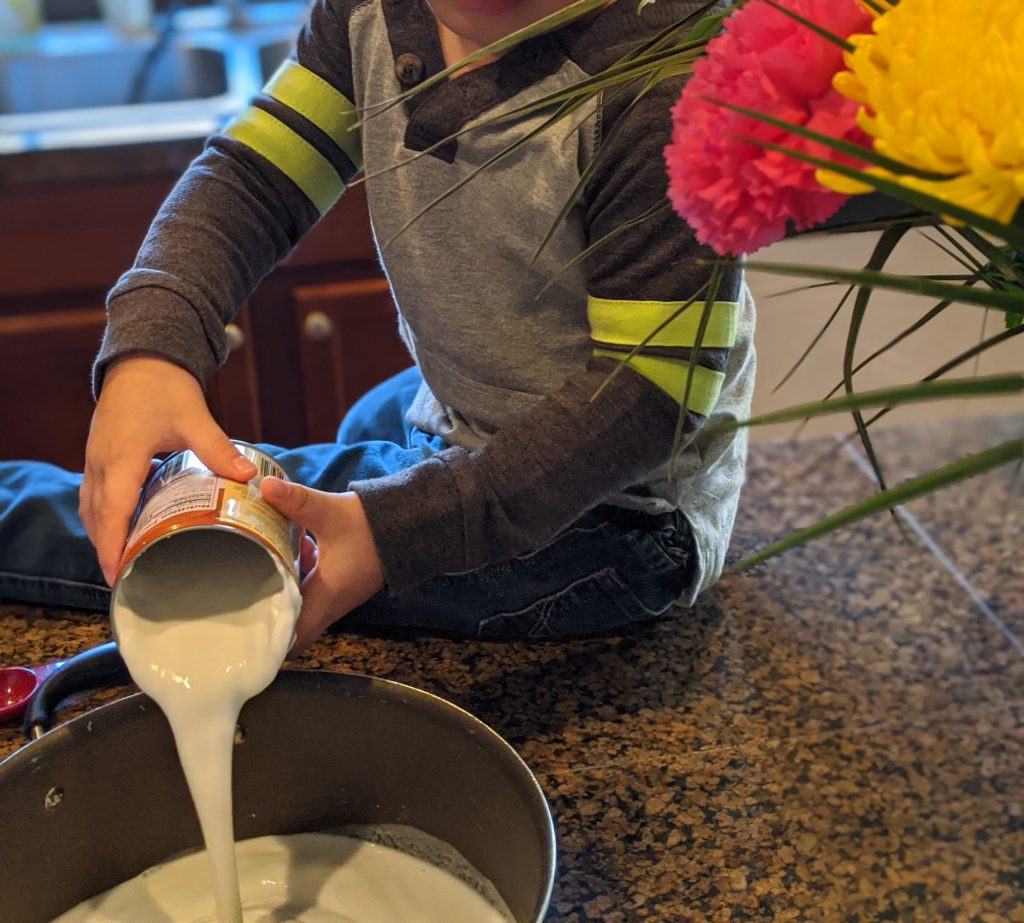 But they were more than happy to come back and help again when it was time to eat it!
According to my husband, I didn't let the rice cook long enough in the beginning (it should be more gelatinous instead of having distinct rice grains), but it still tasted really good!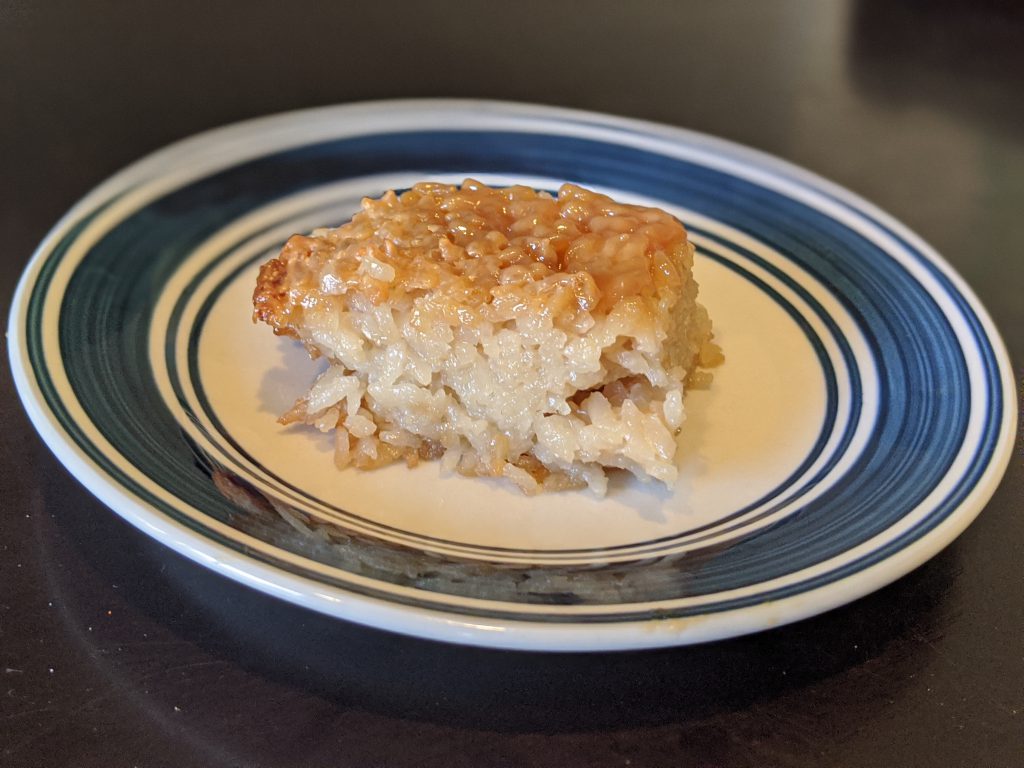 Another great and easy food to make is pancit, a delicious Filipino noodle dish. We didn't have the right ingredients to make it this time, but it's one of our favorites.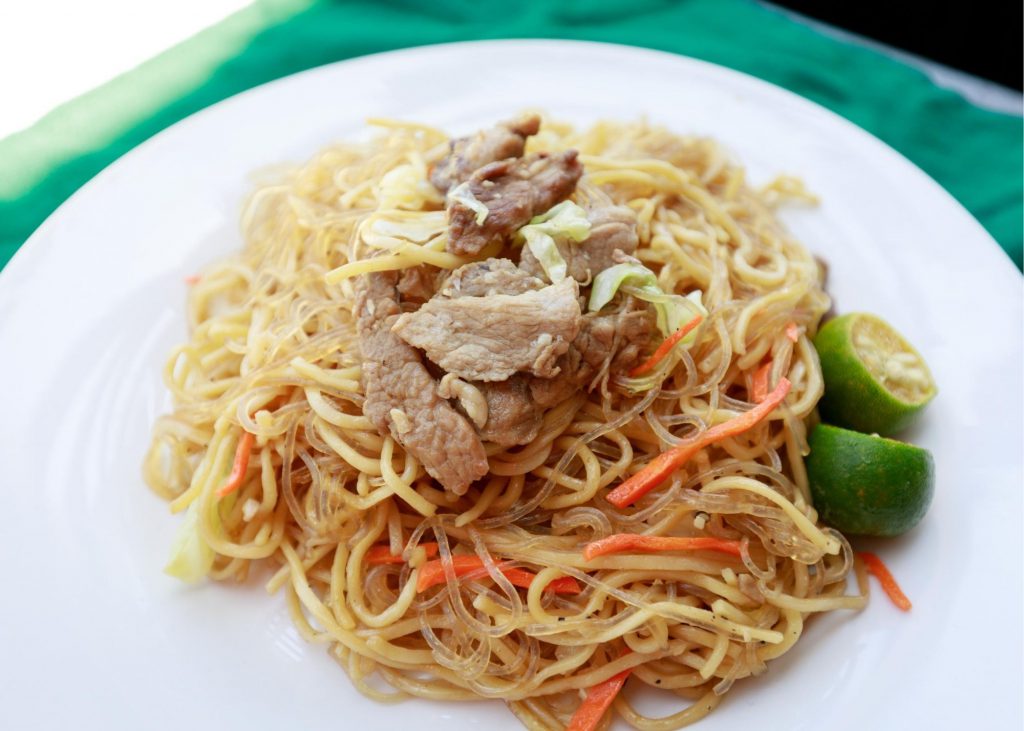 Philippines Preschool Wrap Up
To complete our Philippines preschool unit, my son got to add a stamp to passport using our flag stickers. He was so excited to get his first stamp!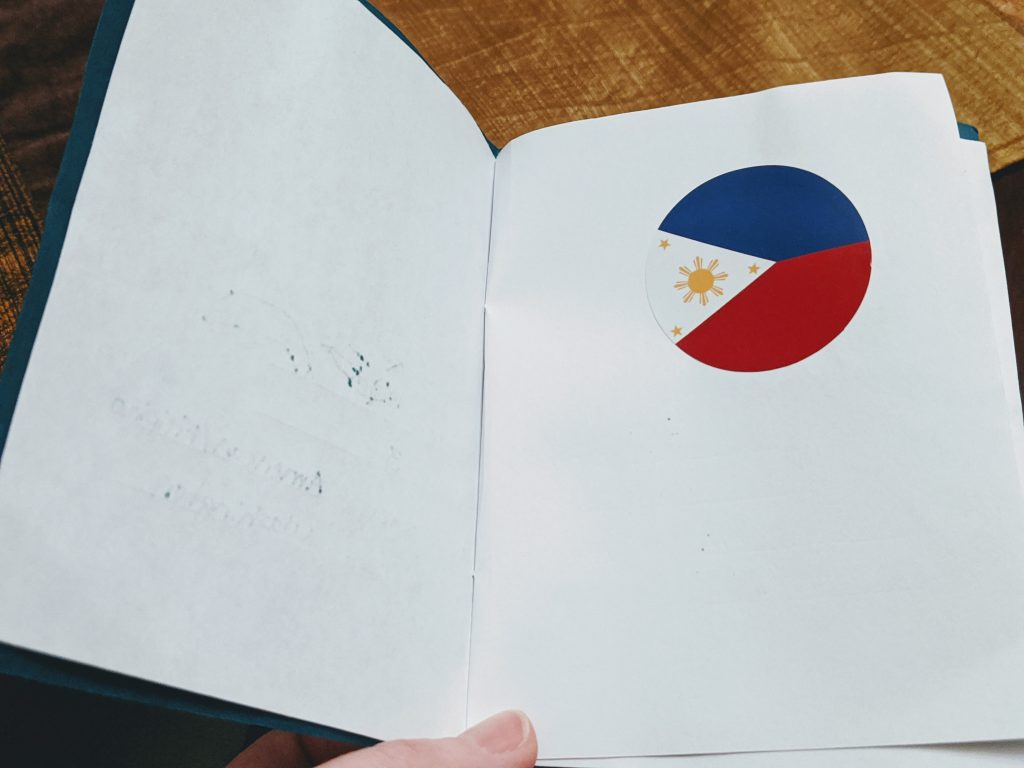 We had such a fun time on our "trip"! There are so many interesting things to learn about and try from the Philippines. Up next…France!
Be sure to check out our other cultural preschool units:
France Preschool Unit- Activities, Crafts, and Free Printables!
India Preschool Unit- Fun Crafts, Activities, and More!
Japan Preschool Unit- Crafts, Activities, and More!
Uganda Cultural Activities for Young Kids- Crafts, Games, and More!