With this craft you can create your own colorful sugar skull!
In this craft activity, we'll adapt the traditional art of sugar skulls into a fun and accessible project using Q-tips.
This simple and engaging technique allows you to create your own personalized sugar skull design, experimenting with different colors and patterns.
This activity provides an opportunity for kids to express their creativity while honoring the rich cultural heritage of Mexico.
At the bottom of the page you can find some facts about sugar skulls to talk about while you make the craft.
Whether you're celebrating Dia de los Muertos, learning about Mexico in school, or just looking for a fun activity, this craft is one that everyone is sure to enjoy.
So, grab your Q-tips and let's get started!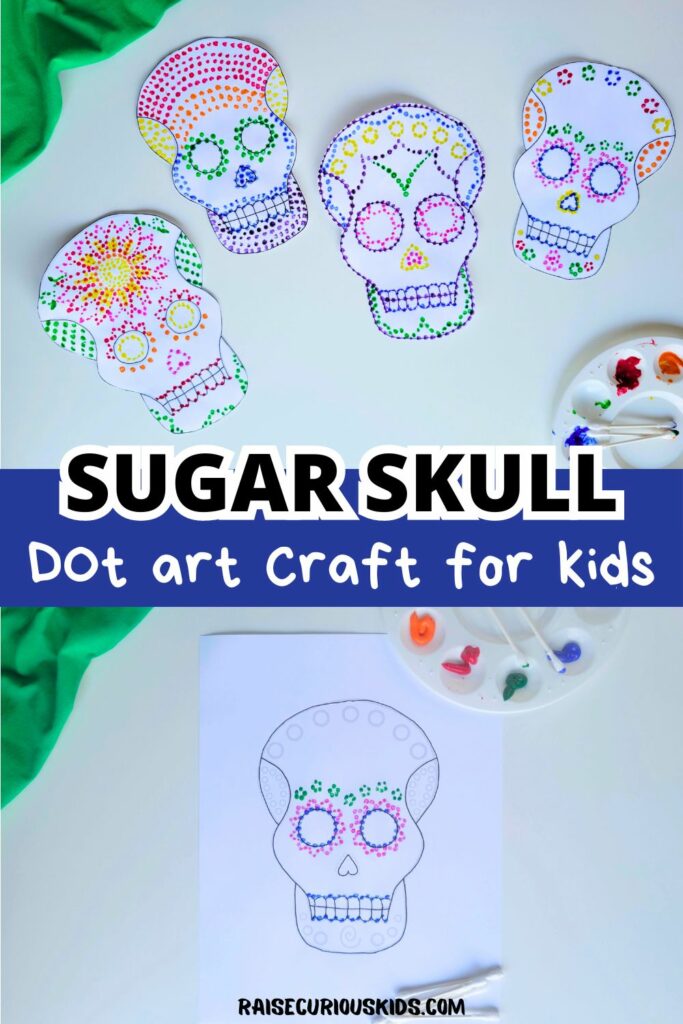 Sugar Skull Dot Art Craft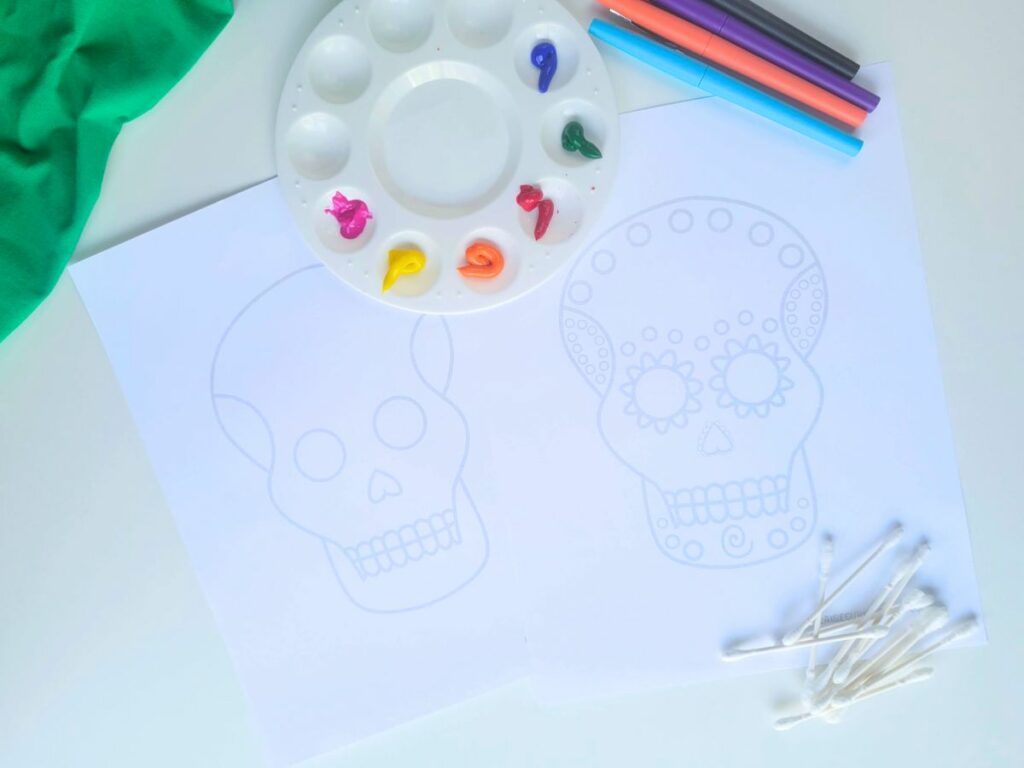 Materials
Sugar skull printables (Get the blank template as a freebie at the bottom of this page!)
Paint
Q-tips
Colored paper
Instructions
Download and print out the sugar skull printables.
There is a choice between six different sugar skull templates or a blank one if you would prefer to make your own pattern. The templates are in a muted grey so that the color of the paint will stand out.
Use a pen to outline the parts of the skull that you want to stand out. We found that it looked best when we outlined the outside of the skull, eyes, and mouth.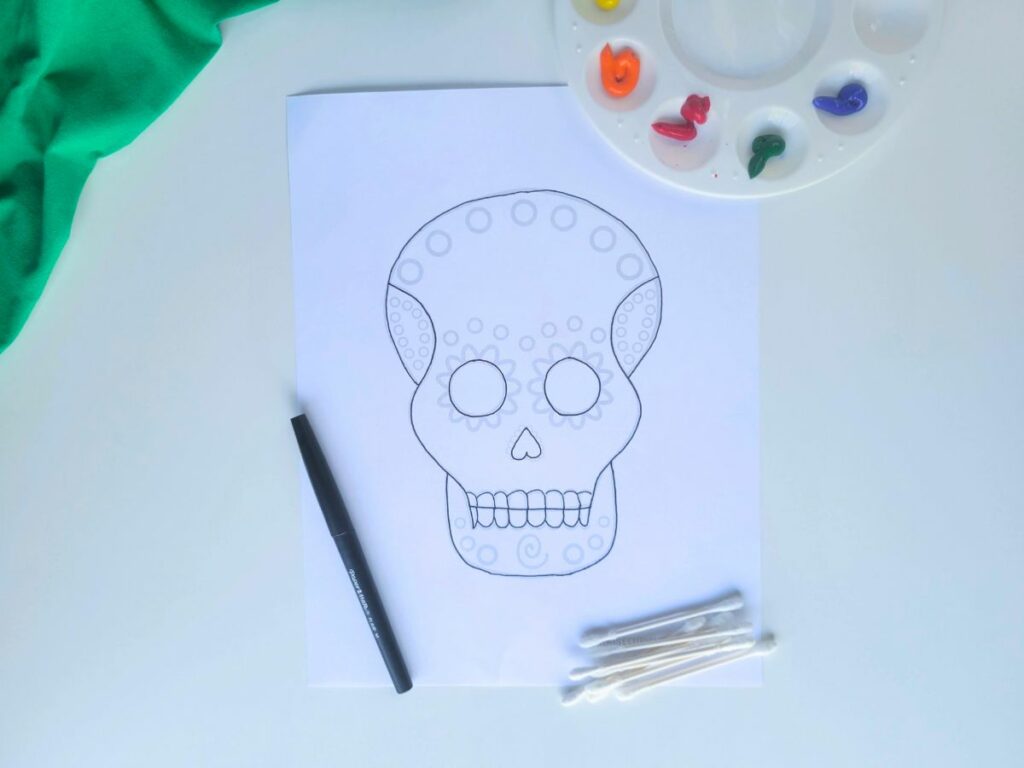 Use q-tips to paint colorful dots all over the sugar skull.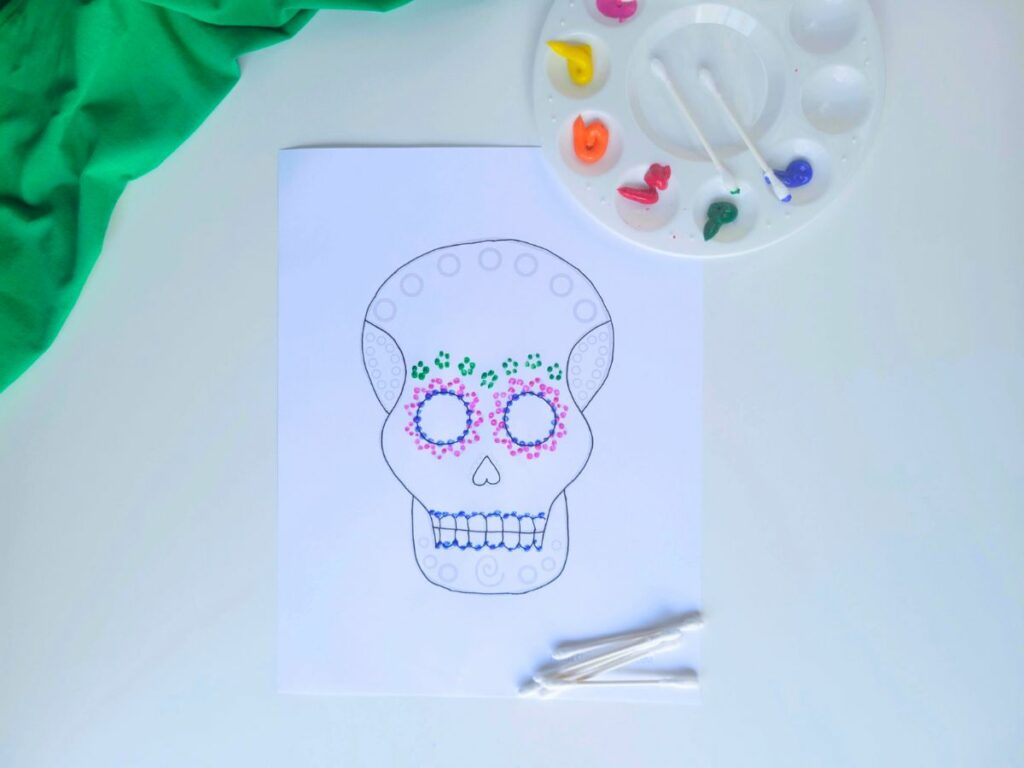 This is the fun part! Use your creativity to combine colors and patterns to achieve the desired effect.
Remember that the skull isn't supposed to look scary or morbid, instead it's meant to celebrate and honor a deceased loved one.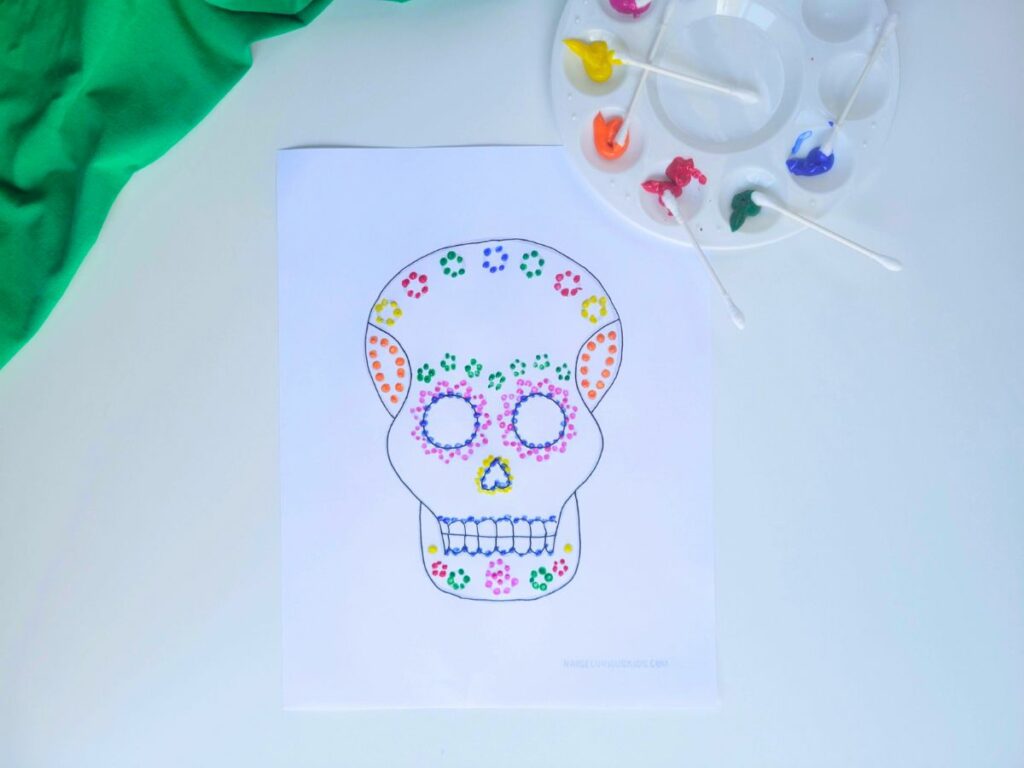 Allow the paint to dry.
Carefully cut out around your sugar skull.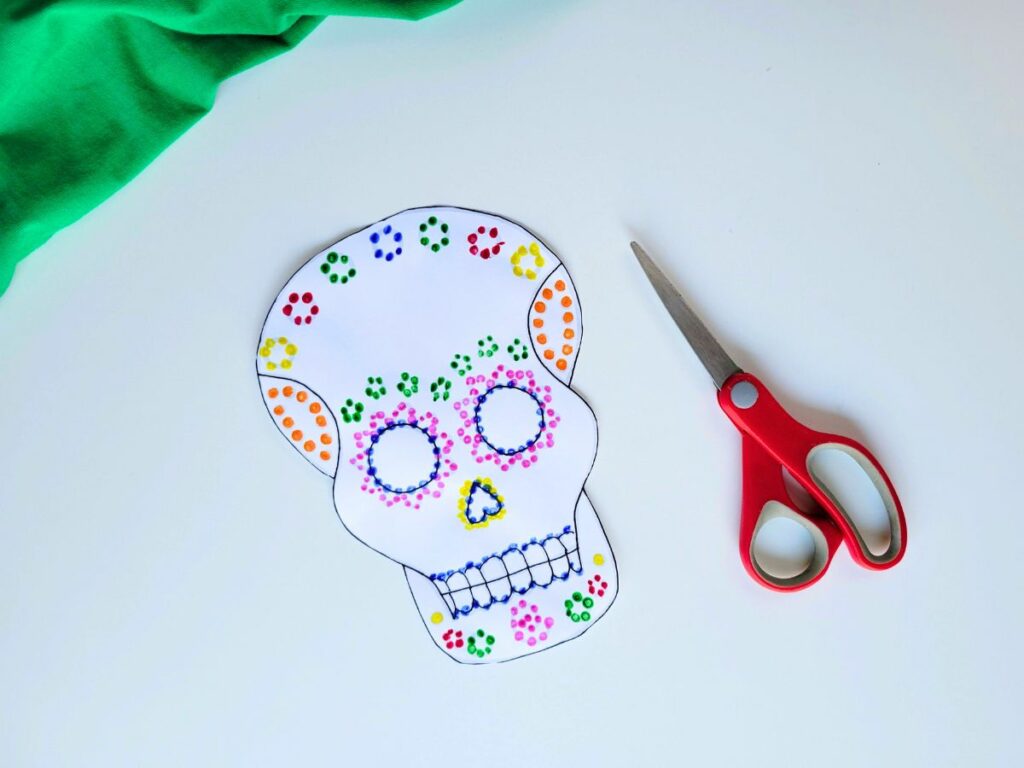 At this point, you can either leave the sugar skull as it or glue it to a colorful piece of paper for a more dramatic background.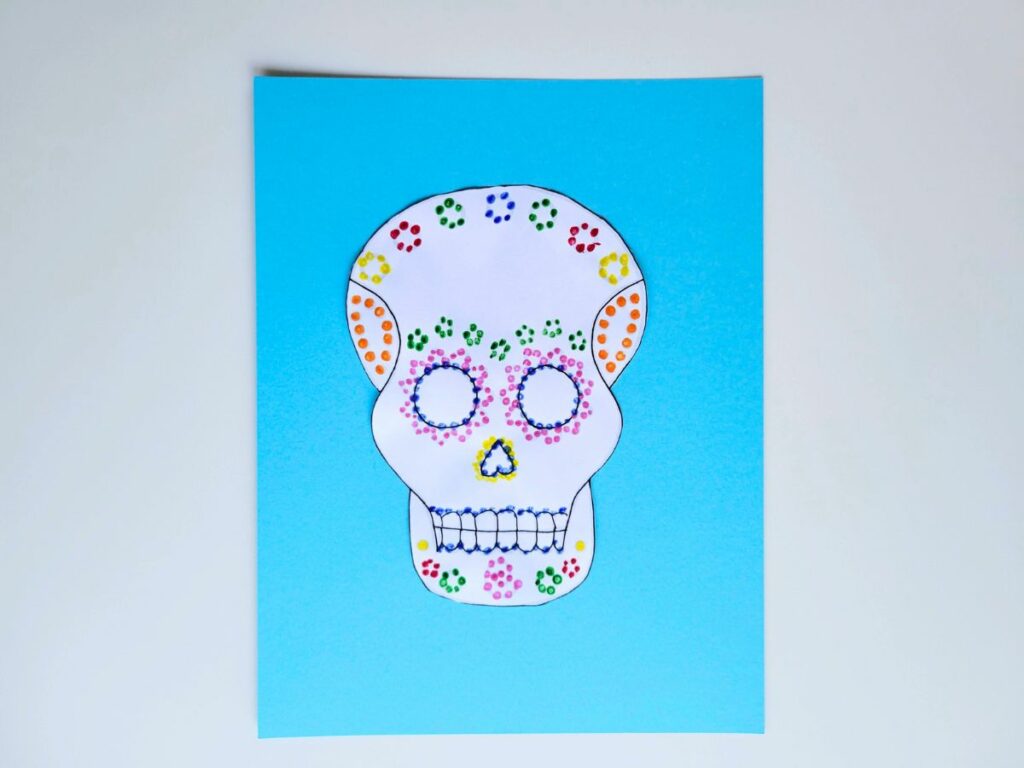 Now you're ready to enjoy your sugar skull craft!
You can download a blank sugar skull freebie below! You can also purchase our sugar skull template bundle to get access to six additional designs.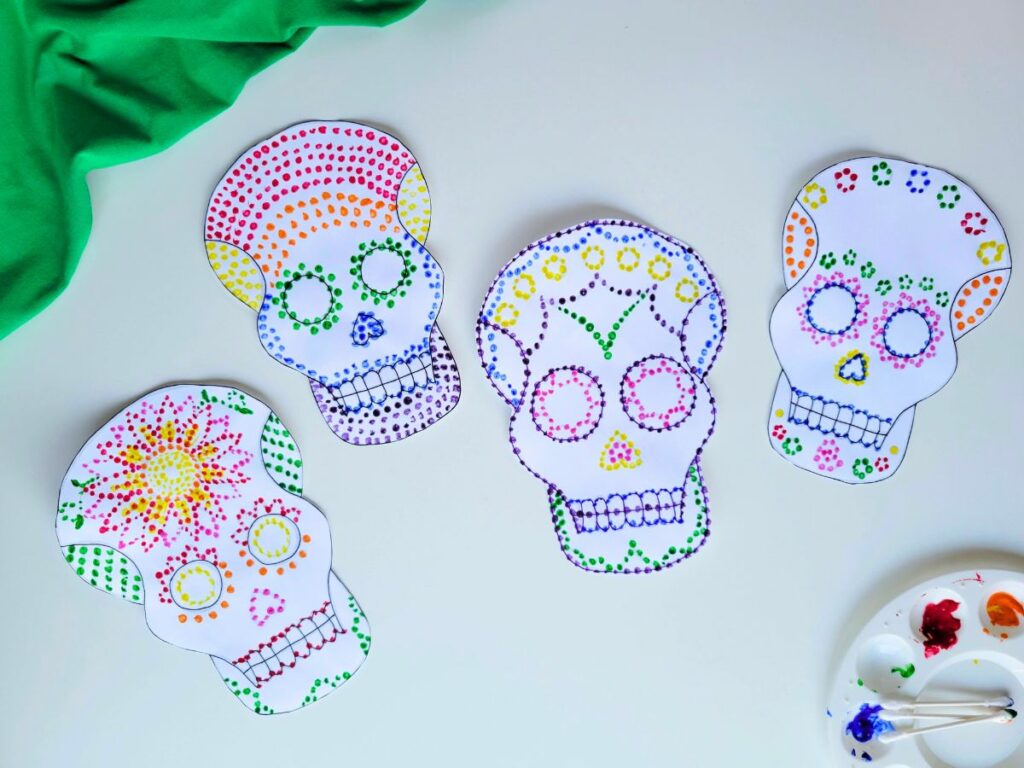 Facts about sugar skulls
While you're decorating your sugar skull craft, take the time to share some facts about this Mexican tradition! Here is a list of facts to get you started.
Sugar skulls, known as "calaveras de azúcar," are an essential part of Dia de los Muertos (Day of the Dead) celebrations in Mexico and other Latin American countries.
Traditional sugar skulls are made primarily from a sugar mixture, molded into skull shapes, and elaborately decorated with colorful icing.
These intricately designed skulls are created to honor deceased loved ones, representing a way to remember and celebrate those who have passed away.
Sugar skulls symbolize the cycle of life and death and are often placed on ofrendas (altars) during Dia de los Muertos
Families often personalize sugar skulls with the names of their deceased relatives written on the forehead or as part of colorful designs.
The tradition of making sugar skulls in Mexico has pre-Hispanic origins, dating back to the Aztec and Maya civilizations. It was later combined with Catholic All Saints' and All Souls' Day traditions by Spanish colonizers.
Dia de los Muertos celebrations are community events, featuring parades, music, dance, and the presence of sugar skulls as an integral part of the vibrant cultural celebrations.
Other crafts to try
Easy Cactus Craft– This cute cactus craft is made out of tissue paper to give it a prickly cactus look!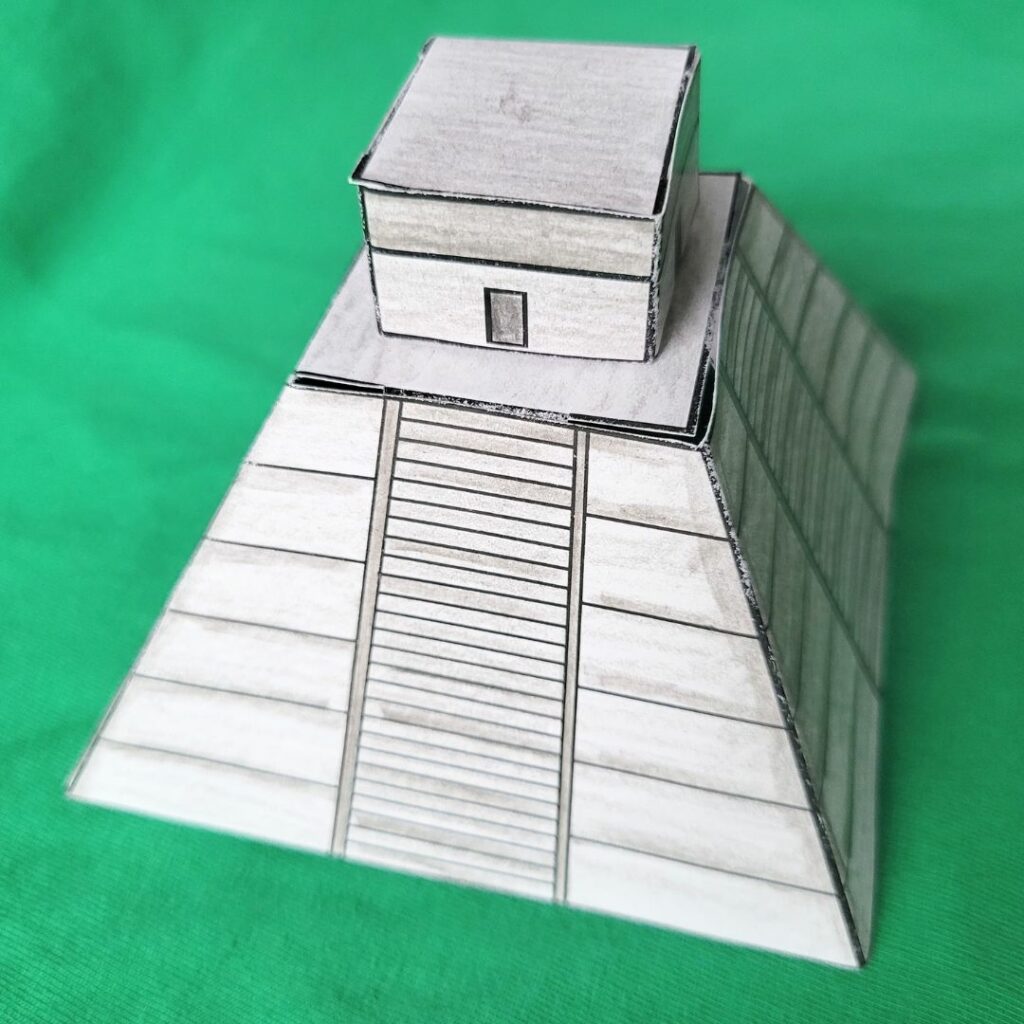 Chichen Itza 3D Craft– Kids will love making their own 3D version of El Castillo, the largest pyramid in Chichen Itza.