It's officially fall! One of our favorite things about fall is seeing the leaves on the trees begin to change colors.
The theme for our preschool group this week was patterns and shapes and I just had to include an activity involving fall leaves!
This fall leaves pattern activity is a great way to help your child work on identifying and continuing patterns, which are important early math skills.
And it also gets them outside for a fun scavenger hunt as they search for colorful leaves! (Or you can use the leaf cutouts provided in the printable if you don't have access to leaves or prefer the cut-and-glue option.)
My kids had the best time searching for leaves of all different colors and were so excited to take them back to complete their patterns! This activity is a perfect way to get your kids outside on an adventure while including a fun learning element as well.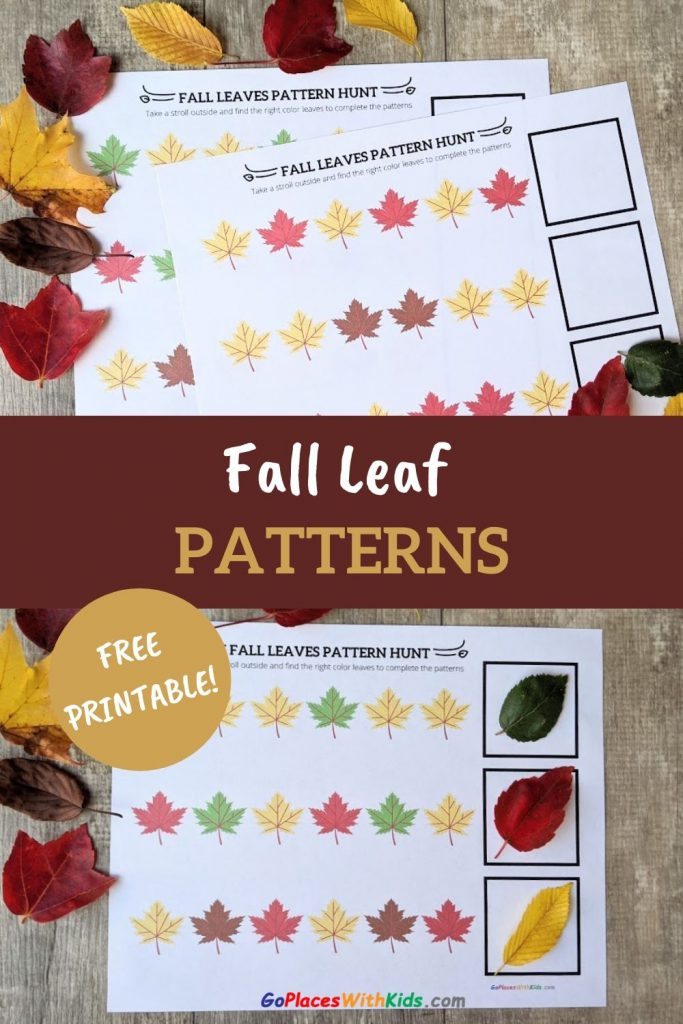 Fall Leaf Patterns
Materials:
Fall Leaves Pattern Hunt printable (available for download below)
Leaves of different colors
Glue
Scissors (optional)
Colored pencils/markers/crayons (optional)
Instructions:
There are a few different ways to do this activity. You can do a leaf hunt outside, use the included leaf printouts, or color in your own leaf. My son loved all of the variations, so it's just down to your preference!
Option 1: Leaf hunt
Print out the first two pages of the Fall Leaves Pattern Hunt printable.
Go outside on a walk with your child and gather different colored leaves. You will need leaves in shades of red (2), yellow (2), brown (1), and green (1). We just filled a bag with leaves so we would have lots of choices!
Bring your leaves back and use them to complete the patterns on the worksheet.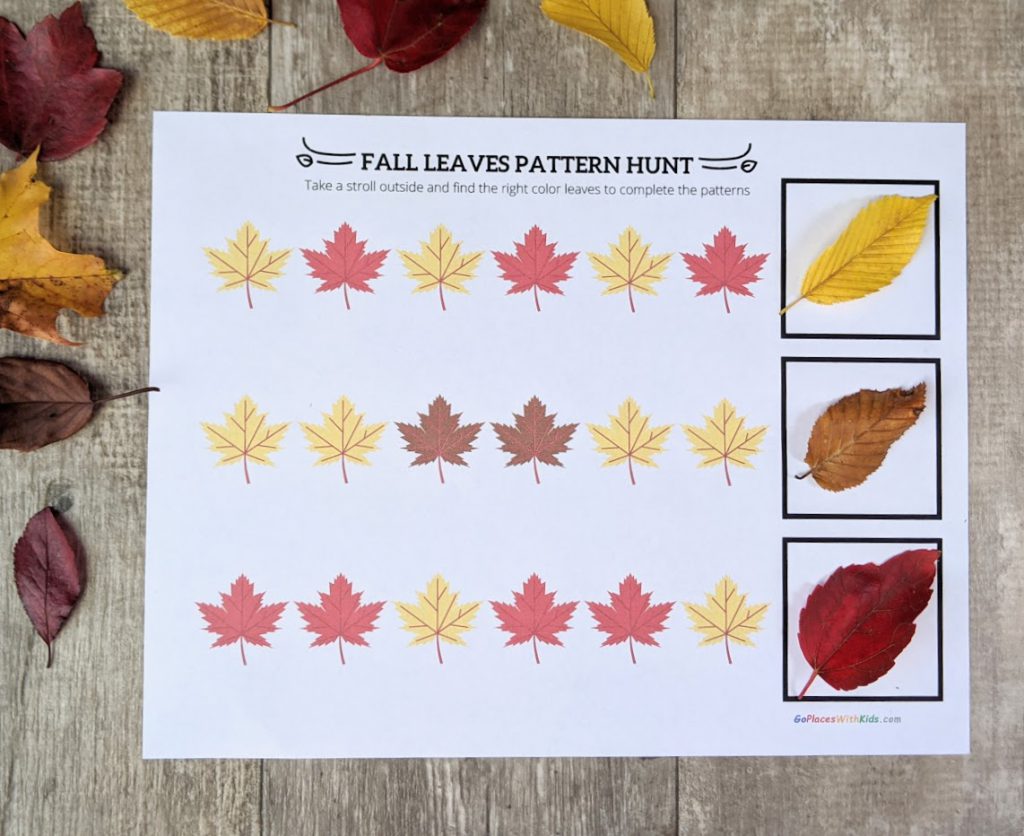 Option 2: Cut and glue leaf printout
Print out pages 1-3 of the Fall Leaves Pattern Hunt printable.
Cut out the leaves on the third page. Use them to complete the patterns on the worksheet. There are a few extra leaves so it isn't so obvious which leaf completes which pattern.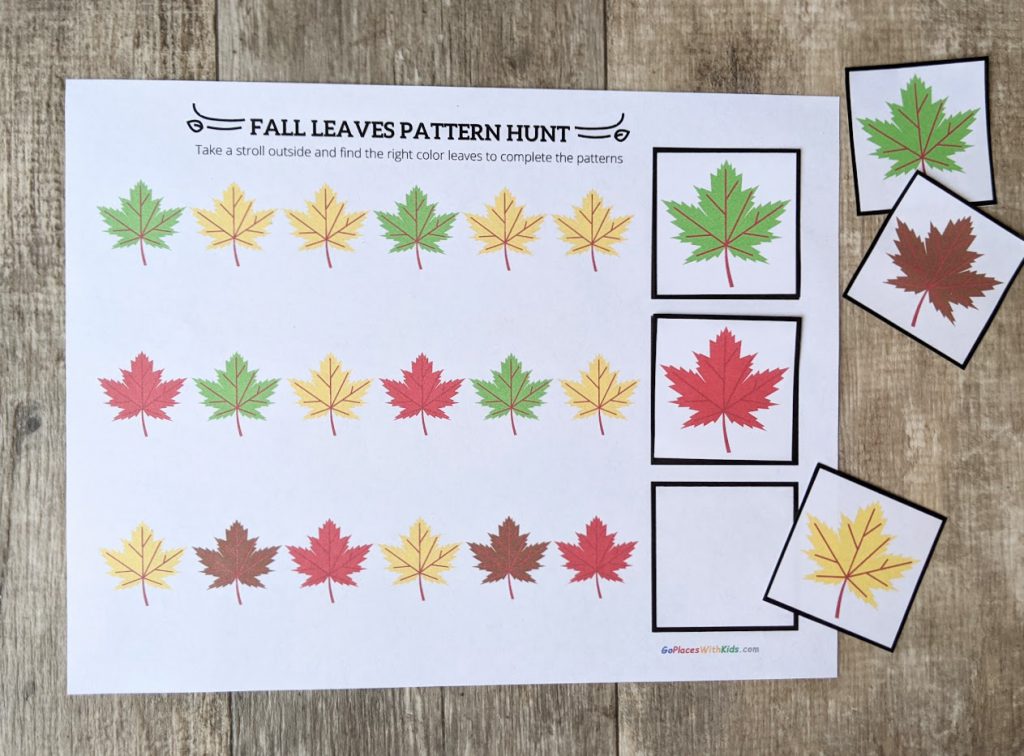 Option 3: Color your own leaves
Print out pages 1-2 and 4 of the printable.
Have your child color the leaves on page 4 the correct colors to complete the patterns. Cut out the leaves and glue them in the correct boxes.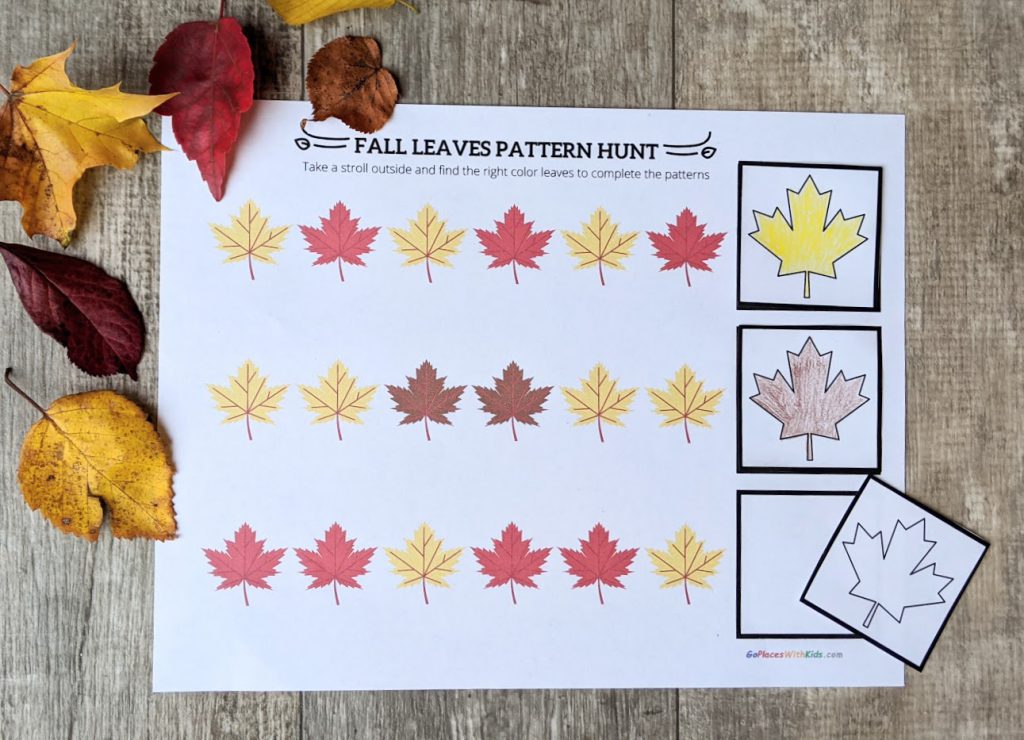 However you end up doing it, hopefully you love this fall leaf patterns activity as much as we did!
Other posts you might be interested in:
Fall Leaves Tissue Paper Craft
Glowing Jack-o'-Lantern Craft for Kids