Farm books for kids that children of all ages will love!
It seems like every child goes through a stage where they are fascinated with farms. Farm animals, farm equipment, growing crops…there are so many fun and interesting details about life on a farm to capture a child's imagination!
It's also important for children to learn about farms so they can understand more about where their food, clothes, and so many other products come from.
And books are a perfect way for children to satiate their curiosity and pique their imagination as they learn all about what really happens on a farm.
There are a lot of farm books for kids out there, so we've done a lot of reading to find our very favorite books to introduce children to farming!
Read on for reviews of some of the best farm books for kids!
For a fun farm activity to go along with your books, be sure to check out our easy 3D tractor craft!
Farm books for toddlers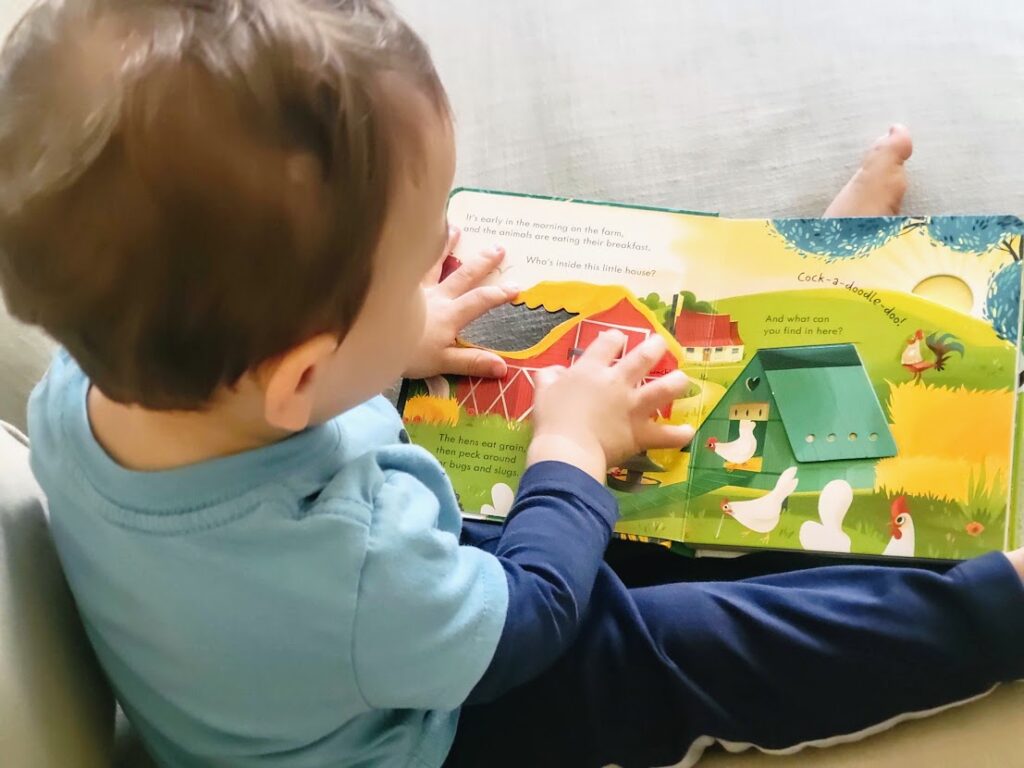 This book is the perfect introduction to farm animals for babies and toddlers. It combines a sound book with a touchy-feely book, so obviously it's going to be a hit with the younger crowd.
The book contains real pictures of the animals (as opposed to cartoon pictures) and the actual sound the animals make. There are also a lot of fun facts about each animal on that animal's designated page.
In typical Sandra Boynton fashion, this cute little board book has a catchy rhyme and silly story that will have your toddler begging to read it over and over again. Your child will quickly get to learn all about the sounds that farm animals make as they read about the animals having a little party together on the farm.
Teach your child about farm animals in this cute farm book for babies and toddlers. Each page identifies a different animal sound and contains a flap kids can open to see who makes the sound. "Who says oink? A pig!"
This little rhyming book takes young kids through different jobs on the farm as the tractor goes about his day taking care of his chores. The book has vibrant and fun farm scenes and a cute rhyme.
Young children will love learning about farming with this educational lift-the-flap board book. The book contains fun facts about farming and goes through the process of planting and harvesting crops in a simple and concise way.
Follow along with Betty and Bobby as they help their father get jobs done around the farm. Instead of just focusing on the farm animals, this book actually goes into the work that happens on a farm and the responsibilities of the farmers.
Farm books for preschoolers and up
Peek Inside the Farm is a must-have farm book for young readers. The gorgeous illustrations really bring the farm scenes to life and kids will love opening the flaps to find even more fun details.
Each page also contains text describing the scene and facts about farming and planting crops. This has been one of our kids' favorites for a while now!
Learn about the different kinds of farms with this non-fiction farm book by National Geographic. With real photographs showing the animals and crops, kids can get a sense for what really happens on a farm.
This is a dual reader, which means that some text is meant to be read by a parent, while other sections are simpler and meant to be read by a child learning to read.
Farming by Gail Gibbons
Farming is an awesome book for kids who want to know all the details about what actually happens on a farm. The book is broken up into seasons and talks what's happening inside and outside on the farm each season. Lots of fun and interesting tidbits to be learned for curious kids.
Little Blue Truck greets the farm animals as he drives through the farm and they greet back with their signature animal sounds. When Little Blue Truck gets stuck in the mud all his farm friends rush to his rescue in this sweet story about kindness and helping others.
Big Red Barn is a sweet rhyming book that showcases all the different animals that live on a farm. It ends at night with all the farm animals asleep in the barn, making it a nice story to read to kids before bedtime.
Tractors are always a big hit with young kids, but what do tractors actually do on the farm?
In this book children can see all the different jobs tractor can perform, from hauling hay to plowing fields to moving fallen trees. The book also teaches the names for all the parts of the tractor.
This collection of stories centers around life on Apple Tree Farm, describing the escapades of the Boot family and the farm animals.
This is a dual reader, with some sections of text being more detailed while others simpler for beginning readers. The nice thing is that the story still makes sense even if you just read the simple top part, so children learning to read will feel a sense of accomplishment that they can read the story on their own!
These stories are both entertaining and a perfect introduction to farms and farm activities.
As you would expect front the title, Jobs on a Farm talks about the many tasks people perform on different kinds of farms. The writing is concise and easy to understand and the book contains real pictures of people performing their farming jobs. We loved seeing people from many countries and cultures represented in the pictures!
In Mrs. Wishy Washy's Farm, the cow, pig, and duck are tired of being scrubbed down by Mrs. Wishy Washy and decide to run away to the big city. Only things don't go quite as planned and the animals are left wondering if perhaps they prefer their old life back on the farm.
This is a sweet and silly tale that children are sure tol love!
This detailed farm book for kids contains 100 questions about life on a farm and 70 flaps for children to lift.
There are questions about pretty much anything your child can think of, from details about the animals to the crops to the farm tools and buildings… This book is very informative, fun to read, and the flaps are study enough to last up to all the use your child will give them!
When the cows find an old type writer in the barn, they realize it's time for some changes around the farm. Will Farmer Brown listen to their written demands or are the cows going to have to take some drastic measures?
This silly farm story will leave kids laughing as they follow the antics of the farm animals.
This charming book is about the work that needs to be done to prepare the farm for "sleep", ie. winter.
From covering the berry plants with straw to chopping and stacking wood, the family gets the farm ready for cold weather and winter temperatures. I love that this book shows children a different perspective on farm life as they think about what happens to the farm in the winter.
Beautiful illustrations and detailed descriptions make this a perfect book for children who want to learn about all the ins and outs of life on a farm.
From how to plow a field to the different kinds of hay to the anatomy of different farm animals, this book is jam-packed full of fascinating facts, recipes, and details you won't usually find in this kind of book.
This book is perfect for older children (or adults) who want to learn more about the intricate details of farm life.
Final Thoughts
If your child loves learning about farms and farm animals, they will be delighted by these farm books for kids.
In these farm books for kids, children will learn about farm animals, farm equipment, and important jobs on the farm. And perhaps most importantly, these are interesting and engaging books that will capture a child's attention and have them excited to read more!
Other posts you might be interested in:
Fun 3D Preschool Tractor Craft- with printable
Corn Counting Preschool Activity- with printable