The best Christmas books for preschoolers to read and enjoy this holiday season!
One of our favorite Christmas traditions in our family is reading Christmas books!
There's nothing quite like gathering by the Christmas tree and reading books to get you in the spirit of the holiday. And preschool-age children are at a truly magical age for enjoying Christmas- and the books that celebrate the season!
There are a lot of Christmas books for preschoolers out there and it can be difficult to know which ones your child will love.
Well we've done the research and reading (lots of reading) for you to find the very best Christmas books for preschoolers! All the books we've reviewed are books that we have actually read and enjoyed.
And while this is a list of books for preschoolers, these are great Christmas books for the whole family to enjoy together as well.
Also check out these amazing Christmas books for toddlers!
Christmas Books for Preschoolers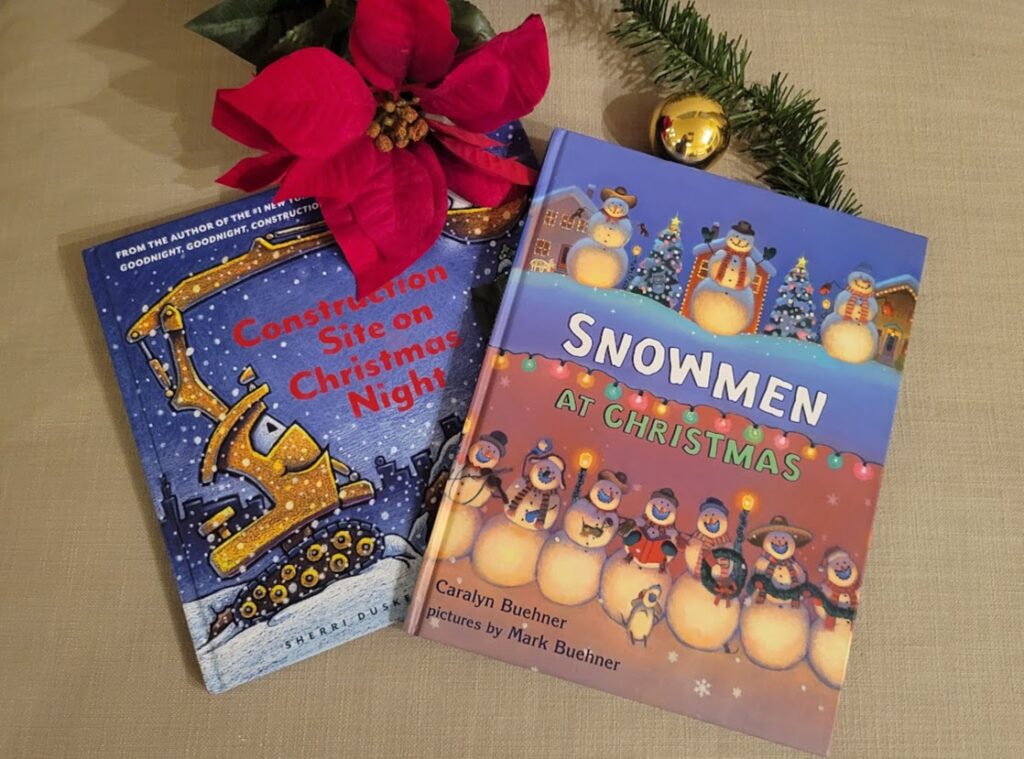 A cute holiday spin on the classic book, Construction Site on Christmas Night follows along with our favorite trucks as they work together to build a firehouse on Christmas night. Each truck gets its own Christmas gift as they complete their jobs and settle down to sleep on Christmas night.
My kids are obsessed with the other books in the series, so they were delighted to see what the trucks were up to at Christmastime! Fun rhymes and lovely pictures around the construction site make this a perfect read for preschoolers.
Don't let the name fool you, this sweet book is all about Christmas! It follows the "If You Give a Mouse a Cookie" format and goes through all the Christmas activities mouse is going to want to do just from getting some popcorn at the movie theater (hint: he starts with wanting to string the popcorn together and hang it on a Christmas tree).
This is a fun if-then book that leads children through all sorts of Christmas traditions and scenes.
In this charming Christmas book, Matthew Paul Turner explores all the colors of Chrismas and the memories, experiences, and emotions that they evoke.
Children will be instantly drawn into this book by the vibrant scenes and the rhyming stanzas describing all the nostalgic elements of Christmas.
The book ends with the declaration that Christmas is YOU! The sweet message and the diversity of the characters in the book will appeal to children of all ages (and adults too!).
This is truly a beautiful, charming Christmas book that everyone should have on their bookshelf to read at Christmastime.
When Santa gets sick, he knows just who to call to save Christmas: Pete the Cat! Pete hops in his minibus and the reindeer help him to deliver all the presents.
Like all Pete the Cat books, this one has a moral to the story. From this book, kids are left with the message that at Christmas we give! And if we give our all that's enough, no matter how small we are.
This unique Christmas book is made up of actual photographs of a young girl and truly stunning winter landscapes.
Follow along with Anja as she travels across the snowy north to fulfill her Christmas wish: to become one of Santa's elves. Along the way she meets a variety of animals who help her on her journey until she meets up with Santa at last.
It's sure to become a classic in your home as children and adults alike marvel over the gorgeous pictures and sweet story.
Snowmen at Christmas imagines what snowmen might be doing on Christmas Eve after everyone else is asleep. How do snowpeople celebrate Christmas? You'll have to read this adorable story to find out!
Gorgeous illustrations are filled with all sorts of fun details that children will love, such as a snow Santa being pulled by snow reindeer and snow children playing games and eating snow cones.
As the littlest elf in the North Pole, Oliver just wants to find his special job in Santa's workshops. But each workshop visit he makes ends in disaster! It's only when he discovers the littlest reindeer that he finds his special job- and makes a new best friend!
Kids will walk away with the message that everyone can find meaningful ways to help- no matter how small they are.
How to Catch Santa is a clever book all about how to catch a glimpse of Santa Claus on Christmas Eve. Along with ideas for discovering if Santa has been to your house, the book also encourages children to think of questions to ask Santa, things to ask him, and gifts they could leave for him. This charming and funny book is sure to get a laugh out of kids and adults alike!
We love the "How to" series (my kids' favorite is How to Babysit a Grandma) and this is another fun holiday installment.
Just know that it will probably leave your kids brainstorming their own ways to catch the man in red!
This classic Christmas story follows a young boy as he boards the Polar Express to the North Pole. With vivid illustrations and a sweet story, children learn about what it means to believe in the spirit of Christmas.
What starts off as a competition ends up becoming a lesson in teamwork as two little mice joining forces to build the biggest snowman ever! Children will love this sweet story about working together to accomplish great things.
The Night Before Christmas from the farm animals' perspective! All the animals are tucked in on Christmas Eve when a little lamb hears sleigh bells and sees Santa paying a visit to the farm. A fun rhyming book in the spirit of the original classic.
Amy's letter to Santa had a hole in it and Santa needs help figuring out what present she wants! Follow along as he sends letters to all the North Pole crew trying to figure out the perfect gift to bring Amy for Christmas.
This interactive book incudes letters to read and packages to open to discover everyone's idea of the perfect gift.
George is up to mischief again, this time at Christmas! When he gets stuck in a Christmas tree, George ends up at a children's hospital where he gets into some trouble…but also spreads some Christmas cheer. A fun addition to the series that George fans will love reading again and again.
All the Littlest Tree wants is for someone to take him home and turn him into their Christmas tree. But Christmas is quickly approaching and all the other trees are being picked instead of him. Will the Littlest Tree get his wish? Spoiler alert: he definitely does and it's a very sweet end to the story.
No Christmas book collection is complete without this holiday classic. This version has bright and vivid pictures and has been edited to remove the reference to Santa's pipe to make it more child-friendly.
David always seems to be getting himself into trouble! This sweet and silly book is a great way to talk to kids about all the things they shouldn't be doing at Christmas (playing with the ornaments, opening presents early, etc) in a playful way. Kids will get a laugh at all of David's silly antics.
After hearing a song about "all of the other reindeer", Olive the dog thinks that she is a reindeer and heads off to the North Pole to help Santa. Turns out a dog is just who they need to help save the day in this cute holiday story!
When Lucy and Max write a letter to Santa asking about his favorite place to travel, Santa himself turns up to take them on an adventure around the world! Argentina, Egypt, Tanzania, and Japan are just a few of the destinations on their trip in the sleigh, with the last stop being the North Pole of course. This is a fun way to for children to learn about places all over the world as Santa shares facts about each place they visit.
Final Thoughts
And there you have it. Some of the very best Christmas books out there for young readers. These books are sure to fill your house with Christmas spirit and good cheer!
Do you have any favorite Christmas books for preschoolers that you would add to the list?
Other posts you might be interested in:
17 Sweet Christmas Books for Toddlers
Easy Popsicle Stick Christmas Ornaments for Kids
Easy Christmas Tree 3D Craft for Kids