Books for 2 year olds that your toddler will want to read again and again!
Everyone knows that two-year-olds can be a handful. Two-year-olds are curious. They're exploring the world and learning how they feel about the things they see and experience. Their minds are constantly learning and absorbing new things. Which makes this the perfect age to be reading lots and lots of books!
Through reading, 2-year-olds can learn new words, develop critical thinking skills, and learn about the world. Reading at a young age prepares a child for a lifelong love of books and learning.
As we set aside time to read with our toddlers, we help them increase their concentration skills and have valuable time for one on one bonding.
In order to keep a 2-year-old's attention, you want to make sure you have some awesome books to read with them. In this post, we've compiled a list of some of the best books out there for 2-year-olds.
I give you fair warning: these are books that your child will want to read over and over. But the good news is, they're fun ones for adults too, so you probably won't mind.
Read on for some of our favorite books for 2-year-olds!
Be sure to also check out our list of best books for 1-year-olds!
Best Books for 2-Year-Olds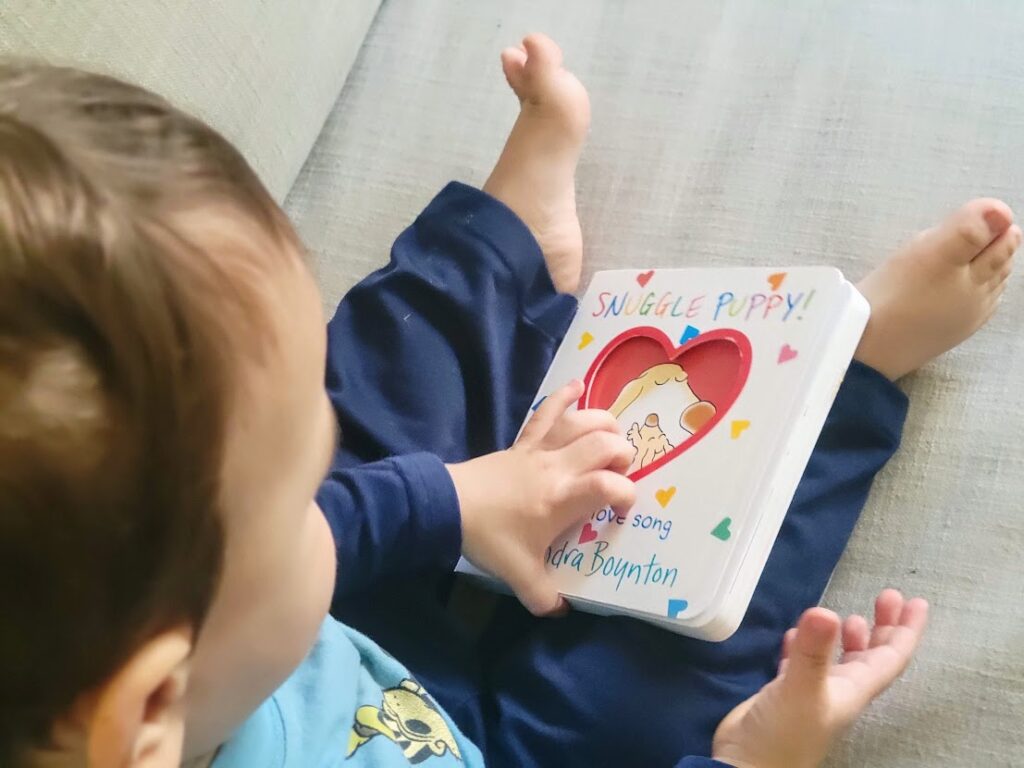 In this interactive board book, children use bandaids to patch up the injuries of dog, monkey, elephant, sheep, and bear, making everything "all better!" The sticky bandaids are reusable, so kids can read the book and reposition the bandaids over and over again. On each page is the saying, "Clean it, kiss it, put a bandaid on it. All better!"
This book has long been a favorite of my children, especially at the age of two. I was worried that the stickers wouldn't maintain their stickiness, but we've had our book for years and the stickers still work as well as ever!
One of our all-time favorite books, Goodnight Goodnight Construction Site has adorable pictures and a wonderful, flowing rhyme that's so fun to read. Little truck lovers will love the descriptions of the jobs that all the trucks do at the construction site.
The book is all about the trucks finishing up their work and settling down to sleep, making this a perfect book for helping kids to unwind before bed. This is by far the most read book in our house.
This farm board book combines lift-the-flap with touchy-feely elements to make a truly engaging book for toddlers.
Each page contains multiple dynamic touchy-feely pieces and a counting element as you look for missing animals, ultimately finding them under the flaps. This is one of my very favorite books for 2-year-olds as it has so many fun interactive elements.
A perfect story to include in your bedtime routine, The Going to Bed Book's catchy rhyme takes you through all the steps of getting ready for sleep. Follow along with the animals as they take a bath, put on their pajamas, brush their teeth, and rock to sleep.
It's time for dinner but Spot is hiding! Kids will love looking under the flaps on each page as they try to locate Spot, and instead are greeted by other animals instead! Simple and fun, this lift-the-flap book is a great, engaging book for two-year-olds.
Little truck lovers will be delighted by this lift-the-flap construction book from Usborne. Multiple flaps on each page provide a peek into the workings of the construction site. There's also a little rabbit on each page that children will enjoy searching for.
Potty by Leslie Patricelli
This is around the age when potty training starts looming on the horizon, and Potty is a great book to get your child prepared for that day.
The simple text and illustrations allow children to put themselves in the place of the toddler in the pictures as he says bye to his diaper, tries out sitting on the potty, and, after a wait, eventually succeeds in going potty on the toilet.
This was one of my boys' favorite books to read before and during potty training and I felt that it really helped prepare them to successfully use the toilet.
I Love You to the Moon and Back is a sweet story about a bear and a cub and how much they love each other. This sturdy board book is a precious board book to read with your child as you reaffirm your love for them.
This book was one of my favorite books as a child and it's one of my sons' favorite books today! There are a lot of pages in this book, and each page contains a different scene packed full of trucks, cars, and other fun and silly details. Kids will love spotting characters who turn up again and again and searching for the ever-elusive Goldbug on each page.
There is so much to see on each page that we typically just read a couple of pages a night so that we can spend more time looking at all of the pictures.
Uh oh, there's a monster at the end of this book! Kids will giggle with glee as Grover tries to prevent them from getting to the end of the book so they won't have to see the monster there.
With a delightful twist ending (spoiler: Grover had nothing to worry about because HE was the monster all along) and Grover's funny antics, this is a book that kids will want to read over and over again.
Teach children about friendship and kindness with this sweet story set on the farm. This rhyming book has a wonderful message and also introduces farm animals and animal sounds. Kids will love joining in on Little Blue Truck's signature "Beep beep beep!" as they follow along with this fun story.
In this simple, yet highly effective book, each page has dots that seem to respond to your actions as you read it. Press all the yellow dots on one page and see that they've turned red when you turn to the next! Blow on the page and see that the dots have all shifted to the other side of the paper when you turn the page.
This interactive book will have your toddler pressing, tipping, and shaking the book to see the dots "changing" based on their actions.
We've loved this book in our family! I've found that my kids really start to get into it once they're around two and a half and up.
Each page of this touchy-feely board book has a new textured element for children to feel as they look at different elephants trying to find just the right one. At first none of the elephants are right because their ears are too rough or their feet are too squishy, but on the last page you find just the right one! "That's my elephant, its tusks are so smooth."
There are so many different books in this series, so you can easily find one that fits the particular interest of your child.
The Rabbit Listened uses simple text and charming illustrations to provide gentle insight on how to help someone who is dealing with loss and disappointment. It encourages child-led solutions and the power of quiet presence.
Sadness and frustration ensue when little Taylor's masterpiece gets destroyed. All the animals have ideas about how to make it better. Bear thinks the answer is to shout, elephant thinks it should be fixed, while hyena thinks a good laugh will help. But Taylor doesn't feel like doing any of those things. Finally, the rabbit just sits and listens. And as the rabbit listens, Taylor is able to work through tough emotions and find his own solution.
This is a beautiful story teaching empathy, understanding, and essential communication skills. And we love that the main character could be either a boy or girl, allowing anyone to put themselves into the story! This poignant story is a must-read for anyone, child or adult.
If you're looking for a simple interactive book that is sure to capture your 2-year-old's attention, you can't go wrong with the Resting Places book! This book is so cute and fun for little kids! On each page, Grover pulls out a new resting place, which is just a colorful circle where they place their nose, forehead, elbow, etc to give it a rest.
The last resting place is a Grover resting place where Grover goes to sleep after encouraging the child to do the same in their own resting place. Perfect segway to nap or bedtime!
My kids have been obsessed with this book when they are two and three years old and will read it over and over again!
This adorable rhyming book is sure to come a bedtime favorite in your home! One by one, the little boy in the book says goodnight to his toys before drifting off himself.
I love the way the book transitions from real life, with him saying goodnight to his collection of farm toys, to his dreams, where he's actually on the farm driving the combine and feeding the animals as he says goodnight.
Jim Panzee is having a grumpy day. His jungle friends don't understand how he can feel grumpy on such a beautiful day and they all have solutions for him to try to change his feelings. Even though he looks happy now, he still doesn't feel happy. Finally, he realizes that sometimes it's okay to have a grumpy day.
This charming book teaches children that all feelings are acceptable and it's okay to feel exactly the way they're feeling.
Another great book for kids getting ready to potty train, What is Poop? goes through all the questions an inquisitive little mind might have surrounding this bodily function.
What is poop made up of? Does everyone poop? Where does poop go? How much poop does an elephant make?
This book does a great job of demystifying the subject in a straightforward and interesting way for young kids. Each page contains many flaps that they will love opening to find the answers to all their questions.
From the creators of Llama Llama Red Pajama comes this sweet bedtime story featuring our favorite llama. Follow llama through all the steps of his bedtime routine as he takes a bath, puts on his pjs, goes potty, reads a book, and snuggles in for bed. This rhyming board book is perfect for reading to kids before bed.
The Usborne Peek Inside series is so charming and fun, with delightful illustrations, peepholes, and flaps to lift on each page.
Peek Inside the Zoo is one of our favorite books for 2 year olds. Each page takes you to a different part of the zoo to view the various animals that live there. And the pages and flaps are sturdy, so they hold up well to enthusiastic little hands.
This board book contains an adorable love song from a mommy dog to her puppy.
You will have so much fun reading this book to your child! And the sweet sentiment and bouncy rhyme will have kids wanting to hear it over and over again.
Common Questions
How much should you read to a 2-year-old?
As much as possible! At this age, children are like sponges, absorbing so much in terms of language and life skills.
Reading is a perfect way for toddlers to learn new cognitive skills, expand their vocabulary, develop creativity and imagination, and learn about the world.
Try to read to your 2-year-old every day and, where possible, read several times a day. The key is to be consistent. It's better to read for a few minutes each day than it is to read for an hour one day and then nothing for the rest of the week.
How do you pick the best books for a 2-year-old?
Picking the right books for your 2-year-old is essential. If the book isn't engaging, you'll quickly lose your toddler's attention and find it hard to interest them in reading.
But with the right books, your child's love of reading will flourish and they'll be the ones pushing reading time!
The best books for 2-year-olds have simple text and a compelling story. Books with repetitive words or phrases help young children develop their vocabulary and better understand what they are hearing.
Vivid illustrations and catchy rhymes are always a crowd-pleaser for toddlers as they are drawn into the pictures and the rhythm of the story.
Interactive books are another ideal way to capture and keep a toddler's attention while reading. In this list we've included some of our favorite interactive books, such as Grover's Resting Place, Push Here, Animal Hide and Seek, and All Better. These kinds of books allow the child to become part of the story as they use their imagination and senses to interact with the book.
And of course, different children are going to gravitate toward different books. The best way to figure out what books your child loves is simply to read a lot of books together!
Tips for Reading to a 2-year-old
Point out objects in the pictures
As you're reading, take time to study the pictures together. Point out objects, animals, colors, and anything else that might catch your child's eye. This is great for building vocabulary and observation skills.
Ask questions
Begin to develop critical thinking skills by asking questions as you read. "Where did the donkey go?" "What do you think is going to happen next?" "How do you think the little boy felt?"
You aren't always going to get an answer, but it will help your child to start making connections and thinking more deeply about what they are reading.
Don't put too much pressure on reading time
At this age (and at any age) reading should be fun! Go into reading time with a 2-year-old with low pressure and low expectations.
If your toddler loses interest and wanders off halfway through the book? Don't worry about it!
It may not seem like it now, but eventually, they will be able to focus longer and sit through an entire book. Don't try to force it or your child will grow to dislike reading time.
And know that the time you're spending now does matter and does impact your child, even if you never make it to the end of a book! Keep trying, keep reading.
Final Thoughts
When you have engaging, age-appropriate books, reading with a toddler is a truly delightful experience. Their excitement, sense of wonder, and curiosity are infectious.
Reading together every day is one of my most treasured times with my children. It's a time when we can snuggle up together and get lost in the pages of a book.
With this list of best books for 2-year-olds, you have some amazing options for you and your toddler to read together.
Other posts you might be interested in:
19 Amazing Farm Books for Kids!