Board games are a fun and engaging way for kids to interact with family and friends. And you can start your children surprisingly young! In this post, we'll break down all the best board games for 2 year olds.
First off, you might be wondering 'are there really any board games for 2 year olds?' The answer is yes! However, it can be a little tricky to find ones that are actually geared towards younger children.
When my firstborn was 2, I scoured the internet looking for engaging games that he could actually play. But most of what I found was games suitable for older children requiring skills he hadn't developed yet.
Often lists of the "best board games for 2 year olds" include a lot of games for older kids that 2 year olds can participate in a little bit. But if you dig around a bit, you can find that there are actually quite a few games that are specifically directed towards 2 year olds, as opposed to them being secondary participants in an older child's game.
Three kids in, I've found some great games for younger kids over the years. And I'll save you the trouble of having to search out all these games on your own!
The games reviewed below are games that are actually designed with 2 year olds in mind. And even better, you'll probably find that they are fun for adults too! These games are ones that you'll actually enjoy playing with your 2 year old. Which is good, because they will probably want to play them over and over and over again…
Read on for a list of the best board games for 2 year olds.
The Best Board Games for 2 Year Olds
Number of players: 2+
Monkey Around is an engaging game made just for 2-year-olds! The game is simple and easy for young children to understand. The game comes with a board (which is shaped like a tree) a banana bean bag, and 40 sturdy circular activity cards.
Each of the 40 Monkey Around Cards contains a different action to help your child practice gross motor skills such as balancing and jumping. Simply draw a monkey card, do the action on the card, and place the card on the tree! Once you fill up the five spaces on the tree, the game is over! It's a quick game, which helps to hold the attention of toddlers until the end.
There are a combination of solo tasks (such as hopping backwards) and together tasks (such as giving a high five).
This game is great for teaching cooperative social skills and, while designed for younger children, is fun for older kids and parents to play as well!
Number of players: 1-4
First Orchard is a collaborative game where all players work together as a team to beat the sneaky raven.
Included in the game are 16 wooden fruit pieces, a color die, 4 trees, 5 path cards, and the wood raven. The pieces are large and chunky, making them easy for a 2-year-old to manipulate.
To play the game, the four trees are set out and the correct fruit is placed on each tree (each of the four kinds of fruit has a different color).
Players take turns rolling the die and picking the corresponding fruit from the orchard and putting it in the basket. But watch out for the raven! When the die lands on the raven, the bird moves forward one step on the path. If the raven gets to the end of the path before all the fruit is picked, everyone loses together. But if the group can pick all the fruit before the raven makes it down the path, you win!
Our two year old will play this game over and over again, and our older kids love it too! It's simple enough for the youngest child to be able to play, but engaging enough for older kids to want to play as well.
This game will teach children about taking turns and allow them opportunities to work on counting, matching, and color recognition.
Number of players: 2+
Roll and Play is a game that will get your child up and moving as they complete the actions on the cards.
The game includes a large plush die and 48 sturdy, oversized cards. Players take turns rolling the die. There are six different categories of cards organized by color, including emotions, colors, counting, animal sounds, body parts, and actions. The color the die lands on determines the category of card the player draws from. When that payer completes their card, the next person rolls.
The die has a pocket for storing the cards, which makes the game easy to store and prevents you from losing the cards.
This was actually the first game we ever bought for our eldest when he turned 2. He loved it immediately and now it's a game that we pull out with each successive child when they reach the toddler years.
This game is fun for everyone and perfect for developing gross motor skills!
Number of players: 1+
Little truck lovers will be delighted by this Goodnight Goodnight Construction Site Matching Game.
The set comes with 72 cards depicting various activities around the construction site. And fans of the books will be excited to see that each card features illustrations of the beloved characters from the Goodnight Goodnight Construction Site books.
The standard way to play is as a matching game where you turn over all the cards and then take turns turning over two cards at a time to find a match.
But this game can be used in many ways and adapted to the level of your child. For 2 year olds, you'll probably want to use a smaller subsection of the cards to start out so that your child doesn't get overwhelmed.
Not only is this game fun for kids to play, it also helps improve concentration, memory, and visual recognition.
Number of players: 2+
Seek-a-Boo is a fun seek-and-find game that 2 year olds are sure to love.
The game comes with large, laminated cards in six different categories (animals, shapes, food, etc).
The standard way to play is by showing your child one of the 36 Find Me cards and having them match it to one of the 36 Seek Me cards. But these cards open the door to all sorts of open-ended and creative play.
Due to the multiple ways to play this game, you can increase or decrease the difficulty depending on what your child is ready for. In the instruction manual, you can find ideas for various ways to play.
This game helps children increase vocabulary and memory while providing opportunities for children to practice taking turns.
Number of players: 1-3
Hungry as a Bear is a simple, easy-to-learn game for toddlers. They will love working as a team to try to feed the hungry bear!
Included in the game is a bear pop-up, 12 servings of food, and a spoon, plate, and die.
To play the game, each player takes turns rolling the die. Then they use the spoon to feed the bear the food that matches up with the picture they roll.
Besides the feeding game, you can also play other versions of the game, including a memory game and a guessing game.
As they play this game, children can work on fine motor, memory, and language skills.
Number of players: 1+
Topper Takes a Trip is a fun and imaginative travel game for little explorers.
The game includes a suitcase, five destination cards, five packing lists, and 25 packing pieces.
Your child can pick a destination, choose a packing list, and pack up their suitcase for their pretend trip!
And there are lots of ways that you can modify and adjust the game for your individual child's needs. In fact, they will probably come up with their own ways to play as they interact with the manipulatives.
This game is a great way for a toddler to engage in creative play, learn to follow directions, and build up their vocabulary and social skills. Plus they will love playing with the adorable little suitcase and sturdy packing pieces.
Number of players: 1+
Button, Button, Belly Button is a simple but entertaining game where players work as a team to help bear gather his buttons.
Included in the game you'll find the board game, a wooden button mover, and 21 colorful round cards.
On their turn, the player says, "Button, button, belly button" while moving the button mover to a different card with each word. The player then flips over whatever card they landed on. If the card is a button, match it with the correctly colored button on the board. If it's a belly button card, the player says "Belly button!" and shows their own belly button if they want to before putting the card on one of the belly button spaces on the board.
Once all the cards have been correctly matched the game is over!
This is a perfect game for toddlers because what toddler isn't obsessed with their belly button? The game builds skills such as matching and color recognition and provides practice taking turns.
Number of players: 2
In Acorn Soup, kids get to help Squirrel make delicious soups out of all the treasures he's stored for winter.
The game comes with 8 recipe cards, 24 wooden ingredients, and a wooden spoon.
To play the game, work with your child to follow the recipe cards, count the number of ingredients, and add them to the pot with the spoon one by one. Once all the ingredients are added, stir up your soup for squirrel to enjoy! There is no winner or loser in Acorn Soup, just collaborative fun!
The pieces of this game also lend themselves to a lot of opportunities for creative pretend play beyond the scope of the game.
This game helps children to work on hand-eye coordination, matching skills, and counting.
Number of players: 2
Kids will enjoy collecting food for their very own pretend picnic in Panda's Picnic in the Park.
Each game comes with 3 places, 16 pieces of food, a picnic basket, and a blanket.
Each player takes turns reaching into the basket and pulling out a piece of food, identifying it by color and shape, and matching it on their plate. This game has all sorts of possible variations and opportunities for open-ended play.
While playing this game, kids can learn about matching, color and shape recognition, and turn-taking.
Number of players: 1-5
Nibble Munch Crunch is an interactive game where the players work together to feed all the animals!
Included in the game are five wooden animal foods as well as cut-out cards, animal cards, and color cards for matching.
There are several different kinds of matching you can do in this game. You can match the wooden foods to their cutout cards, the animal to the kind of food that it eats, and the color cards to the food pieces. Kids will probably come up with their own ways to play the game and interact with the game elements.
This is an easy game for young children to understand and the sturdy pieces mean that it can stand up to frequent use by toddlers.
In this game, children can practice matching and sorting as they learn about animals, colors, and shapes.
Number of players: 1-4
In Here Fishy Fishy, children race to collect all the sea creatures with the fishing rods!
The game comes with one magnetic rod, six magnetic sea animals, four collecting boards, one die, and the ocean (the bottom of the box).
This game can be played with the rules or as a free-play experience. When playing using the rules, each person takes a turn rolling the die and then tries to catch a fish of that color. Once you catch a fish, add it to your collecting board. The first to complete their board wins.
Here Fishy Fishy is a great game for working on hand-eye coordination, spatial awareness, and concentration skills.
Number of players: 1-4
Kids will love stacking animals on top of each other into a wobbly tower in Animal Upon Animal Junior.
Included in the game are 8 animals, one die, a meadow, a waterhole, 2 shoreline tiles, and 8 sun tiles.
With this game, you can choose to play competitively, collaboratively, or in free-play mode. In the collaborative version, it's a race against the crab with all players working together to stack the animals before the crab gets to the end of his path.
This game is great for developing fine motor skills and hand-eye coordination while practicing taking turns and working together.
Why play board games with a 2-year-old?
Board games might seem advanced for a 2 year old, but in reality there is so much that a toddler can learn from playing games. Board games create opportunities for children to play socially and learn about turn-taking and following instructions.
Depending on the game, there are often opportunities to work on important skills such as fine and gross motor skills, counting, matching, memory, and spatial awareness.
Plus it's a structured learning activity that allows you to engage in meaningful play with your child. And they will love feeling like a big kid with their very own game directed towards them!
What to look for in a board game for 2-year-olds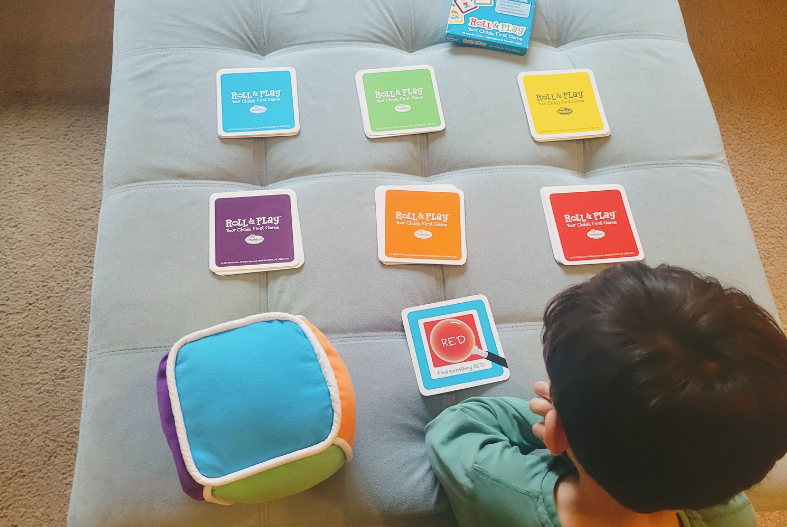 When selecting these board games for 2 year olds, we wanted to make sure that you had the best possible options to choose from for your 2-year-old. Here are some of the factors we considered to make sure you are getting the best of the best!
Sturdy pieces
If you have a toddler, it probably goes without saying that toddlers can be somewhat destructive…
When selecting a game, you want something that is high quality with sturdy pieces so that it will last you through frequent toddler play. Large pieces are also either for young children to manipulate, making it less frustrating for them to play the game.
Collaborative play
Collaborative games are an ideal choice for young children. It allows you to work together with your child to learn new skills and solve problems. Cooperation also helps children develop kindness and empathy, models sharing behavior, and teaches social skills.
While there are some competitive options, most of the games selected are collaborative or at lease at least have an option for collaborative play.
Free play opportunities
Although not a necessity, we did favor games that allowed for meaningful free-play experiences as well as structured game-play.
While it is important for young children to learn how to follow rules and direction, at this young age it's equally (if not more) important to provide opportunities for creative, child-directed play. Most of the games we selected have both of these options, making them dual-purpose!
Final Thoughts
Playing board games is a great way for you to interact with your 2-year-old. Not only do these games help them develop new skills, they're just fun to play!
With this list of board games for 2 year olds, you'll have lots of great options for exciting and engaging games for your little one!
Other posts you might be interested in:
29 Best Open Ended Toys for Creative Play
France Preschool Unit- Activities, Crafts, and Free Printables!