Amazing stocking stuffer ideas for toddlers to make your Christmas a little easier!
Christmas with a toddler can be a truly magical experience. But sometimes it's hard to find just the right gift for your little one, not to mention the stocking stuffers!
Let us help you make your list a little shorter. We've compiled this list of the best stocking stuffer ideas for toddlers so that you can get back to making memories with your toddler this Christmas.
All of these ideas come very highly recommended by parents and toddlers and are small enough to fit in a stocking. These stocking stuffers are ones that your toddler is sure to be excited about on Christmas morning!
Stocking Stuffer Ideas for Toddlers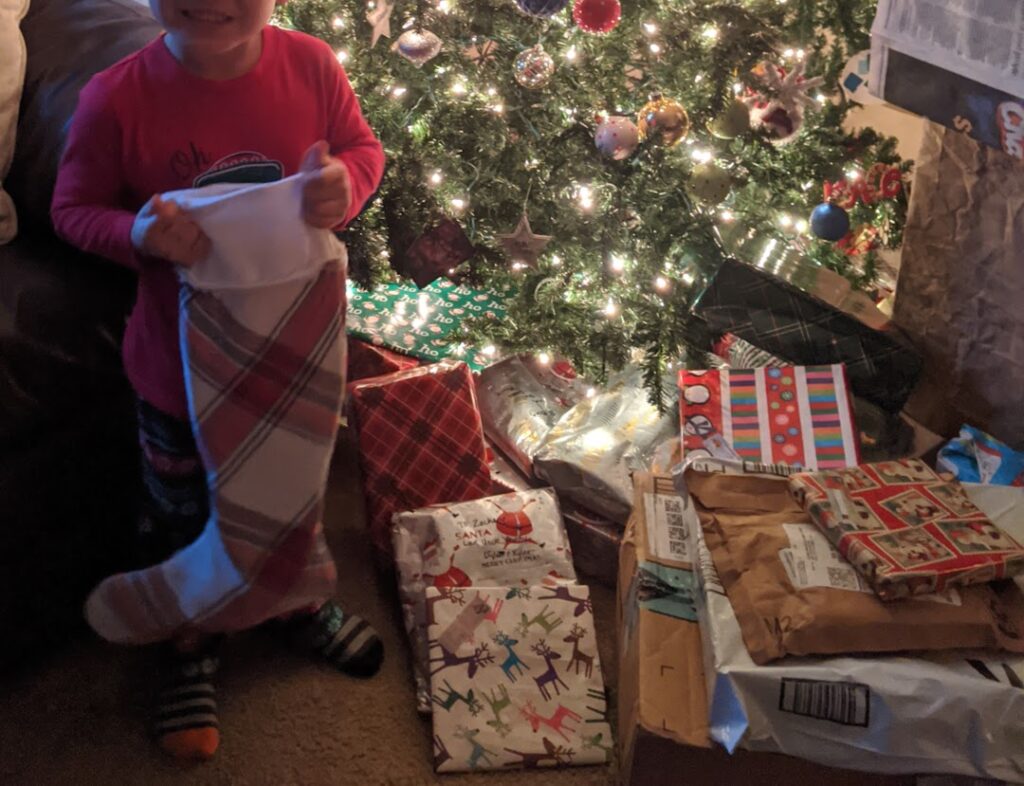 Crafty stocking stuffers for toddlers
What toddler doesn't love stickers? And puffy stickers are a great option for toddlers because they are easier for little hands to pull off of the sheets and handle. Plus there's something fun about the 3D effect of the stickers!
This puffy stickers set comes with over 500 stickers on 24 sheets. Each sheet of stickers has a different theme, such as under the sea, animals, dinosaurs, cars, letters, numbers, etc.
Crafty toddlers will love making all sorts of fun creations out of Model Magic.
This clay alternative is almost like a dense, malleable foam. It's fun to play with and a great sensory experience for children to stretch and mold the pliable material.
Best of all, it's mess-free! This is my favorite play dough alternative because you don't end up with little pieces everywhere and it doesn't stick to your hands. It really is like magic.
When your child is done with their creation, you can either put it in a sealed bag to use again or leave it out to dry into a lightweight sculpture to keep!
These paintbrush pens are a great way to introduce toddlers to painting, but with less mess. The set comes with five pens filled with washable paint. In a lot of ways they are like markers, but with more vibrant colors and an easier-to-use brush.
I got these for my toddler's stocking to compliment the small watercolor set I got for his older brother. He was excited to find them in his stocking and really enjoyed using them to paint his own pictures.
If you have a little artist who loves to color, triangle crayons can are a must!
These crayons actually stay in place instead of rolling all over the place when your toddler sets them down or dumps them out. They are also easy to hold and promote proper writing grip. A perfect toddler stocking stuffer!
Toy stocking stuffers for toddlers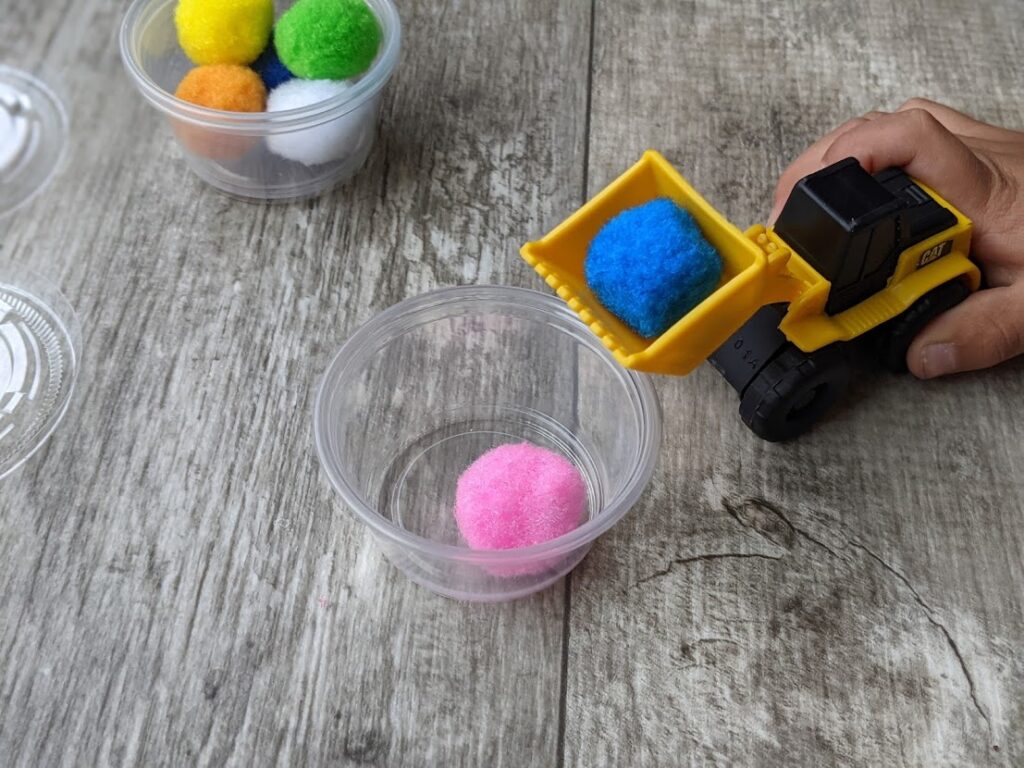 For truck-loving toddlers, miniature trucks are a perfect addition to their stocking!
This set is my absolute favorite. They're small, sturdy, and have moving parts that are so fun for kids to play with. My toddler could play with these for hours…and he has on multiple occasions! They are great to use in a sensory bin or with kinetic sand, or with small pom poms as the "rocks" to be moved around by the trucks. These trucks are also perfect for travel or driving in the car.
Blowing bubbles is one activity that is always a hit with toddlers, so they'll be delighted to find their own container of bubbles in their stocking!
And these Fubbles No Spill Bubble Tumblers are awesome. I feel like playing bubbles with a toddler inevitably ends with the bottle dumping over and a hysterical child.
These little bubble containers can be knocked over or tipped upside-down without making a huge mess. That's a win in my book!
The containers are also a little smaller than regular bubble containers, making them easy for toddlers to carry around. And once they run out of bubbles, they can easily be refilled for more bubble fun!
Pull back cars are a fun and interactive toy for kids, powered by friction rather than batteries.
This cute and detailed set of pull-back cars includes a fire truck, school bus, police car, and ambulance. The little cars are sturdy and the perfect size to fit in little hands- and stockings!
Learning stocking stuffers for toddlers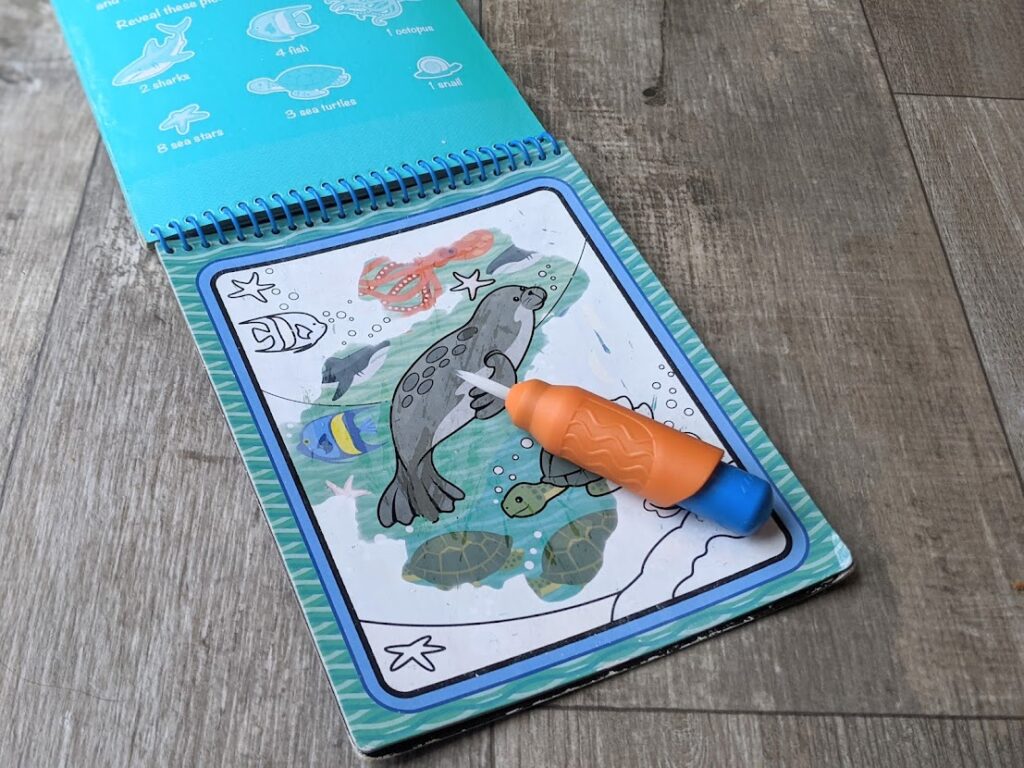 Foster an early love of reading by placing a small book in your toddler's stocking!
All of the Sandra Boynton books are the perfect size for fitting in a stocking and she has so many adorable books to choose from! Some of my toddlers' favorites have been Blue Hat Green Hat, Snuggle Puppy, and Barnyard Dance.
Usborne also has some great small books that are perfect for a toddler's stocking, such as the "Are you there little…" series. We have Are You There Little Tiger and it's a cute little story that has you searching for the tiger throughout the book. Another good one is Nibbles Numbers which is a fun counting book about Nibbles the book monster!
For little ones who are showing an interest in puzzles, a small puzzle makes a great addition to a toddler stocking!
This set of little jigsaw puzzles is the perfect size for fitting into a large stocking. The picture is printed on the bottom frame, making it easy for young kids to match the pieces to their correct spot. And they each come with a small bag for storing the puzzle so you don't lose any pieces.
If your toddler loves buckles (and let's be honest, what toddler doesn't?), this is the toy for you! The plush toy is lined with all different kinds of buckles in various colors. Your child can match them or mix and match to make new combinations. It sounds like a simple idea, but I know from experience that toddlers (and older kids too sometimes) find it fascinating!
It also has a little zipper pocket on top so your child can store some of their treasures.
This buckle toy is one of my very favorite toddler toys. We use it when we travel and it can keep my littles entertained for hours! No joke.
And it's great for helping your child work on fine motor skills, hand-eye coordination, and concentration.
Water Wow! Activity books are a fun, mess-free activity that toddlers will be delighted to discover in their stockings.
When the pages are colored with the water pen, colorful images appear on the page. And after the picture dries, it can be reused over and over again!
The chunky pen is the perfect size for a toddler's hand and is easy to refill with water when it runs out.
My kids have loved these activity pads from a young age. There's something so exciting about seeing that picture show up as you color! And as kids get older, there are hidden objects for them to find on each page.
Shaker eggs are a fun way for toddlers to play around with music and get some energy out! They're big enough for toddlers to handle easily as they learn all about rhythm.
This kind is made out of wood with small beads inside to make that distinctive rattle sound. The outside is decorated with cute patterns painted with non-toxic paint.
Another simple but beloved toddler toy is stack-up cups! This set comes with eight colorful cups of different sizes. Each cup also has a number on the bottom to practice counting.
There are so many different uses for these cups- nest them, stack them, build towers, hide things under them, play with them in the bath, etc…
These cups are great for developing motor skills as well as keeping your toddler entertained!
Calming stocking stuffers for toddlers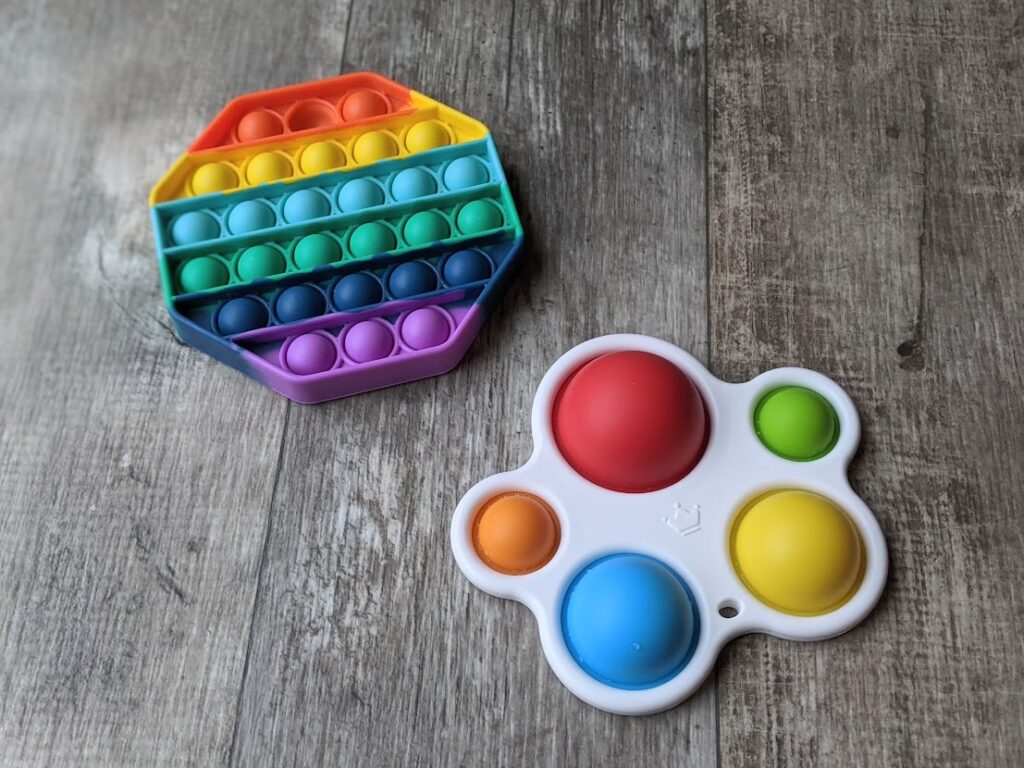 The Liquimo Liquid Bubblers will leave kids mesmerized as they watch the bubbles transfer from top to bottom.
Once all the bubbles have migrated to the bottom, turn it over to start the process over again! It's kind of like a lava lamp combined with an hourglass.
This bubbler can have a relaxing and calming effect as kids watch the slow progress of the bubbles. It can also be used as a timer.
We all know how much toddlers love pushing buttons (ha! See what I did there?), so these chunky fidget poppers are a perfect stocking stuffer.
The large buttons are easy for young children to push and create a satisfying pop sound that kids love.
These fidget poppers can help toddlers with fine motor skills, color recognition, and focus.
This adorable little whale bath toy will be a huge hit in the bath for your toddler. This set includes the whale and three small rings shaped like sea animals. By pinching the tail, your toddler can open the whale's mouth and try to catch the sea creatures!
Not only is this toy fun and interactive, but it's great for a toddler's hand-eye coordination!
It's also easy to clean and doesn't have any small spaces to trap water.
Practical stocking stuffers for toddlers
Christmas is a nice time to get some new winter gear for your toddler, and gloves make a perfect stocking stuffer! Whether it's warm woven gloves or the waterproof variety, your child will be all set for winter weather.
Maybe not the most exciting of gifts, but socks can actually be a great stocking filler.
It seems like little kids are always needing new socks, either their old ones get holes or the matching pairs seem to have run off.
You can make it more exciting for your toddler by getting character socks that they like, such as these Paw Patrol socks or this Frozen sock set.
Trade out your toddler's old toothbrush for a new one this Christmas. Toothbrushes are a perfect size to fit in a stocking, and really it's probably about time for a new one anyway, right?
What kid doesn't love a bath full of bubbles?? A bottle of bubble bath is a perfect addition to any toddler's stocking, and they'll be so excited to get to bath time!
Food stocking stuffer ideas for toddlers
As fun as the toys are, I've found over the years that my toddlers always get really excited over food items that I put in their stockings. Candy is an obvious choice, but here are a few other ideas of stocking stuffers your child can munch on.
Fruit
A nice, healthy way to fill up your toddler's stocking is by adding a piece of fruit. We always put an orange in the toe of the stocking. Another good option is to add a banana. I find this to be a nice way to help fill out their enormous stockings without having to buy so many things!
Drinks
Another stocking favorite at our house is a packaged drink. Your toddler will love finding a juice box or Capri Sun when they look through their goodies.
Fruit snacks
I don't know what it is about toddlers and fruit snacks, but they always seem to be a huge hit. Fruit snacks aren't something we have at home much, so our toddlers love finding them in their stockings!
Crackers
Small bags of chips, crackers, or cookies are other good stocking stuffer options. Think of some of your child's favorite snacks and get the mini bags to add to their stocking.
Mini breakfast cereal
A fun addition to your toddler's stocking is a mini box of their favorite breakfast cereal. We'll sometimes pick a kind of cereal that we don't have at home very often so that it feels like a fun treat. Some favorites of my toddlers are Captain Crunch, Lucky Charms, and Cocoa Puffs.
Final Thoughts
Finding the perfect items to put in your child's stocking can be challenging. With this list of stocking stuffer ideas for toddlers, you'll be well on your way to a perfect Christmas morning!
Other posts you might be interested in:
17 Sweet Christmas Books for Toddlers
18 Christmas Books for Preschoolers to Add to Your Collection!